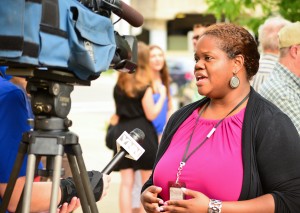 On June 28th, the last day of its term, a majority of the U.S. Supreme Court yesterday ruled that Congress had the power to establish a requirement that most people buy insurance by 2014.   Our focus at Citizen Action hasn't been about the "individual mandate": its been about  making sure the entire Affordable Care Act can go into effect in New York and that's the effect of the decision.
Citizen Action supporters and coalition partners celebrated the victory on the day of the decision in events held in Buffalo, Cortland, Binghamton, Syracuse, Albany, and New York City.
The rejection of the legal challenge is not just a victory for the Obama administration. It's a victory for the millions of New Yorkers who won't have to worry that the next serious illness might mean losing their home or having to file bankruptcy. It's a victory for the 150,000 young adults in New York who now can get coverage by staying on their parent's plans due to the so called "under 26 provision." It's a victory for the millions of New Yorkers who won't have to have second thoughts about getting services like blood pressure testing and cholesterol screening, because this is now free under the law. It's a victory for millions of New Yorkers who will no longer have to worry about economic ruin if they get serious conditions like cancer because the law stops insurers from establishing lifetime limits on how much they will pay out under the plan.
New York State will now move forward with its plans to create a health insurance exchange: a discount store  for health insurance.  The exchange will provide quality health coverage to well over a million individuals, saving New Yorkers over two-thirds for their health premiums.
The next step is a campaign to create a "pro-consumer" health exchange: watch for details soon on this page!  For now, let's celebrate that we've taken one giant step in making health care a right and that the right-wing Republican Party zealots and other insurance company allies in Congress have suffered a major setback.
Below, you'll find photos and a collection of press mentions. Also, here the statement we sent out from Karen Scharff, our Executive Director, and Lea Webb, one of our Health Care Organizers.
In response to the decision by the Supreme Court to uphold the Patient Protection and Affordable Care Act, Karen Scharff, Executive Director of Citizen Action of New York, said:

"The most important result of this decision is that New York can now move forward with its plans to establish a health insurance exchange: to bargain on behalf of consumers and lower insurance rates. Now that the court decision is past us, we can move beyond the battle in the airwaves over the overall merits of the law and begin the work of structuring our state exchange in a way that provides quality, affordable coverage for millions of New Yorkers."

Lea Webb, Health Care Organizer of Citizen Action of New York and Chair of the Health Care For All New York Racial/Ethnic Disparities Task Force, said:

"The implementation of the ACA is a major step for improving health outcomes in communities of color. The ACA has many provisions specifically designed to address those disparities.   Collecting good data about health care and outcomes so we can track and address disparities, making sure doctors and other providers understand how to treat patients from every culture in our diverse communities, treating patients in the language they are most comfortable speaking, putting doctors in communities that need them. This law ensures that all communities will receive equitable access to health care.

"Citizen Action of New York is a membership organization of over 20,000 members with seven chapters and affiliates across New York. Citizen Action of New York coordinated Health Care For America Now, the largest national grassroots network advocating for quality, affordable health care for all. Citizen Action of New York also is a founding member and leader of Health Care For All New York, the state's leading coalition on health care."
 Photos