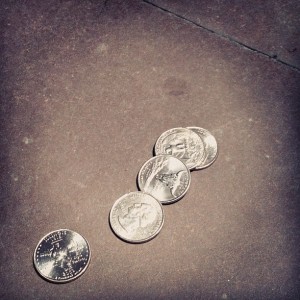 Yesterday, we joined more than 50 faith leaders, workers, activists, and concerned citizens on the Million-Dollar Staircase at the New York State Capitol Building to call on Governor Cuomo to step in and give a much needed increase in the state's minimum wage, which is currently set at $7.25.
Recent Siena and Quinnipiac polling has show extremely high levels of support for raising the minimum, with support for an increase from more than 75% of all New Yorkers, including more than 60% of Republicans. According to research by the Fiscal Policy Institute, more than 880,000 New Yorkers would see a raise from an increased minimum wage.
Assembly Speaker Sheldon Silver has championed a bill to increase New York State's minimum wage to $8.50 per hour and tie the rate to the rising cost of living.
With less than a week left in New York's legislative session, the urgency of our message was especially palapable. Starting off at Albany's Westminster Presbytarian Church, where we prepared everyone for the rally, we marched to the Capitol and set up on the staircase, where the press was waiting for us.
We had the privilege to almost ten faith leaders discuss the urgent need to raise our minimum wage from $7.25 to $8.50. That mere $1.25 an hour would help working families put food on the table, clothes on their backs, and pay rent to keep people out of shelters.
The service was led by Minister Michael Ellick of Judson Memorial Church in Manhattan. He was a bright and enthusiastic young minister, and led the rally with enthusiasm, faith, and perseverance. He kind of looked the way a priest would look were he portrayed by an actor in a movie.
After everyone spoke, we made our way to the Executive Chamber of the Capitol, where we delivered a letter calling for the raise to one of Governor Cuomo's aides.  We also delivered five quarters, symbolic of the minuscule amount of money needed to drastically change the quality of life of almost one million people.
We then tried to visit Senate Majority Leader Dean Skelos, who has refused to bring the bill to the floor for a debate or a vote. But for some peculiar reason he didn't come out to speak with us.
"If you're a casino executive with $2 million to spend on TV ads, your voice gets heard loud and clear in the halls of power. Governor Cuomo must prove the voices of low-wage workers can get a hearing too," said the Reverend John Merz, of the Episcopal Church of the Ascension in Brooklyn NY. "If the Governor wants to gamble, with nearly four in five New Yorkers supporting an increase, raising the minimum wage is a pretty safe bet."
"Cuomo must act and lead with bold faith in the commonwealth of everyone he serves, the rich and the poor," said Reverend Robert B. Coleman, Chief Program Minister of the Riverside Church in the City of New York.
Video coming soon!