Capital District Citizen Action Board Member Martin Gawoski wrote us this blog post about his experience at the Wisconsin Scott Walker recall vote.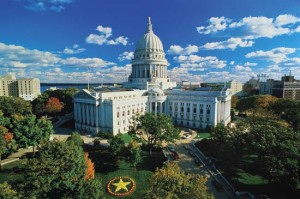 I had heard great things about Madison. I always wanted to go there. Why not go there and be part of the Walker recall? All the excitement a political junkie like me can stand.
After all this lip service to mass transit I drive most places. It is time to take Amtrak on a major trip. Actually you can only take Amtrak to Chicago; they load you on a bus there. The train is slow (two hours late coming back). It is filthy, but rather inexpensive ($89 one way from Albany to Chicago). The one surprise was the dining car. It had reasonably priced good food. It is small so you are seated with a person you do not know.
My seatmate was not too impressed with my reason for traveling to Wisconsin so we changed the conversation topic to technology's effect on society. He was impressed with my knowledge of this matter and when asked I told him I had studied psychology and social work. He regaled in the things the internet could for the poor. I wondered at how people could afford access. When I was a child being impoverished meant all you could afford to do was read library books. You did not need to compete with high end technology your classmates could afford.
On to my arrival in Madison. In further punishment for taking the train you can only get a rental car at the airport on Sunday so I was not able to get to Democratic headquarters until the next day. I had started to see some of Madison. It is a beautiful place. There are bike paths everywhere. There are book stores, CD and vinyl record stores. I ate in a Tibetan restaurant. Each student apartment building had about twenty bikes in the backyard (the city is also separated from the waterfront by a four lane highway and that does not seem to matter). The problem is that on my way there I was thinking that this was a fool's errand and we were going to lose. After spending some time in Madison I began to have delusions of a close election. The Capitol building where I had seen the many large demonstrations on TV is surrounded by many angry hippies who hate Scott Walker with a passion. On every street corner there was someone holding a "Recall Walker" placard. As I went door to door in the student neighborhoods I found only one or two individuals who were not voting for the recall.
I got a dose of reality at the Wisconsin Democratic headquarters. Currently Madison and Milwaukee are quite progressive areas. The rest of the state, however, not so much. I was a given a brief overview of the hinterlands. Toward the western border sometimes you can get a progressive vote but the Green Bay area (with its socialist football team) is full of Joe McCarthy fans. Other less urban areas are quite conservative. However, my delusions of optimism continued to be fed by stories of a massive turnout in Milwaukee.
As you're probably aware, we lost. And we lost big. Of course, people have asked me if I think the recall was a good idea in the first place. I am not sure. Not attempting a recall would have guaranteed Walker another two years of the harm he is doing to unions. The failed recall will probably embolden the anti-union movement. I do not see what other strategy was available. Yes, the funding advantage was monumental but we may have to get used to this. Remember this is the state that voted Scott Walker in and Russ Feingold out in the first place. Nancy Pelosi's words following the 2006 elections continue to ring true, "elections have consequences."
On my last night in Madison I went back up to that perpetual gathering place – the area around the Capitol. The pro-Walker contingent was out in force now, too, and heated arguments were underway.
As I made my way back to the rental car I realized that multiple homeless people were bedding down on the benches and around the buildings. They don't have that wonderful Albany technology yet, the arm rests that keep people from sleeping on benches. They were complaining that the demonstrators were keeping them from a night's sleep. One individual had his laptop out next to his sleeping bag and he was probably checking his e-mail. Yes, technology is doing great things for the poor. Even though you are sleeping on the street, you can still stay connected.