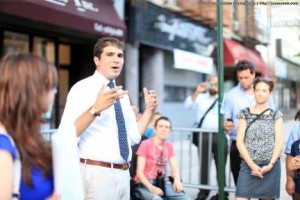 Today, we're proud to announce our endorsement of Andrew Gounardes to represent New York's 22nd State Senate District.
Andrew has been a strong partner in our campaign to win Fair Elections for New York. By attending events, speaking out on the issue, and working to spread the word in Brooklyn about the importance of limiting the influence of CEO campaign contributors in our election system, Andrew has show he has the drive and leadership to make a change in Albany.
Here's what Citizen Action's leaders had to say:
"We've seen enough pay-to-play politics in New York. Andrew's commitment to winning publicly financed Fair Elections for New York shows he understands that voters are tired of having their elected representatives bought by big money campaign contributors," said Té Revesz, a member of the Board of Citizen Action of New York and chair of the Citizen Action of New York City Chapter. "With Andrew Gounardes in the State Senate, we'll have a partner who we can trust to put our election system back into the hands of the voters."
"Our 20,000 members around New York State have been fighting for publicly financed Fair Elections for years, trying to end the cycle of corruption in the Capitol," said Ivette Alfonso, President of Citizen Action of New York. "We can't afford to wait any longer for the real reform that will make our government work again. Fair Elections is the way we'll put the people back in charge, and with Andrew representing us in the State Senate, we know we'll have a true reform champion on our side."
And here's what Andrew had to say:
"I'm proud to have the endorsement of Citizen Action of New York," said Andrew Gounardes. "Their efforts get big money out of politics is the first step in changing the way Albany works. Together, we will continue to fight for fairer elections and campaign finance reform. Limiting the influence of corporate money in elections will give the people of New York a stronger voice in their government."
Want to get involved in the campaign? Visit www.andrewgounardes.com to sign up to volunteer and to contribute.