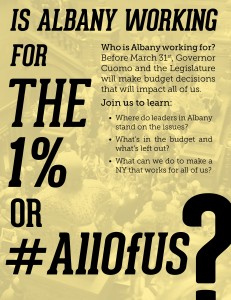 Governor Andrew  Cuomo has proposed his 2014 New York State Budget. In it there are massive tax breaks proposed for the richest New Yorkers and terrible cuts to New York's public schools, social services and programs for children, elderly, the disabled, veterans and the poor.These cuts affect us all, but hurt communities of color disproportionately.  The budget has more of the same policies that has lead to the greatest gap between the rich and the poor and to record levels of poverty in New York State.
We have between now and March 31st to build a movement to convince the New York State Legislature to reject the tax breaks for the rich and the massive cuts to what the people need. We need you now more than ever.
All over the state, teach ins are taking place that will help us learn the depths of the tax breaks and  the cuts and the necessary steps needed to beat them back.
Join us for this very important event in Binghamton:
Wednesday, February 19th at 5:30pm
Contact Mark Clark for more information: 607-723-0228