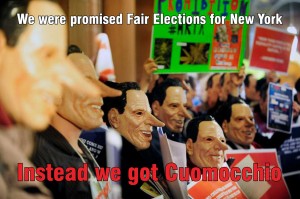 Yesterday, more than 300 New Yorkers rallied in the Capitol as the legislature voted on the state budget.
Citizen Action of New York and its allies, including faith leaders, AQE, members of community groups like Make the Road New York and New York Communities for Change, workers, parents and students, all came together to stand against Governor Cuomo's regressive 1% agenda.
The rally was the culmination of many months of tireless organizing by dedicated volunteers and activists from over two dozen community groups from across the state who have fought for a better state budget – a state budget that works for all of us.
We won a lot in the budget fight, including increasing school funding by $500 million over Cuomo's initial proposal, securing statewide universal pre-k and extending health care coverage to thousands of uninsured or underinsured New Yorkers.
But on many fronts, the fight for a fairer New York is only beginning.
Despite the increased school aid, schools across the state are still severely underfunded. While we were able to beat back some of the worst tax breaks for the super-rich, Cuomo's bailout for Wall Street banks – which will cost New Yorkers over $300 million a year – made it through, as did other tax breaks for the wealthy.
My biggest disappointment is that Governor Cuomo and Senate co-leader Jeff Klein broke their promises to pass comprehensive public funding of elections to reduce the influence of big money in Albany. Yesterday, the state legislature approved a budget that completely fails to address Albany's broken campaign finance system.
But as a result of our campaign, lawmakers have never felt more pressure to address the issue of money in politics in our State Capitol. Our organizing must build on that pressure and continue to hold politicians accountable for a state budget that upholds the status quo on campaign finance reform.
As we marched through the halls of the Capitol on the final day of budget deliberations, past the offices of our elected representatives, one prominent chant rang loud and clear: "We will remember in November!"
It's clear that we have a lot of work to do in the coming months. But I know I can count on all of you to be there, and your involvement is what will give us the power to get it done.
Together we can create a more just world, at least here in New York!
Thank you for all that you do,
Karen Scharff
Executive Director
Citizen Action of New York