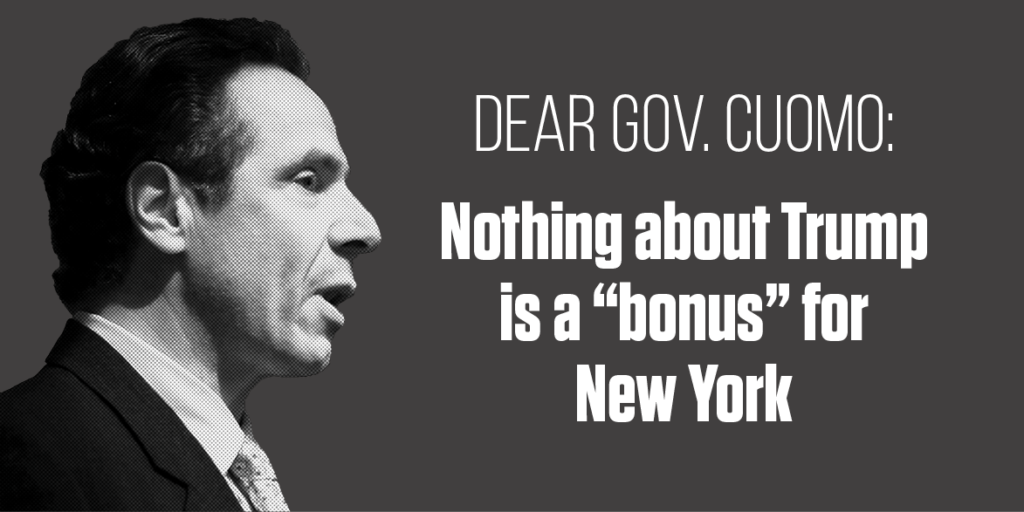 In response to Governor Cuomo's statement that the election of Donald Trump could be a "bonus" for New York, leaders of community organizations from across New York said:
Governor Cuomo is wrong, Trump isn't a bonus for New York: he's a clear and present danger to millions of New Yorkers. His deportation policies will tear children away from their families, friends and schools.
His health care attack will blow billion-dollar holes in the state budget and threaten the health and safety of millions. His tax code will benefit billionaires and drive the working class into poverty.
Cuomo needs to lead from the front on a populist agenda of taxing the super rich and investing in New York jobs, schools and communities, not perpetuate the same tired and timid agenda that produced the fiasco of this election. Democratic politicians' failure to lead on the issues that matter most to voters is the reason Donald Trump was elected President.
Alyssa Aguilera, Co-Executive Director, VOCAL-NY
Billy Easton, Executive Director, Alliance for Quality Education
Kesi Foster, Coordinator, Urban Youth Collaborative
Justice League NYC
Michael Kink, Executive Director, Strong Economy for All Coalition
Bertha Lewis, President and Founder, The Black Institute
Bill Lipton, Director, New York Working Families Party
Afua Atta-Mensah, Executive Director, Community Voices Heard
NYC Coalition for Educational Justice
Karen Scharff, Executive Director, Citizen Action of New York
Maritza Silva-Farrell, Executive Director, Alliance for a Greater New York
Lisa Tyson, Director, Long Island Progressive Coalition
Javier Valdes, Co-Executive Director, Make the Road NY
Jonathan Westin, Executive Director, New York Communities for Change