Quick question, if Donald Trump and the Republican party implement a 20% import tax on Mexico, does that mean Chipotle will charge double for extra avocado? Also, if the GOP has the stomach to potentially start a trade war in order to build a wall that no one asked for, why couldn't they come up with enough money to help the residents of Flint after the water crisis? The answer to at least one of these questions is pretty simple. Access to clean water for working class families in Flint goes against their agenda to shower corporate millionaires and billionaires with tax breaks. Frustrating isn't it? Well, we don't plan to sit back and let Donald Trump and the Republican party eliminate all of the gains we fought so hard for, nor do we plan to let them stop more progress from taking place. We're resisting, and during the week of the inauguration, we organized across the state to stand up to his agenda. Now you get a chance to relive the first days of our resistance.
-Stanley
---
We are a people-powered organization. Support us in the movement for justice!
---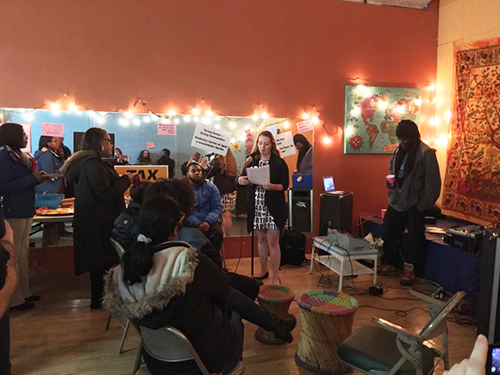 End of the World Party. On January 19, the Western New York Chapter of Citizen Action in collaboration with Planned Parenthood of Western and Central New York and the Buffalo Teachers Federation organized an End of the World Party. I told you about this event last week, and yes: It.Was.Awesome! The event provided a space for Buffalo residents frustrated with the election results to process the incoming administration, plan future actions, and connect with organizations already doing work.

Inauguration Counter Rally. On January 19, our friends in Utica partnered with community members to organize a counter-inaugural rally and teach-in called: "Say No to Trump's Agenda: A Unity Rally for a Progressive Future." While Donald Trump was forcing White House Staff to photoshop his hands so that they looked larger, we were organizing to help local residents fight back against the excesses of his administration, while empowering activism and laying the groundwork for a progressive resurgence.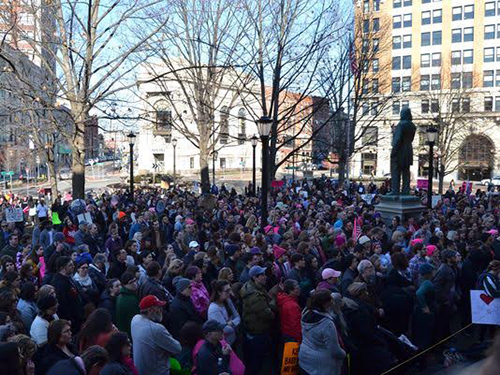 Women's Solidarity March. On January 21, Citizen Action's Southern Tier Chapter joined the Broome County Urban League, Democratic Women of the Southern Tier & Finger Lakes, Democratic Women of Broome County, NAACP of Broome/Tioga County, Cortland County Democratic Committee, Susquehanna Valley Democrats in a solidarity march with the Women's March in Washington D.C. The march focused on advocating for Women's Rights, as well as the rights of the LGBQT and all minority communities, by protesting the Trump agenda.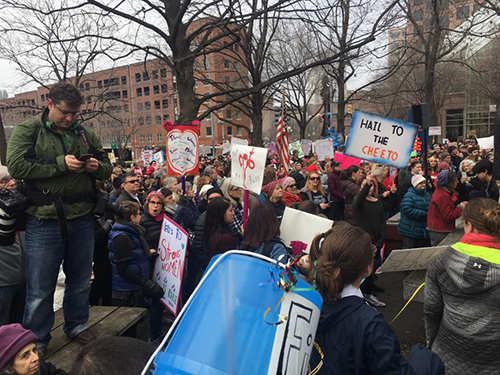 People's Solidarity Contingency March. At the People's Solidarity Rally, Metro Justice joined forces with Stronger Together WNY, Planned Parenthood of Central and Western New York Action Fund, the Gay Alliance of the Genesee Valley, National Organization of Women (NOW), and Building Leadership and Community Knowledge (B.L.A.C.K.) to organize a solidarity march in Rochester, supporting the Women's March in Washington D.C. Metro Justice organizers, lead a contingency of 200 community members to the march's starting location at Liberty Pole, and then walked with the other organizations to stand up to Donald Trump's agenda.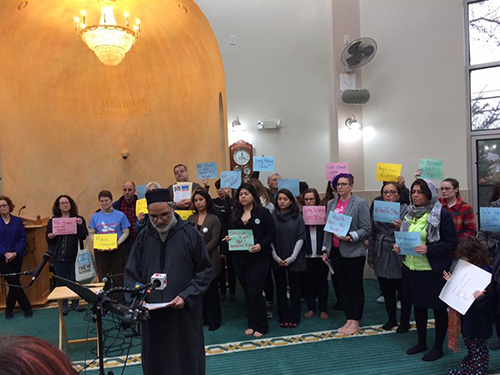 Long Island Unity March. The day before the inauguration, the Long Island Progressive Coalition organized over 150 community members to unite against racism, xenophobia, Islamophobia, sexism, and homophobia no matter who the President is. Their resistance to Trump didn't stop there. On January 26, they stood with the Long Island Unity Coalition again to support our allies against his attacks on Muslims and Immigrants.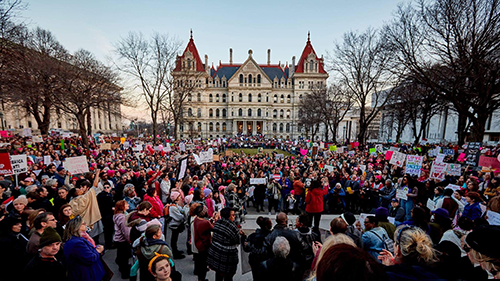 100 Days of Resistance. On January 21, the Capital District Chapter launched their 100 days of resistance campaign with a day of action that included workshops, speakouts, and a march to the State Capitol. Everyone who worked on the event was confident that there would be a strong Albany showing, but the final number blew even their wildest dreams. With more than 10,000 people in attendance, the kickoff of the 100-day resistance was one of the biggest anti-Trump rallies in the country and sent Trump a message that the Capital District would not support his hate.
---
BLOGS
On January 20, we watched Donald Trump be sworn into office, and while I have plenty of words for the Cheetos POTUS, I'm still processing my thoughts on the exit and legacy of Barack Obama, America's 44th president. I decided to share those thoughts with you as well. Click here to read.
---
PODCAST
You are in for an absolute treat. Earlier this week, I was able to sit down with Mark Emanatian of the Capital District Area Labor Federation. Mark and I talked about the anti-war movement, Malcolm X, organized labor, working class people and the Momentive workers on strike. It was a conversation that was engaging, inspiring and informative. In short, it's a podcast you can't miss. Click here to listen.
---
IN THE NEWS
Albany Times Union. More than 7,000 people came out to march in Albany, sending a clear message to the Trump Administration, that the Capital District will not accept his hateful agenda. Click here for the story.
Spotlight News. People of all genders and races joined together in downtown Albany this weekend to march in solidarity with other people all over the world against the recent inauguration of Donald J. Trump, the 45th President of the United States of America. Click here for the story.
Pipe Dream. Thousands of marchers descended on Downtown Binghamton on Saturday to take part in the Women's March on Binghamton. Click here for the story.
SATPR News. Just an hour before the presidential inauguration, advocates, local lawmakers, health care professionals, faith leaders and impacted families joined the National Save My Care Tour Bus outside the New York State Capitol Building to demand that any action to change the health care system provide better coverage for more people. Click here for the story.
---
EVENTS
January 29. In these times of high tension, many people are wondering what they can do. How do we make sure that our human rights are protected? The answer is to organize. When we organize we are building the power to push for real changes in the communities where we live. The Citizen Action Hudson Valley Chapter wants to provide to the community a training on basic organizing skills. Click here to RSVP.
---
TAKE ACTION!
The Trump administration adviser responsible for "preserving and creating good jobs" is the same hedge fund billionaire behind devastating cuts to wages and health care for hundreds of New York workers at chemical giant Momentive. 700 workers there have been out on strike since Nov. 2, picketing every day, huddled in the cold outside the plant. They're refusing to accept a third straight contract with cuts.They need our support now. Click here to add your name telling Stephen Schwarzman and Donald Trump to back off. Click here to take action.
Want daily updates and live footage of our events and actions? We can make that happen (I know a guy). Click here to follow us on Twitter and get real-time updates. If you're looking for cool articles, memes, and a little conversation, like our Facebook page here.