As I try to find the words that will entertain and inform you, John Faso is practicing excuses for blowing off town hall meetings with his constituents. I imagine he's repeating empty lines about "American Values" while listening to Ted Nugent's "Greatest Hits" and lubricating his hair with expired mousse. Do people still put mousse in their hair – was that ever actually a thing? I would ask John Faso, or even Elise Stefanik, but you need at least $2,500 to get a response from one of them. We spent most of the week letting those two and other members of Congress know how we felt about their lack of transparency and accountability to their constituents. Read more below to see what else we accomplished this week.
-Stanley
---
We are a people-powered organization. Support us in the movement for justice
---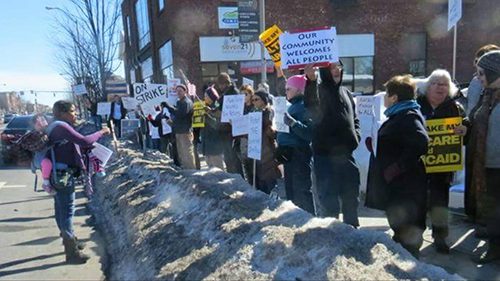 Dirty Money and Faso. Did you know that every time someone ruffles an old $20 bill, a shady politician's schedule opens up? Well, that's the way it seems, at least in John Faso's case. Despite spending weeks refusing to meet with his actual constituents, and even calling town hall meetings a "waste of time," the Republican member of Congress went out of his way to attend an Albany fundraiser where big money donors had to pay to sit with him. In the spirit of the wise Snoop Doggy Dog's famous quote, "ain't no fun if the voters can't have none," we crashed the event and once again demanded Faso meet with his constituents.  Click here for the story.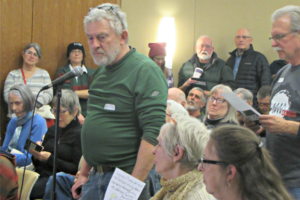 Allergic to Town Halls. On February 22, our awesome Executive Director, Karen Scharff, asked me to send her some photos from last week's Faso Friday event. I channeled my best Elise Stefanik and called her attempt to make me do my job "socialism from a paid organizer" then accused her of being "Fake News." The tactic wasn't as successful as I had hoped. Not sure why, but for some reason, when you are hired to do a job, people expect you to actually do it. Stefanik knows what I mean. Despite being elected to represent constituents, Stefanik, like Faso and other Republicans, has balked at holding a town hall or meeting with her constituents publicly. Instead of accepting this as gospel and paying the appropriate fee for her appearance, Capital District Chapter members participated in a town hall for the community and invited Stefanik. Hundreds of her constituents attended the event. Stefanik did not. The bribe money must have gotten lost in the mail.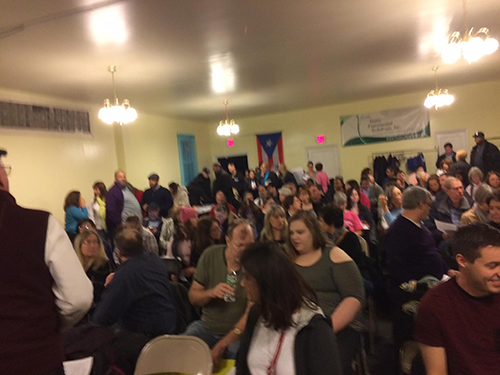 Filled to Capacity. On Long Island, constituents and activists filled up Rep. Peter King's town hall meeting to capacity and had one simple message: "don't take our health insurance." The Republican Congressmember has been one of the loudest supporters for Trump and wants to repeal the health care law that has gotten millions of people quality, affordable health care.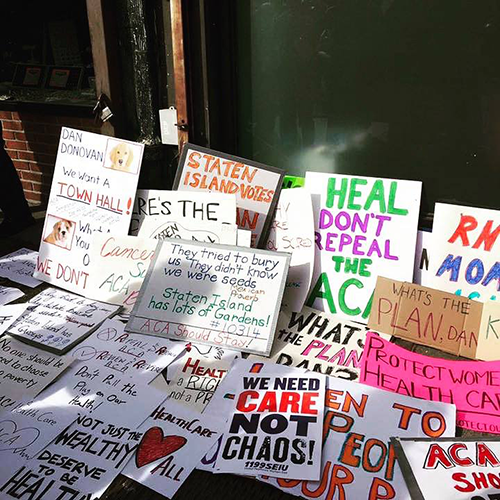 Holding them Accountable. Rep. Daniel Donovan won't meet with constituents who are afraid of losing their health care under the Republican plan to repeal the #ACA. So hundreds of people just left a message at the doorstep of his office!
---
BLOGS
Governor Cuomo has gone out of his way to look like the progressive champion of New York, but his budget proposal for education looks a lot like trickle down economics. I decided to call him out for this behavior in the Huffington Post. Click here to read.
---
PODCAST
We're back with another awesome podcast. This week, I had the honor of speaking with the national organizer for the Woman's March, Nantasha Williams. Nantasha has some cool news about the March and gives us the inside scoop on their March 8 action. Click here to listen.
---
IN THE NEWS
Daily Freeman– U.S. Rep. John Faso fundraiser in Albany prompts protest over refusal to hold town hall meetings. Click here for the story.
WNYT 13– Citizen Action of New York Capital District joins Elise Stefanik constituents to hold town hall meeting without congresswoman. Click here for the story.
Brooklyn News 12-Affordable health care advocates rally outside Rep. Donovan's office. Click here for the story
---
EVENTS
February 25. Join the Southern Tier Chapter for a Film Screening of "Rikers, An American Jail," in conjunction with Raise the Age Lobby Day. Click here to RSVP
February 26. Join the Western New York Chapter of Citizen Action at Niagara Square in Downtown Buffalo to rally for transgender rights. Click here to RSVP
March 4. On March 4, students, teachers, parents and community members across New York State will come together for the People's March for Education Justice. Click here to RSVP
March 7. Join us as we head up to Albany to demand the NY State Raise The Age. Click here to RSVP
March 11. Citizen Action will host a showing of the Netflix film "13th" followed by a discussion of the issues raised by this important film. Click here to RSVP.
---
TAKE ACTION!
Instead of working to build on the progress of the Affordable Care Act and toward making universal health care a reality, Donald Trump and Republicans want to roll the dial back and take coverage away from as many as 30 million people. Help us put an end to this, tell congress that health care is a human right- not a privilege for the wealthy few! Click here to take action!
Want daily updates and live footage of our events and actions? We can make that happen (I know a guy). Click here to follow us on Twitter and get real-time updates. If you're looking for cool articles, memes, and a little conversation, like our Facebook page here.