On Wednesday morning, I woke up like any other day and braced myself for the latest in Trump news. I didn't see any headlines about the world being on fire or the United States "declaring war against the sun" so I figured it would be an easy day. Then I made the mistake of checking my social media apps. Easy D was trending on twitter. Like most of you, I thought they were talking about the hip hop pioneer and late rapper, Eazy-E. They were not. Apparently, Mr. Trump went on another twitter rant, this time trashing a federal judge's decision to put a stop to his immigration ban. You can click here to read the tweet. When you're done with that, check out what we got done this week, and if you have a moment after, try to think of some tweets you think President Cheeto would send in response to our resistance to his bad tan and racist policies.
-Stanley
---
We are a people-powered organization. Support us in the movement for justice
---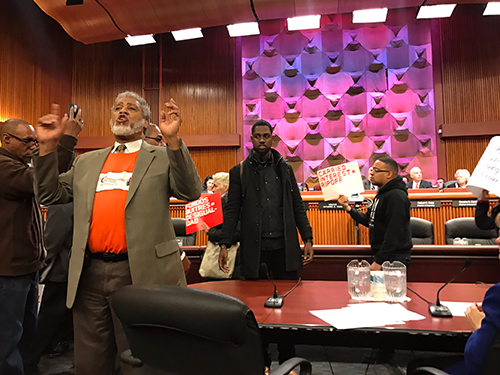 Occupy the Tax Hearing.  On February 7, we joined VOCAL, New York Communities for Change, Make the Road, and Strong Economy for All to disrupt a joint legislative budget hearing on taxes. Tired of being subjected to poverty wages while CEOs rake in enormous profits, we took our grievances directly to the hearing and let our representatives know how we felt. State Senators and Assemblymembers sat in awe as we demanded expansion of the millionaires' tax, increased public education funding, and closing the carried interest loophole. Click here to watch the video.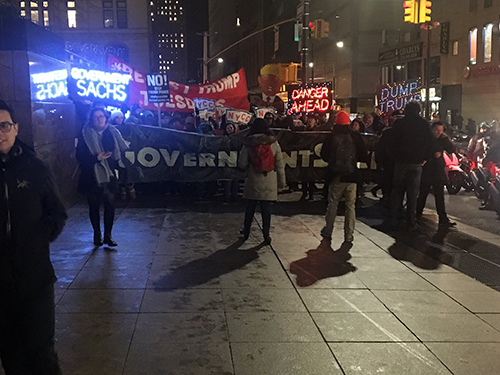 Resist Trump. On February 7, activists in New York City continued their resistance to Donald Trump and his Goldman Sach's powered administration. Protestors marched from Lower Manhattan all the way to Trump Tower to make it clear that working class people will never give in to the whims of the super wealthy, and we'll fight his anti-worker, anti-Muslim, anti-progress agenda every step of the way.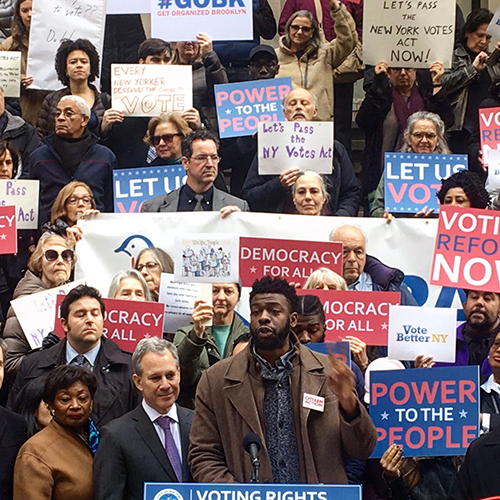 Protect Voters Rights. On Wednesday, the New York City chapter joined New York State Attorney General Eric Schneiderman at a press conference to introduce legislation that will overhaul the state's voting systems. The New York Votes Act includes automatic registration, same-day registration for new voters, online personal voter registration and absentee ballot applications. Could you imagine what our state elections would look like if this bill is passed? It would be transformational.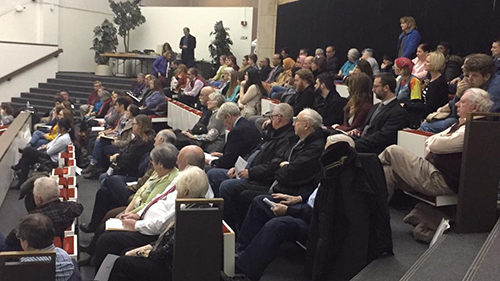 Welcoming Cities Resolution. On February 8, the Southern Tier chapter joined hundreds of Binghamton residents in the City Council chamber to urge their the passage of a resolution that tells immigrants and refugees in the city that they're welcome here. The bill was led by Councilperson Conrad Taylor and County Legislator Mary Kaminsky. Several people in attendance gave comments advocating for the Council to support the bill. It was one of the largest shows of support for legislation since the year started.
---
BLOGS
Check out this awesome post from Citizen Action Campaign Manager and rockstar Blue Carreker. "Leaders like Cuomo tell us that resources are limited; we have a deficit budget, and so modest advancements for the middle class are the most we can expect. But New York's wealth is vast. New York includes a large percentage of the wealthiest people and companies in America." Click here for the full post.
---
IN THE NEWS
Albany Times Union. After three long month's the 700 worker-strong strike at the Momentive chemical plant near Albany is finally coming to a close. Click here to read more.
The Daily Freeman. Congressmember John Faso has gone out of his way to avoid his constituents, but he doesn't seem to have a problem meeting with big money donors. Click here for the story.  
Capital Confidential. A group of roughly 40 activists streamed past legislative staff at Tuesday morning's joint budget hearing on taxation, interrupting testimony by Taxation & Finance Acting Commissioner Nonie Manion. Click here for the story.
---
EVENTS
February 13. Demonstrate in solidarity with hundred cities across the country to voice your opposition to Trump's fast food CEO Andy Puzder from becoming secretary of the U.S Department of Labor! Click here to RSVP
February 13. Trump's nomination of fast food CEO Andrew Puzder as Labor Secretary is an insult to working people. Puzder's restaurants Carl's Jr. and Hardee's have consistently violated wage, hour, and safety laws. Join us as we stand united for labor and all workers Click here to RSVP
February 14. This Valentine's Day, join us in a march and rally to push Senator Amedore to support a change in the state law so that children aren't prosecuted as adults. Click here to RSVP
---
TAKE ACTION!
Senate Majority Leader Mitch McConnell blocked Elizabeth Warren from speaking on the Senate floor for the rest of the debate on Jeff Sessions' nomination as Attorney General. The move came after Sen. Warren tried to read a letter calling out Sessions' record of opposing civil rights and voting rights; a letter written by Martin Luther King, Jr.'s wife, Coretta Scott King. Help send a clear message to Mitch McConnell and Trump's backers in the U.S. Senate. Add your name to stand with Sen. Warren! Click here to take action!
Want daily updates and live footage of our events and actions? We can make that happen (I know a guy). Click here to follow us on Twitter and get real-time updates. If you're looking for cool articles, memes, and a little conversation, like our Facebook page here.