Hey there, I think this email is going to be short. I'm working on a long-form essay that criticizes Frederick Douglass for his lack of involvement in the black community over the last 30 years. Seriously, who does this guy think he is, and why was Trump talking about him on the first day of black history month? Don't worry, I won't let Douglass and Trump ruin the greatest month of all time. Oh, I didn't tell you? My birthday is February, the 21 to be exact, and yes, I absolutely accept gifts. If you want to put a smile on my face feel free to send a birthday message or a friendly contribution to Citizen Action.  Did I just use my birthday to fundraise for Citizen Action? Yes, but in all seriousness, why wouldn't I? I love working here because we do good work, and the good work that gets done is able to happen because of great people like you volunteering your time and donating a dollar or two when you have it to spare. Want to know what the money will go to? Keep reading.
-Stanley
---
We are a people-powered organization. Support us in the movement for justice
---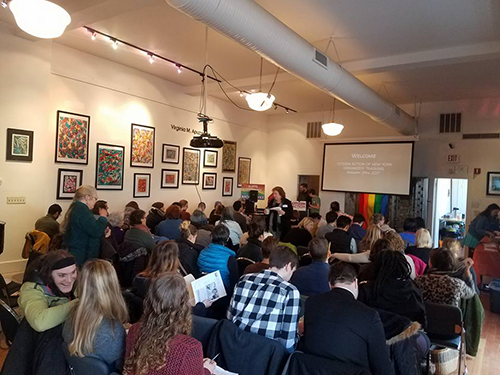 Organize and Resist in the Hudson Valley.  On January 29, the Hudson Valley Chapter continued their run of awesome events and actions with an organizing training. The training used materials from the Midwest Academy and other organizer training programs. It helped participants start strategizing local work around core state issues like Criminal Justice Reform, Climate Justice and Education Justice. Click here to see a video from the event.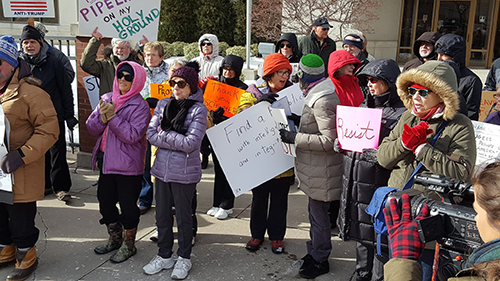 Resist Trump. On February 2, the campaign to resist President Orange Face Trump continued with actions in the Southern Tier, Western New York and the Capital District. The chapters organized rallies at Senator Schumer's local offices urging him to resist Trump's agenda and reject cabinet nominees! President Trump is a danger to our communities and environment. His administration of corporate cronies will protect elite interests while threatening our water, food and air, undermining civil rights and risking climate chaos.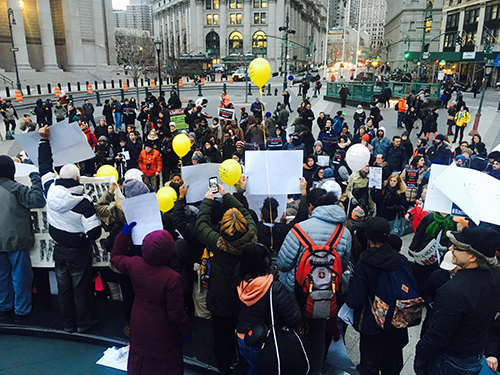 Justice for Ramarley Graham. On Thursday, February 2, our New York City Chapter joined Make the Road New York, and Communities for Police reform at Foley Square in downtown Manhattan to demand Justice for Ramarley Graham, an unarmed black teenager who was killed by the NYPD five years ago.  New Yorkers from across the city demanded that Mayor de Blasio and Commissioner O'Neill fire Richard Haste and all other officers responsible for unjustly killing Ramarley, threatening and assaulting his family and engaging in other misconduct surrounding the case.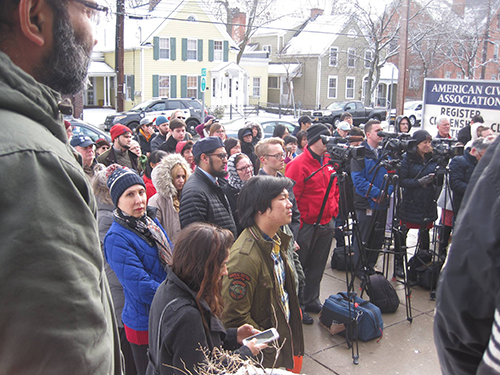 Sanctuary in the Southern Tier. On February 2, the Southern Tier chapter joined City Councilperson Conrad Taylor and County Legislator Mary Kaminsky to support them as they announced their plan to introduce the Welcoming Committees Resolution at the American Civic Association. The proposed resolution aims to help Binghamton welcome incoming refugees and show compassion to immigrants at a time when Donald Trump and his administration are attacking immigrants and refugees. Click here for more. 
---
BLOGS
Check out this awesome post from Citizen Action Campaign Manager and local rockstar, Blue Carreker. "Leaders like Cuomo tell us that resources are limited; we have a deficit budget, and so modest advancements for the middle class are the most we can expect. But New York's wealth is vast. New York includes a large percentage of the wealthiest people and companies in America." Click here for the full post.
Donald Trump thinks he can bully us into getting rid of our sanctuary cities. He's a hundred percent wrong. Here's our message to Donald Trump: Sanctuary cities are not going anywhere. We will resist your anti-immigrant agenda. Click here for our full statement. 
---
PODCAST
Last week I was able to sit down with Mark Emanatian of the Capital District Area Labor Federation. Mark and I talked about the anti-war movement, Malcolm X, organized labor, working class people and the Momentive workers on strike. It was a conversation that was engaging, inspiring and informative. In short, it's a podcast you can't miss. Click here to listen.
---
IN THE NEWS
Time Warner Cable. As the 700 worker-strong strike at the Momentive chemical plant near Albany enters its third month, a report from the Hedge Clippers shows that hedge fund billionaires, including a Trump administration adviser, are behind the wage and benefit cuts that workers are fighting. Check out Time Warner Cable's interview with our Executive Director, Karen Scharff and Mark Emanation from the Capital District area Labor Federation discuss the strike. Click here for the story.
Niagara-Gazette. Buffalo community members thanked U.S. Senate Minority Leader Chuck Schumer for opposing some of President Donald Trump's "catastrophic cabinet appointments" Click here for the story.
The Post Star. The Alliance for Quality Education is crying foul over Gov. Andrew Cuomo's assertion that the state has fulfilled its obligation to boost Foundation Aid. Click here for the story.
---
EVENTS
January 21. Join millions of people in Washington to advocate for Women's Rights and protest the Trump agenda. Call the Southern Tier Citizen Action at 607.723.0110. Seats limited.
January 23. Join young progressives organizing to make Binghamton a more just place. Plug into electoral and issue organizing happening in and around your city. Click here to RSVP
January 26. Come together and take action – weekly, we will be doing an overview of what's happening, taking actions that will make a real difference in the lives of people in the Hudson Valley, and building our community so that we are so powerful, we can't be ignored. Click here to RSVP
January 26. Are you in Binghamton and want to learn how to get involved in the movement? The Southern Tier chapter is holding training's to give you the tools you need. Organizing 101 – How to Organize – basic organizing skills. For information, call Citizen Action at 607.723.0110.
January 29. In these times of high tension, many people are wondering what they can do. How do we make sure that our human rights are protected? The answer is to organize. When we organize we are building the power to push for real changes in the communities where we live. The Citizen Action Hudson Valley chapter wants to provide to the community a training on basic organizing skills. Click here to RSVP
---
TAKE ACTION!
We need U.S. Senate Democrats to fight a Trump Supreme Court nominee who will work to eliminate fifty years of progress – everything from reproductive rights, to voting rights and basic environmental and consumer protections. Republicans spent 293 days refusing to hold a hearing for President Obama's Supreme Court nominee and ultimately never did. This is a stolen seat. Urge Sen. Schumer to fight back! Click here to take action.
Want daily updates and live footage of our events and actions? We can make that happen (I know a guy). Click here to follow us on Twitter and get real-time updates. If you're looking for cool articles, memes, and a little conversation, like our Facebook page here.