Do you watch the Late Show with Stephen Colbert? If not, you are missing comedic gold. Steven, like most of us, is struggling to deal with Donald Trump and his ragtag team of racists and incompetents. Unlike us, Colbert has a huge platform to express that frustration and rips into Trump every second he gets. If you need a laugh, I strongly suggest you watch it. If you're a responsible adult and go to sleep at a decent hour, you can still watch some of the highlights by clicking here. Done watching? Did you laugh? Are you fired up? Good. Trump and the GOP have been flat out ridiculous this month, if they're not writing baseless executive orders banning entire groups from the country, Congress is pushing a massive tax cut for the rich disguised as a healthcare plan. They seem to be really into this "Destroying the world" thing. But we're not going to let them win, are we? This week the battle was around healthcare at the federal level. Check out the stories below.
-Stanley
---
We're a people-powered organization. Click here to support us in the movement for justice.
---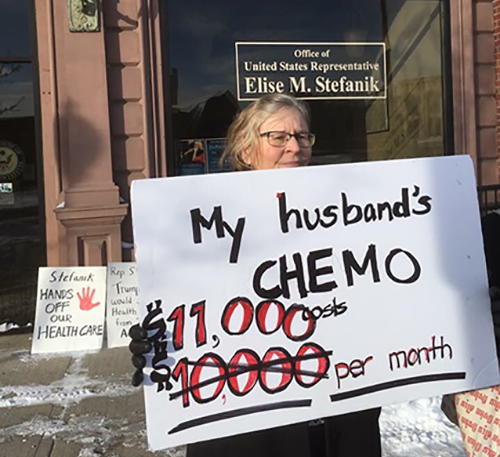 Stefanik and The Trump Care Pushback. On March 16, The Capital District chapter joined constituents and activists to launch a multi-day protest outside of Congress member Elise Stefanik's Glenn Falls office. With many in the community worried about losing their health coverage, participants demanded Stefanik oppose the Republican-American Health Care Act, a bill that would give $500 billion in tax cuts to the super-rich while stripping healthcare away from 24 million people, including 3 million in the state of New York. As you're reading this, there are still constituents outside of her office demanding answers.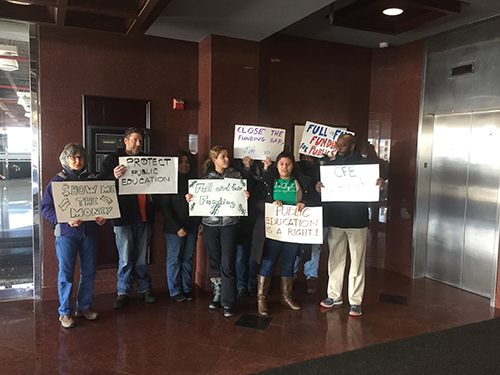 Defend our Education. On March 16, The Long Island Progressive Coalition joined the Alliance for Quality Education, teachers and parents outside of the office of state Senator Kemp Hannon to demand the New York Senate fully fund the Campaign for Fiscal Equality. Currently, state Senate Republicans and the Indepdendent Democratic Conference are supporting a budget that would eliminate the core purpose of the Foundation Aid formula and replace it with six different formulas.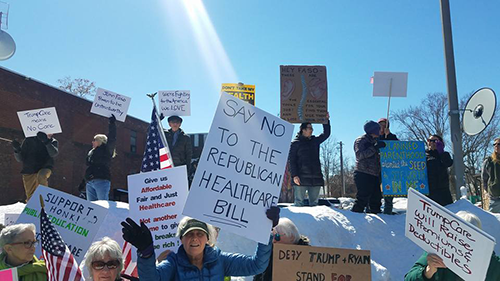 Fed up with Faso. After months of phone calls, letters, office visits and public pleas, Congress member John Faso decided to ignore his constituents and support Donald Trump and the GOP's toxic "health care" plan. I'm not quite sure what Faso expected to happen when he turned his back on his constituents, but I was pretty confident in what his constituents response would be. Just 24 hours after Faso sold them out by voting 'yes' on the bill in the Budget Committee, our Hudson Valley Chapter joined a fired up crowd of constituents in front of his office to let him know just how upset they are with his vote.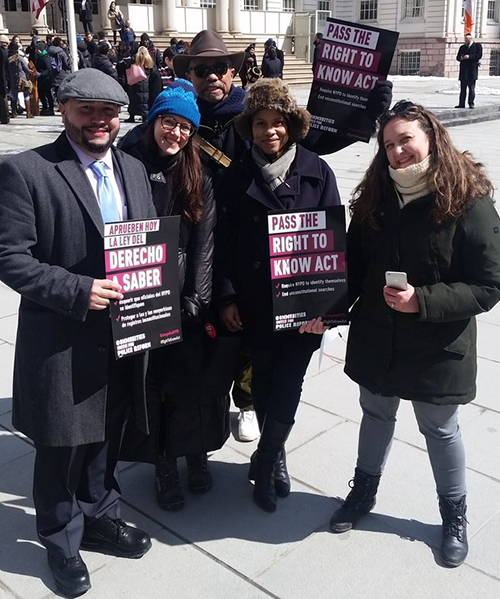 The Right to Know. Our New York City chapter joined Communities United for Police Reform and Faith in New York at City hall to urge Council members to pass the Right To Know Act. The bill would require officers in New York City to identify themselves and provide their name, rank, command and a phone number for the Civilian Complaint Review Board at the end of police encounters that do not result in an arrest or summons. Seems like a reasonable request, but we're getting pushback.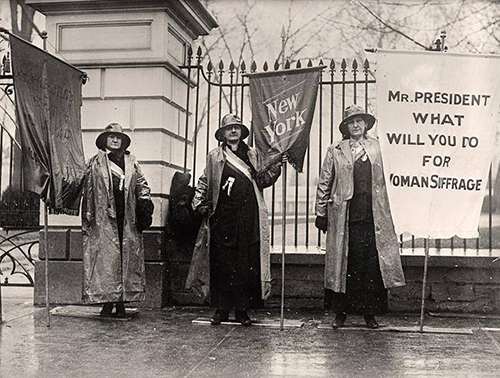 Let's Get This Vote Right. On March 13, as New Yorkers celebrated the 100th anniversary of women's suffrage, some of the most badass women leaders in all of New York took over the Million Dollar Staircase in the state Capitol to demand our legislators take the state's election and voter registration process out of the 1800's and into modern times. Ok, that's not exactly what they said – but it was pretty close. Currently, New York ranks 49th in voter turnout. There are literally more people turning out to see Matt Damon's Wall of China than there are participating in our elections. I think I speak for all self-respecting New Yorkers when I say, something has got to give.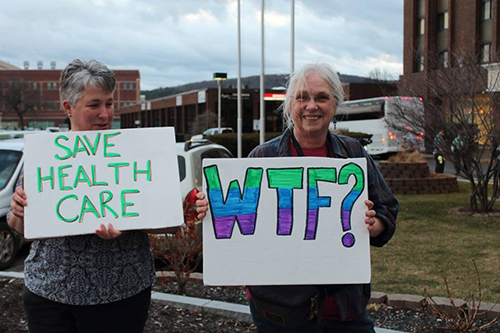 Resist Trump Care. On March 13, the members of our Southern Tier chapter once again displayed why they are some of the coolest, most inspiring people you will ever meet. What did they do? Well, that morning, a group of about 50 people stood outside of the Metro Center in 18-degree weather. Do you know how cold 18-degree weather is? Neither do I, because I don't have the guts to stand outside when it's 18-degrees. And why were they out there? Well, the answer is pretty simple. They were there to urge their Congress member Claudia Tenney not to support the Republican health care bill. Claudia Tenney was not as awesome, or classy as our sisters and brothers in the Southern Tier. She refused to speak with them, locked the doors to her building and had one of her staffers call the cops. Stay classy, Claudia.
---
BLOGS
On March 10, our Western New York organizer, Samantha Nephew participated in the Native Nations march held in Washington D.C. It was a powerful exhibit of solidarity and support for indigenous activists fighting to protect their rights to their land and water, including those still working to stop the Dakota Access Pipeline. Samantha wrote about her experience on her blog. Click here to read more.
---
IN THE NEWS
Long Island News 12– Republicans are having a lot of trouble building support for Donald Trump's unaffordable insurance plan. Much of that trouble has come from grassroots organizing from the Long Island Progressive Coalition. Click here for the story.
WBNG- Protesters turned out for the grand opening of Congress member Tenney's office and demand she vote no on the GOP health care bill. Click here for the story.

---
EVENTS
March 19 Join the New York City chapter to share stories about how the Raise the Age campaign has affected you, loved ones or friends, and let those four men in a room not leave until Raise the Age is passed! Click here to RSVP
March 21. Looking for a way to get involved, but don't know how? Then join our Hudson Valley chapter for their weekly Action Night. You get to meet new people, learn about Citizen Action, and resist efforts to undermine average people. Click here to RSVP
March 23. Join the New York City Chapter and the New York Gathering for Justice as they screen a documentary about the life of Shirly Chisholm campaign for president. Click here to RSVP
---
TAKE ACTION!
Politico reported this week that House Republicans from New York are becoming "wary" of the plan to repeal the Affordable Care Act. Our chapters across the state are holding actions every day this week at the offices of New York Congress members to make sure they get the message: Health Care is a human right, not a privilege for the wealthy few! To do that, we're devoting even more resources to organizing in key Congressional districts. We need your support. Click here to contribute today, so that Citizen Action of New York can keep fighting back! Click here to take action!
Want daily updates and live footage of our events and actions? We can make that happen (I know a guy). Click here to follow us on Twitter and get real-time updates. If you're looking for cool articles, memes, and a little conversation, like our Facebook page here.