The other day while hanging out at a bar on 150th Street and Broadway, I heard a new song that has absolutely taken me by storm. I have no idea what the artist is saying, but I LOVE IT! The song is from Marc Antony and it's called Tu Amor Me Hace Bien. Click here to listen. I haven't been able to stop listening since that day at the bar, and every time it comes on it instantly improves my mood. I have gotten into the habit of listening to it on my way to the gym. And then I got to thinking, do Republicans listen to music? I know Speaker Paul Ryan has a troubling obsession with Papa Roach. But what kind of music was John Faso listening to when he voted to make rape a pre-existing condition? What tunes added pep to Claudia Tenney's step when she celebrated the potential doubling of health premiums? And does Elise Stefanik listen to music? She's a millennial, so is she a fan of Kendrick Lamar, or is that too progressive for her? And while we're at it, what kind of music are you listening to while reading this email?
-Stanley
---
We're a people-powered organization. Click here to support us in the movement for justice.
---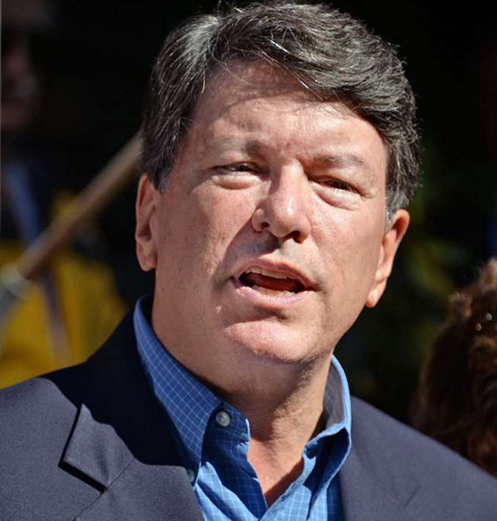 Faso Refuses to Learn.  After months of protest, personal appeals, phone calls, and even written letters, Rep. John Faso tapped into the Republican ability to ignore constituents and voted in favor of the American Health Care Act: a bill that will strip 2.7 million New Yorkers of health insurance. Furious with this move, Kingston constituents showed up to his district office, protesting and demanding answers. Because Faso isn't the kind of elected official who's interested in being held accountable, he didn't face us. No surprise there.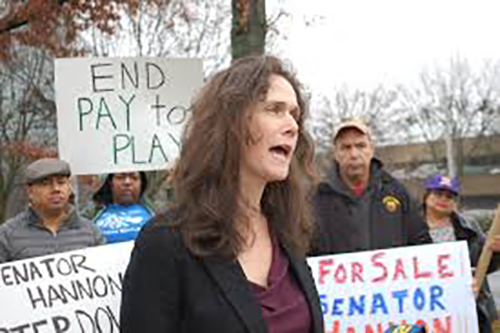 Long Island Wants Fair Taxes. On Tuesday, May 2, the Long Island Progressive Coalition joined Democratic Nassau County Executive candidate Laura Curran to call on Republican County Executive Edward Mangano to lobby the White House and Congress against President Donald Trump's proposal to eliminate federal deductions for state and local taxes. Lisa Tyson, director of LIPC, had a chance to speak and stressed the importance of their county executive standing up for working people and a fair tax system.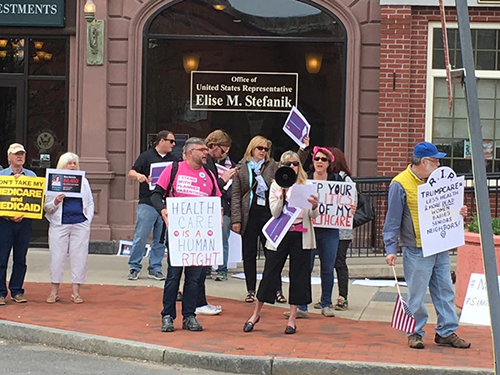 Stop Stefanik. As Donald Trump and Congressional Republicans inched closer to having enough votes to pass Trump's health care law, the Capital District Chapter joined community members, activists, and constituents to protest at Rep. Stefanik's office and demand she vote against on Trumpcare. Instead of listening to these demands, Stefanik went against the people she represents, choosing corporations and the wealthy.
---
BLOGS
So guess what happened? Ok, I'll just tell you. Jamaica Miles, Citizen Action's Capital District Lead Organizer (and one of the coolest people to ever walk this Earth) was featured in the Huffington Post. The story covered the treatment of black and brown children in public schools. This story is a bit jarring but definitely worth the read. Click here to read.
---
PODCAST
In the middle of all of the great workshops and actions that took place during the Rise Up Convention, I had the opportunity to sit with People's Action Co-Director LeeAnn Hall. LeeAnn and I discussed the origin of the convention, what she was looking forward to participating in, and how people could join the movement. Click here to listen.
---
IN THE NEWS
Daily Freeman. Despite a 17% approval rating and language in the bill that would cause acne and obesity to become pre-existing conditions, Rep. John Faso decided to vote in favor of Trump Care. His constituents were not happy. Click here for the story.  
Spectrum News. Republicans in New York continue to feel the pressure after voting for Trump Care. In New York, protesters in Glens Falls were at Elise Stefanik's vowing to make sure she pays for her vote on election day. Click here to read more.
---
EVENTS
May 9. Join the Hudson Valley Chapter for a Health Care Roundtable and learn about the devastating effects of the AHCA. Hear from elected officials, small business owners, health care providers, and those directly impacted by this bill; then listen in for how we can build the fight for our community and against these massive tax giveaways to the 1%.
June 3 & 4. Hundreds of New Yorkers who fight for justice will join together. Regardless of the issues, you work on, or how you work on them: if you're an organizer, a volunteer, a door knocker, a blogger, a policy wonk, or all of these things – Justice Works is the conference for you. Last year was an empowering experience with keynote speaker, Keeanga Yamahtta Taylor, and who could forget my rousing 2015/16 year in review presentation? This year's conference will be bigger and better, so sign up before we sell out. Click here to RSVP
---
TAKE ACTION!
The federal budget proposed by Donald Trump would destroy the Environmental Protection Agency's ability to keep the air we breathe and the water we drink safely While we fight the Trump administration every step of the way in D.C., New York must lead on climate change by transitioning to 100% renewable energy. It's up to Governor Cuomo. Click here to take action.
Want daily updates and live footage of our events and actions? We can make that happen (I know a guy). Click here to follow us on Twitter and get real-time updates. If you're looking for cool articles, memes, and a little conversation, like our Facebook page here.