We have anywhere between 3-6 days left in the 2017 New York State Legislative Session, and in that time we could pass automatic voter registration, grant formerly incarcerated people their right to vote, and even pass Universal Healthcare. All we need is for the Independent Democratic Conference (IDC) to stop acting like they're the Donald Trump Fan club, and for Governor Cuomo to step away from his upcoming losing bid for President and do his job in New York. None of this sounds likely, but stranger things have happened. I was once confused for Beyonce. Granted, I was wearing a blonde wig and had on black shades. But other than that, there wasn't  anything else that should convince someone I was a musical goddess who gives birth to billionaire children and is married to the best rapper alive. But if that's possible, then getting some real legislation done before the end of the session is too. Here's what we're doing to make that a reality.
-Stanley
---
We're a people-powered organization. Click here to support us in the movement for justice.
---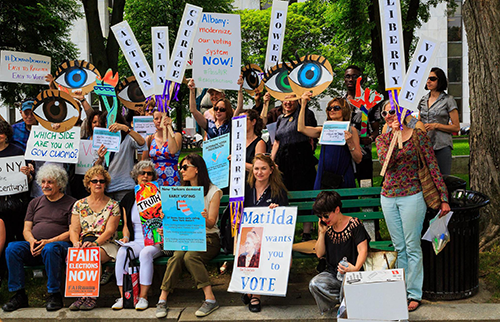 Fair Elections in NYC. You know an issue is important to New Yorkers when they willingly run around the Capital during 90-degree weather to get a point across. Well, that's exactly what happened earlier this week. On Tuesday, June 13, People from across NYS and representing dozens of organizations and thousands of individuals ascended on the NYS Capitol today in Albany to stand up to #DemandDemocracy and for #VotingRightsForAll with #EasyElectionsNY. The community members were joined by New York State Assembly Members, Diana Richardson, and Latrice Walker as well. Turning the event into a 90-degree voting rights extravaganza!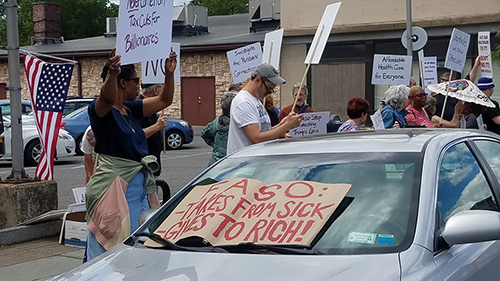 Faso Friday. While most of the world is tuning in to C-Span for the first time ever to see how deep this Russian election scam goes. The Republican Party is trying to pass a healthcare law that would give huge tax cuts to the super rich, and strip millions of working people of affordable health insurance. John Faso, Kingston's Republican Congressman has been a huge supporter of said Republican healthcare plan. Kingston residents… Not so much. In response they have protested in front of his office, every single Friday since the Inauguration. You would think the guy would figure out that selling out his constituents to the 1% won't do him any good. He hasn't, and so we persist.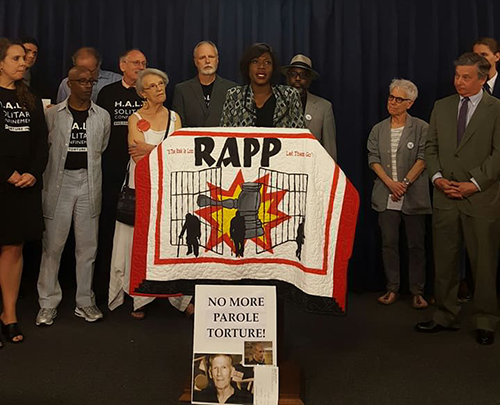 Going after the States Parole Board. Also on Tuesday, we joined Legislators, formerly incarcerated people, other advocates, and community groups at a press conference to call on the Assembly to pass the #HALTsolitary confinement Act. Solitary Confinement is a horrendous practice that should be considered torture, and it's about time we got rid of it. Along with that demand, we also called on the Governor and Senate to not re-appoint or holdover the five abusive Parole Commissioners whose terms expire this year (James Ferguson, Kevin Ludlow, W. William Smith, Otis Cruse and Julie Smith.)
---
PODCAST
In this week's Activist Check-In Podcast, I speak with Dan Sherrell about the NY Renews campaign and our goal of getting New York State to 100% renewable energy by the year 2050. Click here to read more.
---
IN THE NEWS
Times Union. A coalition of prison reform advocates and mental health groups joined forces Tuesday in their call for limits to the use of solitary confinement in prisons and in getting some more diverse faces on the state parole board. Click here for the story.
---
EVENTS
June 15. Join Citizen Action of New York, Southern Tier for their Unhappy Hour Mixer. This is a support group for those suffering with "Trump Induced Anxiety Disorder." Come socialize and "whine" about your concerns regarding the Washington Agenda. Click here to RSVP
June 17. Kingston's 5th Juneteenth Celebration, With Special Tributes to Drew Andrews, Director of Kingston's Center 4 Community Education, and extraordinary hip hop dancer and teacher. And, Journey Truth who at 105 has been a voice for freedom for close to 90 years. Click here to RSVP
June 27. On Tuesday, June 27, The Gathering for Justice and Justice League NYC is pleased to present "Stop The Violence: A Town Hall From The Block To The Capitol" as part of New York's Gun Violence Awareness Month – Hosted by Mark Thompson of SiriusXM's "Make It Plain". The Town Hall includes panel discussions, keynote address, special performances – and lunch. The event takes place at 131 West 33rd Street, 2nd Floor Auditorium. Doors open at 11:15AM, Lunch Served at 11:30AM, Program Begins at 12PM. Click here to RSVP
July 8. To resist the Trump Agenda we must organize and work together. That is why LIPC will be hosting a day long conference on July 8th at the IBEW local 25, 370 Vanderbilt Motor Pkwy, Hauppauge. Join us in workshops on organizing for campaigns, issues, and elections. Click here to RSVP
---
TAKE ACTION!
The federal budget proposed by Donald Trump would destroy the Environmental Protection Agency's ability to keep the air we breathe and the water we drink safe While we fight the Trump administration every step of the way in D.C., New York must lead on climate change by transitioning to 100% renewable energy. It's up to Governor Cuomo. Click here to take action.
Want daily updates and live footage of our events and actions? We can make that happen (I know a guy). Click here to follow us on Twitter and get real-time updates. If you're looking for cool articles, memes, and a little conversation, like our Facebook page here.