Did you know that if you close your eyes and concentrate really hard, you can hear the moment where Governor Cuomo realizes his strategy of dodging accountability is failing? No, seriously. After spending months making believe that he had no control over the New York City subway system, he is finally getting called out for his inaction! I guess that's what happens when a train derails in Northern Manhattan and people start asking questions. Thankfully, he urged state legislators to return to Albany so he could force them to name a bridge after his father extend Mayoral control of schools and declare a state of emergency for the Metropolitan Transit Authority. Ok, enough Cuomo, I'm sure he's going to do everything in his power to make sure the trains arrive on time, let's talk about us and what's going on this week. It's been pretty busy.
-Stanley
---
We're a people-powered organization. Click here to support us in the movement for justice.
---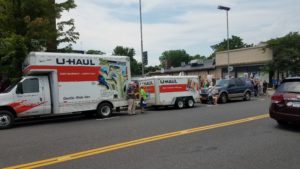 Faso Gets Some Street Theatre. On Friday, a coalition of organizations against the House and Senate Republican health care plans organized a street theater performance in front of Congressman John Faso's office. The performance, which took place after a set from the Tin Horn Uprising, an activist band made up of musicians from across the Hudson Valley, used storytelling to show the potential real-life impacts of the Senate (Better Care Reconciliation Act) and House (American Health Care Act) health care bills if they passed. But wait, it gets better. A handful (actually three people) of Faso's supporters (probably his mom, his wife, and an intern) pulled up to his office with U-Haul trucks to try and block our resisters from giving him a piece of our mind. It's possibly the weirdest case of counter protesting that I have ever witnessed.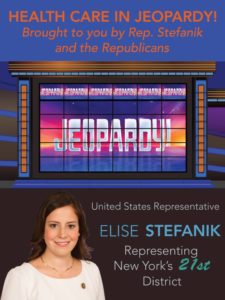 Glens Falls Jeopardy. On Thursday, the good people of Glens Falls visited Republican Representative Elise Stefanik and hosted a live game show of "Health Care in JEOPARDY!" in the rain. The show included local residents Stephen Baratta as host Alex Itsdreck, and contestants Albert Ormsby and Ellen Egger-Aimone, along with a live (not exactly studio) audience. We formatted the questions just like the real show, and while I expected Stefanik to at least take a quick peek to see what was going on, she remained MIA, leaving many of us to ask, "What is a present Representative? Click here for the video.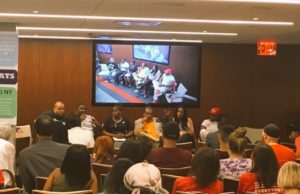 Town Hall Covers Gun Violence from the Block to the Capitol. On June 27, the New York City chapter joined The Gathering for Justice and Justice League NYC in a panel event titled, "Stop The Violence: A Town Hall From The Block To The Capitol."  Hosted by Mark Thompson of SiriusXM's "Make It Plain," the Town Hall was a day long discussion around gun violence. It included panel discussions featuring New York State Assemblymembers Diana Richardson and Latrice Walker, a keynote address from Tamika Mallory, a special performance from Rapper Mysonne, and deep discussions around ways to uplift and improve our communities. If you missed the event, you can check out some of the highlights here. Click here for the stream.
---
BLOG
A couple of months ago I wrote a blog post about Donald Trump's pending health care bill. It talked about the negative impacts on communities of color. This might be a good time to revisit that post. Click here to read. 
---
IN THE NEWS
Post-Star. A coalition of advocacy and labor organizations staged a "health care in Jeopardy!" action in front of the office of Rep. Elise Stefanik's office in Glens Falls. Click here for the story.
Governing. Andrew Cuomo Is One of the Most Progressive Governors. (So Why Don't Liberals Like Him?). Click here for the story. 
---
EVENTS
July 5. The newly elected Schenectady Board of Education members will be sworn in at MPMS on July 5, 2017. There will be a public comment section where parents, students & community can be heard. What do we want our Board of Education to know is a priority for our students' success? What policies do they need to address? What changes need to be made? Click here to RSVP
July 8. To resist the Trump Agenda we must organize and work together. That is why LIPC will be hosting a day-long conference on July 8th at the IBEW local 25, 370 Vanderbilt Motor Pkwy, Hauppauge. Join us in workshops on organizing for campaigns, issues, and elections. Click here to RSVP
---
TAKE ACTION!
We're recruiting hundreds of volunteers in Republican Congressional districts to speak with each and every one of their neighbors about what's going on in Washington. This summer, we'll be hitting doors across the state. Click here to support.
Want daily updates and live footage of our events and actions? We can make that happen (I know a guy). Click here to follow us on Twitter and get real-time updates. If you're looking for cool articles, memes, and a little conversation, like our Facebook page here.