You're probably wondering why you got the Check-In so late this week. Well, the truth is that I have been hiding in a bunker from fear that Donald (I don't use a wash rag when I bathe) Trump may get us into a nuclear war with North Korea. And sure, they don't have what I would call "state of the art" technology, but they have the gumption, and sometimes that's enough to win a war. Ok, gumption is absolutely not enough to win a war, and I'm not hiding in a bunker. I'm in Kingston. With Callie. And we're gearing up for the Citizens' March. Are you going to be there? Don't worry – even if you can't make it, I'll be sure to paint a vivid picture in next week's check-in. Here's the picture for this week.
---
We are a people-powered organization. Support us in the movement for justice!
---
In New York, We Reverse Runaway Inequality. Want to know a secret? Ok, I'll tell you. Millionaires and billionaires are making even more money than ever before. While the rest of us struggle to make ends meet, work harder than we ever have, and sacrifice all kinds of things just so we can get by. I'm sick and tired of that. A lot of us are. That's why the New York City Chapter hosted a workshop on Runaway Inequality, creating a space to talk about ways to put an end to this.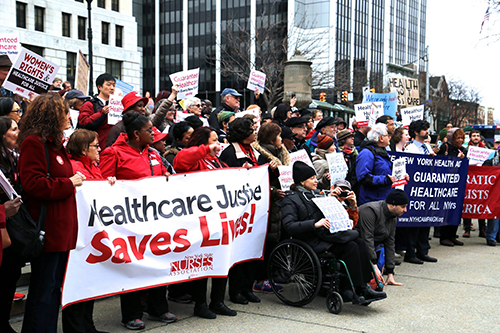 I Can't Believe We're Still Fighting for Health Care! Winning universal health care will require a broad and diverse movement of New Yorkers coming together to demand health care as a human right. Unfortunately, it will also take a movement willing to resist Agent Orange (I mean Donald Trump) and his Republican driven Wealth Care agenda. On August 9, the Western New York Chapter hosted a meeting of minds to talk about next steps in the fight for universal health care.
---
PODCAST
On the Activist Check-In Podcast, Stanley Fritz sits down with the New York Public Interest Research Group's Campaign Coordinator, Jaqi Cohen. They discuss the problems with New York City's transit system, why people north of the City should care, and why it's all Governor Cuomo's fault. Click here to listen.
---
IN THE NEWS
Chicago Tribune. This new book collects essays and recipes to 'feed the resistance' and encourage community, activism. Click here for the story.
---
Events
The Jim Perry Progressive Leadership Awards has become an anticipated annual gathering of our Capital District progressive community. And now, when democracy and justice are under attack, it is more important than ever to come together and celebrate our progressive leaders. Click here to RSVP.
---
TAKE ACTION!
We're recruiting hundreds of volunteers in Republican Congressional districts to speak with each and every one of their neighbors about what's going on in Washington. This summer, we'll be hitting doors across the state. Click here to support.
Want daily updates and live footage of our events and actions? We can make that happen (I know a guy). Click here to follow us on Twitter and get real-time updates. If you're looking for cool articles, memes, and a little conversation, like our Facebook page here.
---