Thanks to all of our calls, emails, and actions the Graham-Cassidy bill is dead and buried. Another repeal bill bites the dust (cue In Memoriam montage). But we have a new threat on the horizon. This week Trump unveiled the outline for his tax plan. Surprise, surprise, it slashes taxes for the wealthy, and leaves the rest of us holding the bag. In addition to tax cuts for hedge funders and CEOs, it calls for the full repeal of the estate tax, which means Walton offspring will be flying private for the next sixty or so generations (or until the Earth is consumed by the Sun). I don't know about you, but I'm perfectly happy snacking on peanuts in coach. Now on to this week's report.  – Ravi
---
We're a people-powered organization. Click here to support us in the movement for justice.
---
STATEWIDE ACTIONS
In Kingston, Citizen Action teamed with the Center for Creative Education for a Thriller-inspired flash mob that brought attention to federal budget cuts to health care, education, and arts funding. Dozens of zombified youth participated in the action.

(Photo courtesy of Mid Hudson News)
Citizen Action leaders in the Capital District stood with unionized workers at the Hilton Albany hotel, who are currently in contentious labor negotiations. Union Capital, which purchased the hotel in 2015, is attempting to cut paid vacation time, bereavement days, and replace worker pensions with an egregiously low 401k matching plan.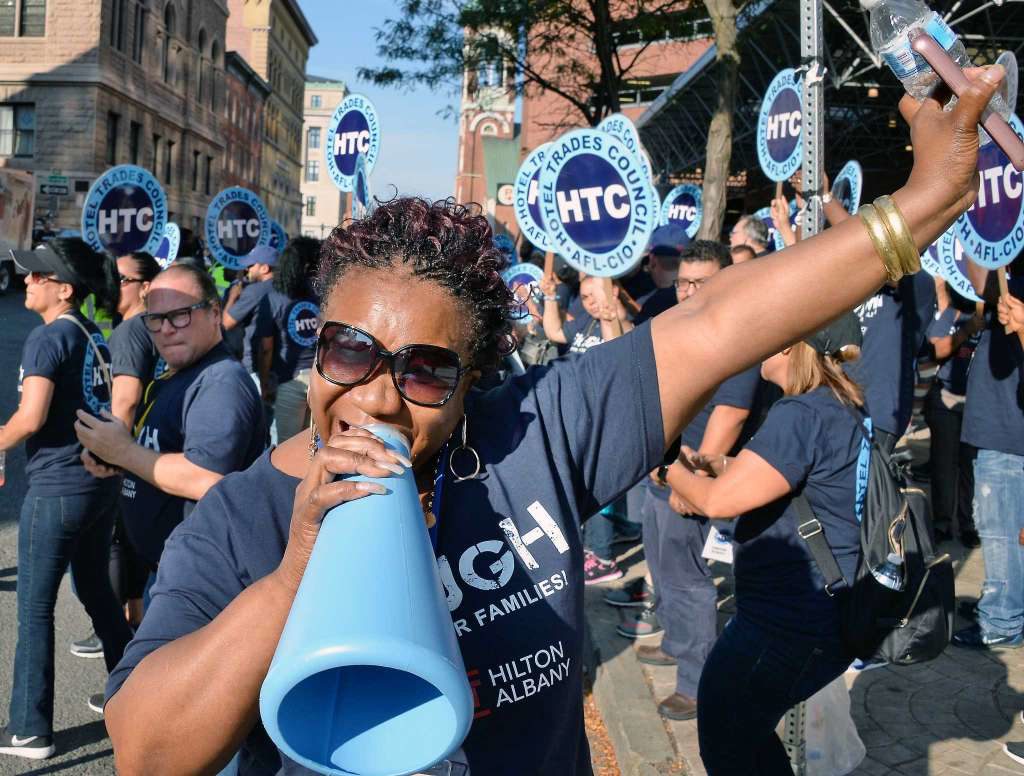 (Photo courtesy of John Carl D'Annibale, Albany Times Union)
Ivette Alfonso and Cessie Alfonso of the Citizen Action of New York Capital District Chapter performed outreach to immigrants in our community at the 2017 Latin Fest.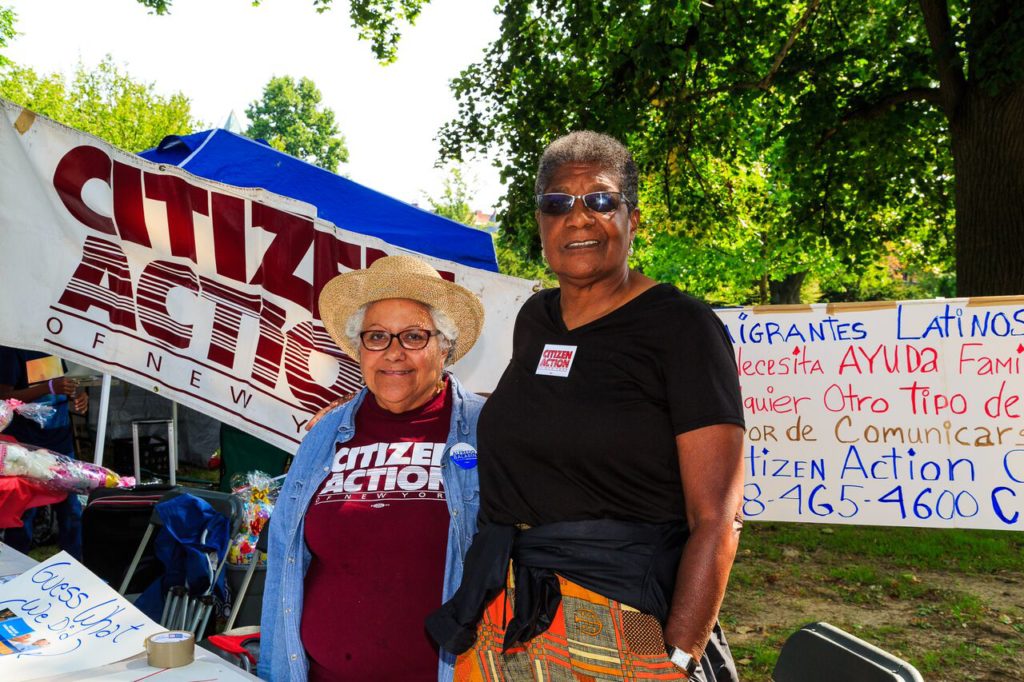 ---
SUPPORT PUERTO RICO RECOVERY
Puerto Rico suffered a direct hit from Hurricane Maria. Millions of people are without power or access to food and water.
After nearly a week of silence on the devastation, Donald Trump berated the island for its "broken infrastructure" and the "massive debt" it owes to hedge funds – the same hedge funds that forced terrible cuts to Puerto Rico's schools, hospitals and other essential public services.
Puerto Rico needs our help. Citizen Action's Albany chapter is helping to send a huge shipment to groups who are distributing relief supplies on the ground.
Here's what you can do: Donate to Center for Popular Democracy's Hurricane Maria Relief Fund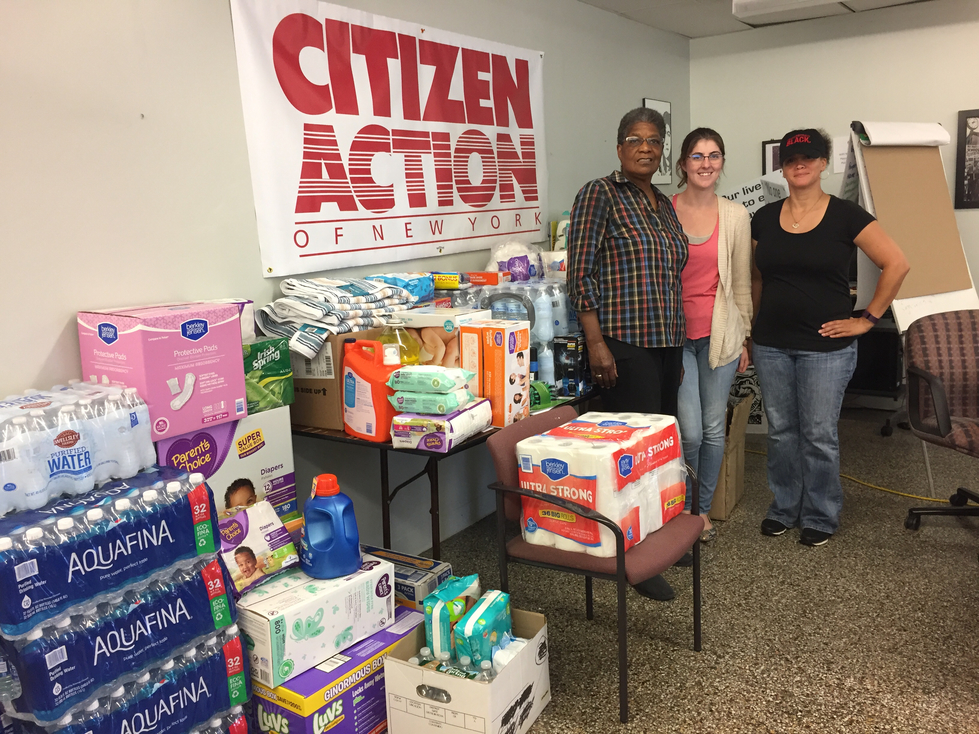 ---
IN THE NEWS
Local Electeds Should Lead on Child Care – Blue Carreker – "Mayors, city and town council members, and county legislators can help collect and bring to the state the stories of families trying in vain to find quality care; and talk about the positive impact of available, quality child care on economic development and job creation." Read Full Article
---
UPCOMING EVENTS
Binghamton – Sunday, Oct 1st at 5 pm – Racial Justice Vigil – Citizen Action of New York Southern Tier Chapter is partnering with the YMCA Binghamton to hold a racial justice vigil, which will coincide with the national march in Washington. Martin Luther King Park and Promenade, Binghamton, NY 13901. RSVP on Facebook.
Albany – Thursday, Oct 5th at 6 pm – Celebrate progressive leaders in our community at the Jim Perry Progressive Leadership Awards. This year will be the twenty-fifth anniversary of the awards ceremony. The Desmond Hotel, 660 Albany Shaker Rd, Albany, NY 12211. RSVP Here.
---
TAKE ACTION
We're recruiting hundreds of volunteers to speak with each and every one of their neighbors about what's going on in Washington. Click here to support
Want daily updates and live footage of our events and actions? We can make that happen (I know a guy). Click here to follow us on Twitter and get real-time updates. If you're looking for cool articles, memes, and a little conversation, like our Facebook page here.