Dear Activists,
Yesterday Trump awarded himself a 10 out of 10 for his response to the hurricane in Puerto Rico. (That would be like the Exxon Valdez giving itself a perfect score for oil transport.) There are many people working on the ground, providing food and medical care to hurricane victims, that do deserve a "10." Trump is not one of them. And if we're passing out grades, I'd like to extend an enthusiastic "10" to the thousands of activists around the country who are fighting to protect vital health care programs that so many of us depend on. You folks rock!
– Ravi
---
We're a people-powered organization. Click here to support us in the movement for justice.
---
AROUND THE STATE
Central New York Citizens in Action held their first annual JAM (Justice, Arts, Music) Fest in Utica to bring awareness to progressive issues. The event featured music, giveaways, food trucks, face painting, polka dancing, and apparently a wizard. Over 40 volunteers helped put this event together.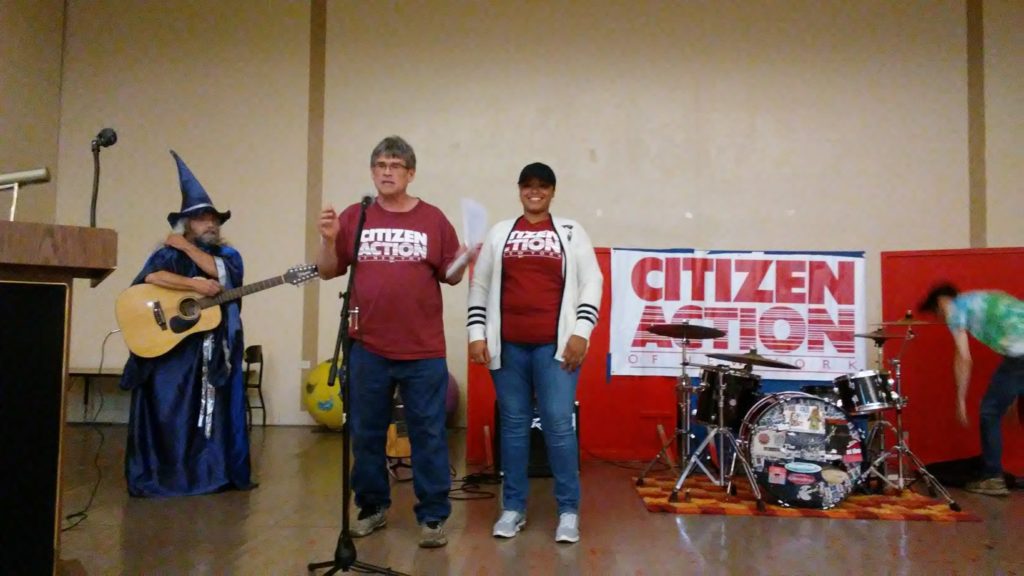 Rallies, vigils, and press conferences were held across the state to demand that Congress renews funding for critical health care programs, including Medicaid DSH (Disproportionate Share Hospitals), CHIP (Children's Health Insurance Program), and FQHCs (Federally Qualified Health Centers). Cuts to these programs would devastate families and hospitals in the state. CHIP covers 350,000 children in New York State alone.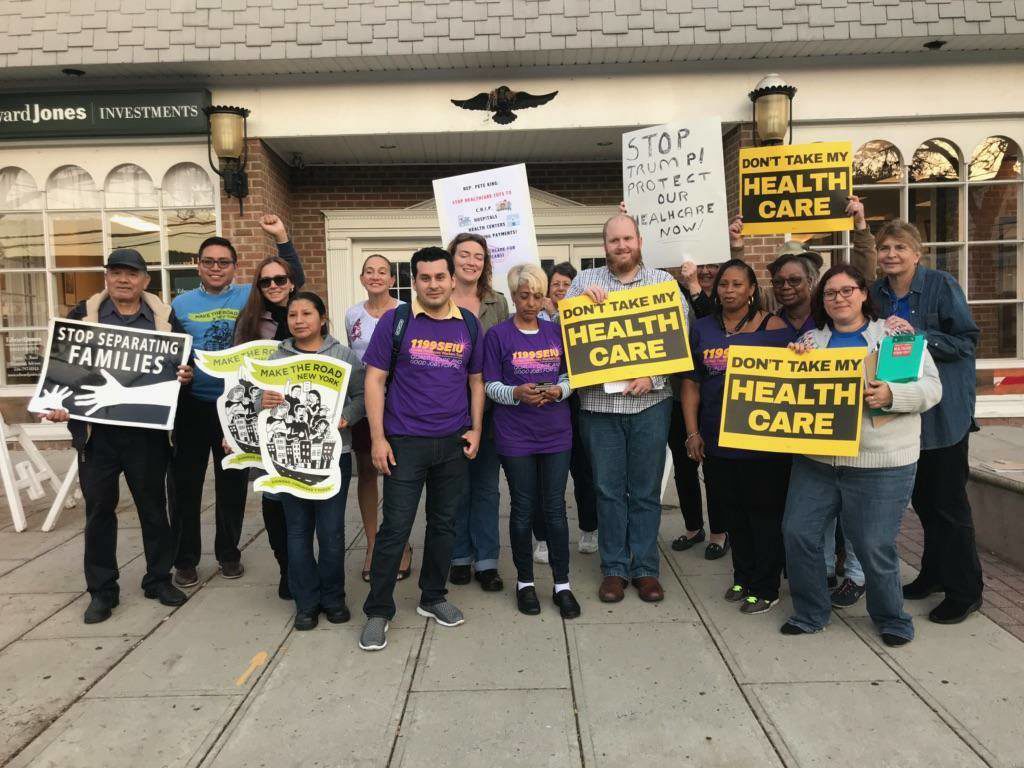 (Outside of Rep. Peter King's office in Massapequa Park, NY)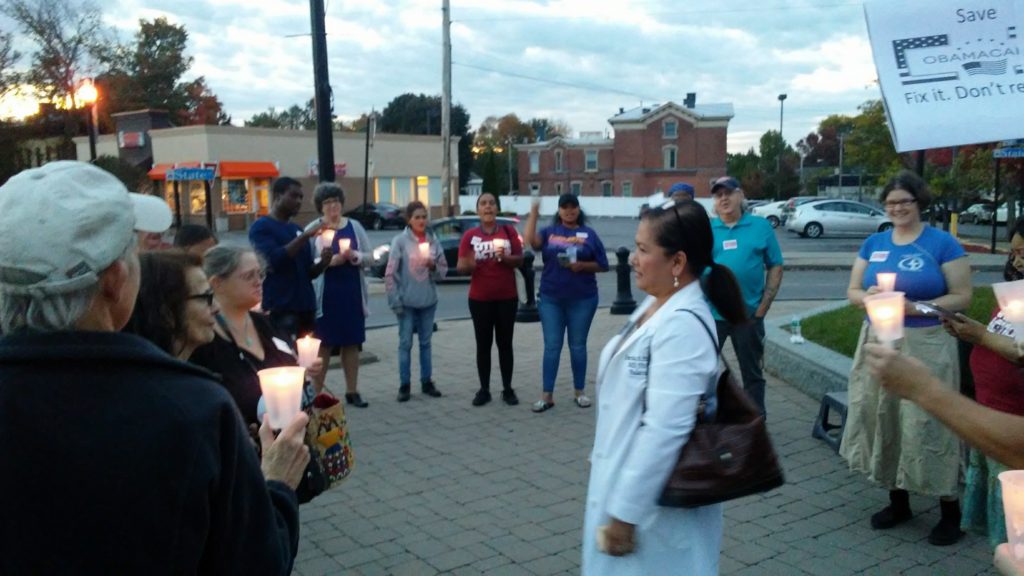 (Health care vigil in Utica, NY)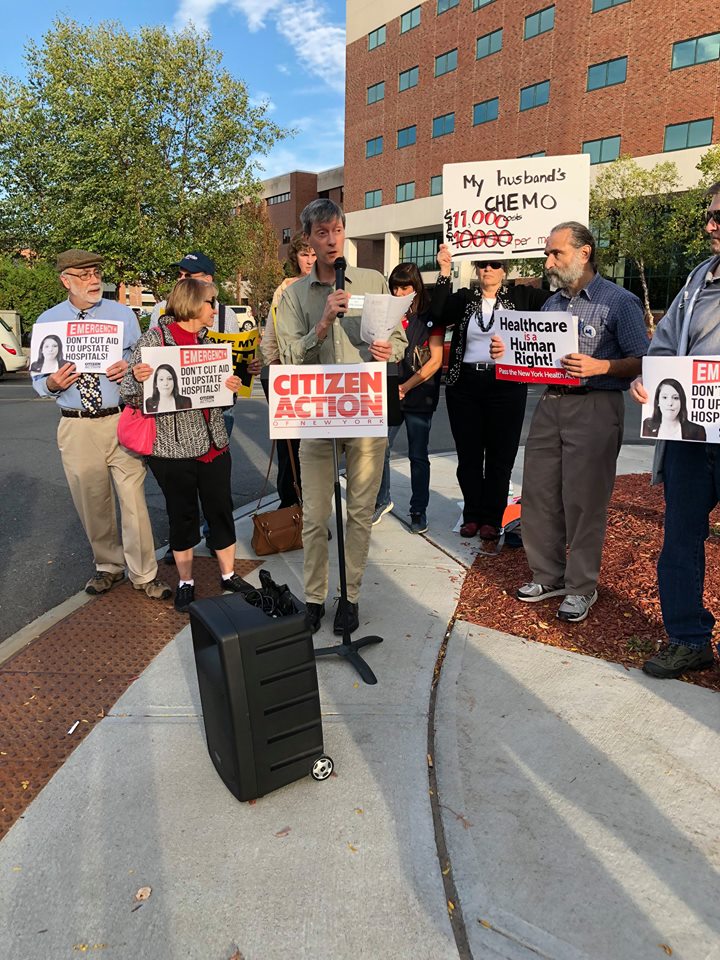 (Outside of Glens Falls Hospital in Glens Falls, NY)
---
UPCOMING EVENTS
Buffalo – Saturday, Oct 21st at 11 am – Mass Engagement/Volunteer Recruitment Training – This public training will provide activists with practical tools to better engage and inspire volunteers. RSVP on Facebook
Kingston – Sunday, Oct 22nd at 1 pm – On Strategic Organizing: Looking Forward – Callie of Citizen Action of NY will talk about organizing strategy, mass engagement, and solidarity in the age of Trump. RSVP on Facebook
Binghamton – Tuesday, Oct 24th at 6 pm – Witnessing Whiteness: The Need to Talk About Race and How to Do – This series aims to deepen people's understanding of privilege and race. RSVP on Facebook
Long Island – Sunday, Oct 29th at 2 pm – 5 Years After Sandy: Long Island Remembrance & Call to Action – A coalition of local groups are holding a walk and vigil to remember Sandy and demand immediate action on climate change. RSVP on Facebook
---
TAKE ACTION
We're recruiting hundreds of volunteers to speak with each and every one of their neighbors about what's going on in Washington. Click here to support
Want daily updates and live footage of our events and actions? We can make that happen (I know a guy). Click here to follow us on Twitter and get real-time updates. If you're looking for cool articles, memes, and a little conversation, like our Facebook page here.