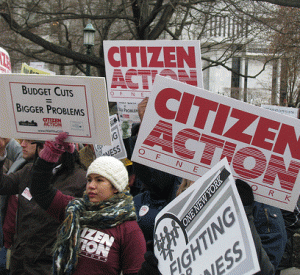 Citizen Action of New York is a grassroots membership organization taking on big issues that are at the center of transforming American society – issues like:
quality education and after-school programs for all our kids
guaranteed quality, affordable health care
public financing of election campaigns
dismantling racism and promoting racial justice
a more progressive tax system
We look for opportunities to accomplish big changes – not small, incremental reforms. We work to elect progressive candidates to office who are committed to these issues.
Our power comes from the grassroots: people coming together to push the edge of the possible. Every new member helps bring New York and America closer to a society that works for all of us!
---
Citizen Action of New York has eight chapters and affiliates in major cities across New York State. Each is a vibrant local organization with local leadership, paid professional organizing staff, a local agenda and an active, diverse membership. Each has developed a strategy, program and structure to meet the organizing and political challenges that most affect their region. At the same time, all share overall goals and a statewide program.
Citizen Action is also the New York State affiliate of USAction, which brings together citizen organizations from around the country to form a strong national progressive voice.
Click here for a current list of jobs available with Citizen Action of New York.