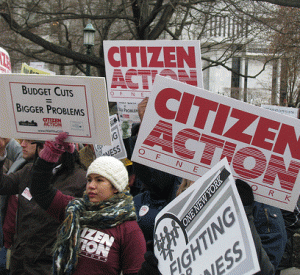 Citizen Action of New York is a grassroots membership organization taking on big issues that are at the center of transforming society – issues like:
quality education and after-school programs for all our kids
guaranteed quality, affordable health care
public financing of election campaigns
dismantling racism and promoting racial justice
a more progressive tax system
We look for opportunities to accomplish big changes – not small, incremental reforms. We work to elect progressive candidates to office who are committed to these issues.
Our power comes from the grassroots: people coming together to push the edge of the possible. Every new member helps bring New York and America closer to a society that works for all of us!
---
Citizen Action of New York has eight chapters and affiliates in major cities across New York State. Each is a vibrant local organization with local leadership, paid professional organizing staff, a local agenda and an active, diverse membership. Each has developed a strategy, program and structure to meet the organizing and political challenges that most affect their region. At the same time, all share overall goals and a statewide program.
Citizen Action is also the New York State affiliate of USAction, which brings together citizen organizations from around the country to form a strong national progressive voice.
Click here for a current list of employment opportunities and internships available with Citizen Action of New York.
---
Citizen Action of New York Funders
Below is a list of individuals and organizations that have donated $5,000 or more to Citizen Action of New York in 2012 and 2013.
1199SEIU
Alliance for Quality Education
Citizen Action Fuel Group
Community Service Society of New York
CWA
CWA Local 1101
Empire State Pride Agenda
Essex County Community Foundation
Food and Water Watch
Friends of Democracy
New York State Immigrant Action Fund
New York State Nurses Association
New York State Trial Lawyers Association
NYSUT
Proteus Funds
Reynders McVeigh JP Morgan
Rosemary Faulkner
See Forward Fund, Inc.
SEIU
SEIU 32BJ
Strong Economy for All Coalition
UAW
UAW Region 9
USAction
Citizen Action of New York Lobbying Disclosure
Below are links to Citizen Action of New York's lobbying disclosure reports, collected and posted by the NYS Joint Commission on Public Ethics.