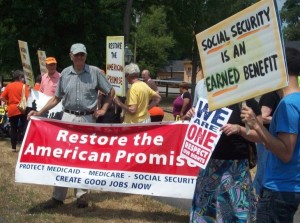 Almost a century ago, we made a decision as a community and as a nation that we should have a system where each generation would have more opportunity and more prosperity than the generation before it. But, right now in Congress, the American Promise is under attack. "Social safety net" programs, like Medicaid, Medicare, and Social Security, that our families, friends, and neighbors have relied on for decades are being threatened by a radical anti-government, anti-people, agenda. 
We're fighting back!
We're taking our message to communities across the state. We can't just sit back and let the American Promise be destroyed. We must stand together to build a stronger America!
Join the statewide campaign to Restore the American Promise.
---
[one_half last="no"]
Take Action
President Obama and the Republican-led house have reached an agreement to both raise the debt ceiling and cut 
more than one trillion dollars 
from the federal budget. Part of the initial cut of some 
$900 billion dollars
 is coming directly from government programs that so many hard-working Americans rely upon to make ends meet. There are many ways you can help in your area. Fill out the form below with your contact information, and a local organizer will get in touch with you soon. [/one_half] [one_half last="yes"] [toggle title="Press Coverage of the Campaign to Restore the American Promise"] Seniors rally to preserve social security. 7/21/2011 
Genesee County YNN
Wilton resident Sharon McFarlane shows support during the statewide "Restore the American Promise" caravan. 7/21/2011 
Schenectady Gazette
Protestors Defy Heat to Defy Hayworth. 7/22/2011 
The Daily Somers
FDR and Eleanor Join Caravan to Restore American Promises. 7/22/2011 
AFLCIO
Debt deal must leave older American's benefits alone. 7/22/2011 
Syracuse Post Standard
"Restore the American Promise" caravan rolls into Dutchess. 7/22/2011 
Mid Hudson News
A "Look Ahead" at next week's headlines. 7/17/2011 
Mohawk Valley YNN
Citizens raise concerns to potential debt debate cuts. 7/21/2011 
WKTV
Union-backed protesters cite Reed's votes on entitlements. 7/20/2011 
The Leader
Gibson gets Kinderhook protest for budget vote. 7/20/2011 
WGXC
Protesters Demand Congressman Grimm Keep Social Security, Health Care Out Of Debt Negotiations. 
New York 1 Staten Island
Demonstrators takes to streets for social welfare preservation. 7/20/2011 
Brighton Pittsford Post
A quick look at what's happening today in Western New York. 7/20/2011 
Buffalo News
"Restore the American Promise" caravan. 7/20/2011 
Buffalo YNN
Rep. Tom Reed attacked for recent vote. 7/21/2011 
Democrat and Chronicle
Retirees stop at Corning to protest cuts to Medicaid, Medicare, Social Security. 7/20/2011 
Star Gazette
F.D.R. tribute artist to visit Gibson's office. 7/20/2011 
Post Star
New York Caravan to Restore the American Promise Hits the Road. 7/20/2011 
AFLCIO
Protestors Gather In Front Of Bishop's Southampton Office. 7/20/2011 
27east.com
Restore the American Promise Caravan. 7/21/2011
Progressive News Network
[/toggle]
---
Sponsoring Organizations:
1199SEIU, Fight for a Fair Economy • AFSCME • Citizen Action of New York • Health Care for America Now! • Institute for Puerto Rican and Hispanic Elderly • Medicaid Matters New York • Metro New York Health Care for All Campaign • National Association of Letter Carriers • New York Network for Action on Medicare and Social Security • New York State Alliance for Retired Americans • New York State AFL-CIO • New York Statewide Senior Action Council • New York Association on Independent Living [toggle title="Participating Organizations"] Business and Labor Coalition of NY Capital District Area Labor Federation Center for Disability Rights Children's Defense Fund of NY Communications Workers of America, District 1 Disabled in Action of Greater Syracuse Goddard-Riverside Community Center Gray Panthers NYC Network Greater NYC for Change Hudson Valley Area Labor Federation Hunger Action Network of NYS Joint Public Affairs Committee of Older Adults Long Island Progressive Coalition Make the Road NY Medicare Rights Center Metro Justice Natl. Assoc. of Letter Carriers Natl. MS Society NY Network NYS Council for Community Behavioral Healthcare NYS United Teachers Physicians for a National Health Program, NY Metro Chapter Rekindling Reform SEIU Local 32BJ Southern Adirondack Independent Living Center Taconic Resources for Independence Teamsters Local 237 Retirees Division Westchester Disabled on the Move Westchester for Change [/toggle] [/one_half]