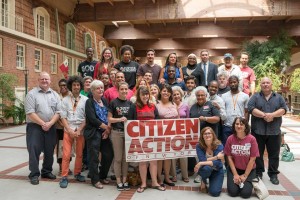 ---
Lead Community Organizer
Citizen Action of NY
Buffalo, NY
Citizen Action of New York is one of the fastest-growing statewide grassroots organizations in the country. We fight for social, racial and economic justice, and an America that works for all of us. Our organizing campaigns focus on issues such as education, health care, campaign finance reform, progressive taxation, and consumer issues. We have won significant improvements in New Yorkers' lives, and we have elected progressive candidates to office. We play a leadership role in organizing major statewide coalitions including the Alliance for Quality Education and the Health Care for All New York Coalition.
Citizen Action of New York has seven regional grassroots offices, including one based in Buffalo. We are currently seeking an EXPERIENCED LEAD ORGANIZER for the Buffalo office.
If you have strong organizing experience, like working with a diverse group of people and are committed to social change, come join our growing organization!
Responsibilities include:
• Organize actions, mobilizations, phone banks, media coverage and other activities as part of our issue and electoral campaigns, with a major focus on education, fair elections, and federal issues
• Recruit members, build our volunteer base and train local members and leaders
• Build and staff local coalitions and local Citizen Action leadership committees
• Work to develop the Board and create committees to strengthen the Buffalo chapter of Citizen Action
• Raise local funds
• Supervise staff
Qualifications:
• Five or more years experience organizing issue and /or electoral campaigns
• Excellent verbal and written communication skills
• A creative approach to problem-solving, including strong analytic, strategic and planning skills
• Ability to travel, including having a reliable car
• Ability to work evenings and weekends
Additional factors: Supervisory and fundraising experience; background in education and/or health policy helpful. Knowledge of local, federal, and/or New York State politics is also desired.
Salary and Benefits: Salary commensurate with experience. Full health benefits. Please email a resume and cover letter to Rosemary Rivera, Organizing Director, Citizen Action of New York at leadorganizer@citizenactionny.org.
Citizen Action of New York is an equal opportunity employer and we seek to build an organization that aggressively pursues a racial justice agenda. People of color are strongly encouraged to apply.
---
Health Insurance Navigator
Public Policy & Education Fund of NY
Kingston, NY
This position is based in our Kingston office at 7 Grand Street (likely to involve some work out of our Poughkeepsie location as well). Position available as early as March 27th.
General Description: The Public Policy and Education Fund (PPEF), a non-profit organization with offices throughout New York State, has a position available related to enrollment in health insurance programs under the Affordable Care Act (ACA), the landmark law passed by Congress in 2010.The position is full time.
Under the ACA, individuals and small businesses can enroll health insurance coverage under health insurance "exchanges." In New York, the exchange is called "NY State of Health,"  https://nystateofhealth.ny.gov/. The state funds "navigators" to recruit individuals and small businesses who may wish to enroll in health coverage, to advise them as to their health insurance options, and to assist them to enroll. Our navigators also do community outreach to publicize the program.
Successful candidates will demonstrate these types of strengths:
Undergraduate degree strongly preferred.
Experience in social service delivery with individual clients and community organizing or equivalent volunteer experience.
Experience in recruitment and outreach highly preferred.
Experience in public speaking preferred.
Strong preference for applicants who are fluent in both English and Spanish or otherwise multilingual.
Support of health care reform and of PPEF's mission.
Comfortable with databases (a component of the position is reporting on a database).
Additional Information: PPEF (www.ppefny.org) is a statewide community based organization that that advocates for social, racial, economic and environmental justice. The position has a salary range of $32,000 to $35,000 with full benefits (including family health coverage). This position is 40 hours/week, with nighttime and weekend hours, especially during the open enrollment period of NY State of Health. We require a reliable car and a valid driver's license; significant local travel and occasional out of area travel is required (travel is reimbursed). The position is funded by a New York State grant.
How to Apply: Please provide a resume and cover letter to Tracy Givens-Hunter, Principal Navigator/Program Director, Public Policy and Education Fund, 257 Route 17K, Suite 200, Newburgh, New York 12550 or by email at ACA@PPEFNY.org. Please indicate you are applying for the "Kingston Navigator Position" in the subject line of your email and in your cover letter.  Applications will be accepted until the position is filled, but to ensure full consideration, we suggest you apply by March 10, 2017.
The Public Policy and Education Fund is an equal opportunity employer.  People of color are especially encouraged to apply.