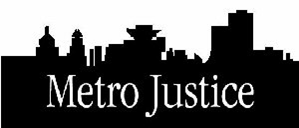 The Alternative Fair is an annual fund-raising event for Metro Justice, an independent, grass-roots, progressive membership organization that works for human rights, equality and economic and environmental justice by raising community awareness and engaging in non-violent action.
It's time to mark your calendars for METRO JUSTICE'S 31st ANNUAL ALTERNATIVE FAIR!
Holiday family shopping…with a conscience – at Metro Justice's 31st Annual Alternative Fair, featuring thousands of fair trade, earth friendly, and/or locally produced goods that support a just and sustainable world. This is holiday shopping at prices the whole family can afford,and you'll find clothing, toys, non-competitive games, pottery, and jewelry
hand crafted by local artists, fair trade imports, and much more.
Door prizes, food (Friday dinner and Saturday brunch), music, and information tables by local progressive organizations will also be available.
HOURS: Friday, November 30, 5-9 PM; Saturday, December 1, 10 AM-2 PM
First Unitarian Church of Rochester
220 South Winton Road
Rochester NY 14610
(building is handicap accessible)
$3 suggested donation for ages 12+. Children under 12 free. FREE CHILD CARE.
See you at the Fair!