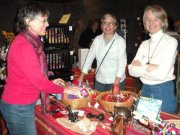 Annual METRO JUSTICE ALTERNATIVE FAIR continues in it's 31st year, as one more expression of our FIGHT FOR ECONOMIC JUSTICE.
We organize a family-oriented holiday shopping experience that supports just and sustainable wages for workers by featuring only goods that are fair trade or hand crafted by local vendors. Thousands of items, including pottery, textiles, jewelry, fine art, toys & games, ornaments, and much more, are priced in ranges that the whole family can afford.
Door prizes, food (Friday dinner
 and Saturday brunch), music, and information tables by local progressive organizations will also be available. Enjoy the festive atmosphere among like-minded folks as you shop with a conscience.
This year's dates are Friday, November 30, from 5-9 PM, and Saturday, December 1 from 10-2, at the First Unitarian Church, 220 Winton Road South (a handicap accessible building). There is a suggested donation of $3 for all those over age 12.
Free child care is available for young children and babies.
The Alternative Fair is an annual fund-raising event for Metro Justice.
Where: First Unitarian Church of Rochester
When: November 30th, 5:00pm