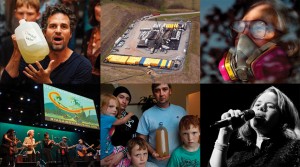 On a rainy night in May of 2012 a coalition of musicians, scientists and activists gathered in Albany on the governor's front doorstep, calling for a ban on hydraulic-fracturing.
With the news that Governor Andrew Cuomo might lift the moratorium on fracking in New York any day, the event was assembled in less than a month. Two rehearsals in 24 hours and it was showtime!
The goal of the varied participants, many of whom had never met before this night, was to explain in clear terms the environmental, economic and health risks of fracking and to motivate people to rise up against the practice using a unique blend of music and message. The cord that bound them all was that they were first and foremost New Yorkers: New Yorkers Against Fracking.
The film that resulted from the night – a unique blend of "The Last Waltz" and "An Inconvenient Truth" – was written and directed by Jon Bowermaster and filmed under the direction of Academy Award winning documentary film maker Alex Gibney. The stars of the night included actors Mark Ruffalo and Melissa Leo, environmental biologist Sandra Steingraber and a long list of musicians that included Natalie Merchant, Joan Osborne, Dan Zanes, the Felice Brothers, Citizen Cope, Medeski Martin & Wood, the Horse Flies, and many more.
The film premiered at the Woodstock Film Festival on October 11 and has begun a statewide tour of theaters, universities and high schools.
"Everyone in America must see this film!" Juliet Blake, TED Television
The concert, rally, and now the film have strong ties to Ithaca and the Finger Lakes. Local Author, Biologist, and Heinz Award Winner, Sandra Steingraber was a key contributor to this project, and is featured in the film. As are local musical favorites, the Horse Flies. In addition, the concert featured in this film was produced by the Ithaca based water protection organization, The Finger Lakes Clean Waters Initiative.
There is a suggested donation of $5. The proceeds of this event will benefit the Finger Lakes Clean Waters Initiative and One Oceans Media. The funds will be used to distribute this film and protect New York's waters! 
For more information and to RSVP contact Isaac Silberman-Gorn at 607-723-0110