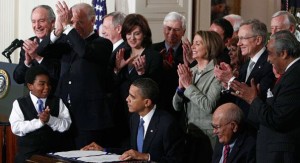 U.S. Census Data released today shows the impact of Obamacare for families: 8.8 million people – more than the population of New York City – got coverage in 2014, when enrollment started under the Affordable Care Act. The number of kids without insurance nationally dropped from 7.5% to 6.2% in 2014.
That year, the rate of people without health insurance dropped by roughly 5% in New York.
The real world impact is that millions more people are visiting doctors and getting free preventive care, and don't face financial ruin if they sudden get a chronic illness or into an accident.
But, we can't forget that millions of people still don't have coverage. Citizen Action's research, education and service arm, the Public Policy and Education Fund, enrolls New Yorkers in health coverage in the Capital District, the Hudson Valley and Western New York. If you know someone who needs coverage or just more information, have them give us a call at 800.803.8508. Anyone can enroll starting on November 1, and certain New Yorkers can enroll anytime.
Here's the press release on the U.S. Census data from Health Care for All New York, a coalition of consumer groups that Citizen Action helps to lead.