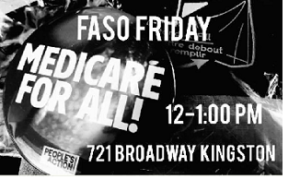 What Have We Been Up To?
Keep an eye out later this week for flyers advertising our upcoming summer events! We've been hard at work planning ways to take advantage of the sunshine and bring the community together through some new activities. Read below to see what we've come up with!
What's Happening This Week?
Thursday, July 20 at 5:00 p.m.
7 Grand Street
Funeral March for Healthcare
(led by Tin Horn Uprising!)
Carrying vestiges of African funeral rituals and originally intended to celebrate the new-found freedom of a departed slave, the jazz funerals of New Orleans evolved throughout the 20th century to come to be recognized as one of the most respected ways to exalt the life of a loved one. We celebrate our freedom from the attempts to destroy the ACA and the future repeal and replace of John Faso. Wear some black, and laissez les bons temps rouler!
A little busy this week? The Climate Justice Committee has special mission that you can complete from home.
Climate Mayors is a network of mayors who are committed to upholding the protections outlined by the Paris Agreement in their cities, regardless of what's occurring at a federal level.
Kingston Mayor Steve Noble has already signed on, but we know you all come from all over the Hudson Valley to participate in this chapter (Thank you!) Please do a quick search for your city/town, and give your mayor a call encouraging them to sign on  if they haven't already.
Want to learn more about or Climate Justice Committee, or any of our other specialty teams?
Subscribe to our Google Calendar to keep track of meetings and events.
Ongoing Outreach Opportunities

Phonebanking
Monday and Tuesday at 5:30 p.m.
7 Grand Street, Kingston
We have snacks, scripts, and plenty of seats. All you need to bring is your phone and your charger!
Community Canvassing*
Wednesday at 5:30 p.m.
Saturday at 10:00 a.m.
Start at 7 Grand Street, Kingston
*If you love outreach and live in the city of Kingston, ask about joining our
Block Captain program! Email Callie (cjayne@citizenactionny.org) to learn more.
Faso Friday
721 Broadway, Every Friday at 12 noon.
Bring your favorite sign and your loudest voice!

Save the Date!
Saturday, July 22nd
201 Stockade Dr, Kingston, NY 12401
Trailblazers PAC and Citizen Action invite you to our Grassroots Fundraising Workshop for local candidates, activists, and volunteers. Join us at the NYSUT Offices in Kingston, NY, where you'll hear opening statements from former Senator Terry Gibson. We will focus on fundraising training for 2017 County Legislature candidates, Town or City Council Candidates, and campaign volunteers.  A charge of $15 will benefit Citizen Action. Refreshments will be provided.
Please RSVP to TrailblazersPAC@gmail.com or call 607-319-5869 today. Space is limited.
Saturday, July 29th
Kingston Point Beach, 1 p.m.
Summer Beach Party
Are you curious about Citizen Action? Want to get to know us over some yummy food?
Are you looking for a fun, active, educational activity that you can work on for the rest of the summer? Come help us kick off our August scavenger hunt! The theme will be Hudson Valley History, and the route will lead you to opportunities to flex your activist muscles and explore some local businesses. We hope to see you there!
Saturday, August 12th
Academy Green, Kingston
Citizens' March*
* The definition of the word "citizen" is "an inhabitant of a particular town or city". We chose this name to combat the right-wing rhetoric and help change the narrative around what a Citizen really is. We welcome all concerned members of towns and cities across the Hudson Valley!

The Trump budget will be devastating for all, and we must make sure our voices are heard!
We believe that we can do better.
Come march to show that we demand a budget that meets everyone's basic needs, regardless of their age, ability, financial or immigration status — a budget that does not take from our most vulnerable to give tax cuts to the most wealthy.
RSVP Here. If you are part of a group that wants to endorse this event, please fill out this form.

"How Else Can I Show Support This Summer?"

Join Citizen Action of New York's Rapid Response Team to receive text alerts about emergency actions taking place across the state.
Not sure which recipe to bring to your next summer gathering? Let us test a few out for you!  Our food team is always looking for new members to fuel the resistance!
Keep us going all year round by becoming a monthly sustaining member of Citizen Action. A few dollars donated each month really add up over the course of a year! One-time contributions can also be made through our ActBlue Site.