Dear Activist,
As always, I hope you, your loved ones and community are safe and well. I've been a student of Strategy College for the past few weeks, which is a political education series facilitated by the Grassroots Policy Project and People's Action. This week, our guest speaker was Maurice Mitchell, the Working Families Party's national director. His speech and a recent chain of events sparked the idea for this email's subject line. What keeps us all plugged into this movement? What keeps us going? These are the thoughts that come to my mind. And I think connectivity is the answer. This is not verbatim, but Maurice spoke about the power of social movements and how they're fleeting, but that there's a special power at its core that allows the cause to go from zero to one hundred in a short period of time, with massive engagement. He said that we should think about what the connectivity is between social movements and the ability to govern.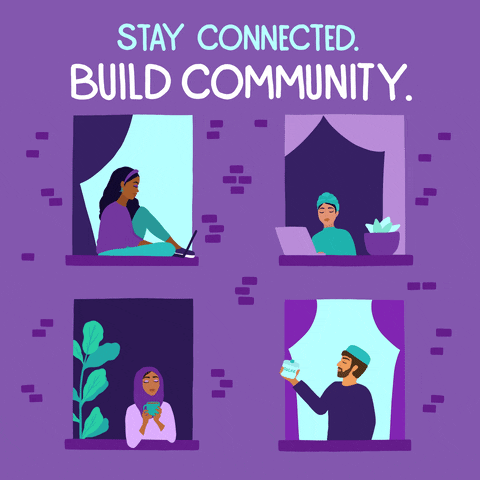 I hope you find moments of peace in spite of the tragedies that occur on the daily, and in spite of the urgency we may feel to be more present and responsive to the needs of our community. 
Leader Spotlight
This week's leader spotlight goes to Molly Heekin in the Hudson Valley. Molly is a member of the chapter's Education Committee. She is a second grade teacher at Woodstock Elementary School, and the parent of a student in the Kingston City School District. Molly said the pandemic laid bare many of the underlying inequities within the educational system, and she felt it was imperative to become active within local organizing efforts aimed at reducing inequity in education and improving curriculum so that it speaks to the truths of the community as a whole and serves to prepare the next generation of humanity to be engaged citizens. She believes that it is fully possible for our culture to reorient itself to operate from a place of love, and that disassembling the current systems of oppression through educating the public about their origins and the manner in which they are maintained is critical to achieving that goal. Her interests include undoing white supremacist capitalist patriarchy and live music.
"Getting involved with the Citizen Action Hudson Valley Education Committee was spurred by a lifelong interest and engagement with education and a desire to help the community meet this particular moment in time." – Molly Heekin
 Around the State
We partnered with our friends at United Today, Stronger Tomorrow to check in with folks and find out how the pandemic is impacting everyday life, what forms of relief people are in need of, and to gain insight about how folks are feeling about the future through the lens of COVID. We released a survey last week, and welcome everyone to take part in it. Click here to participate. Your feedback will help shape the solutions that lay the groundwork for building stronger communities post-COVID.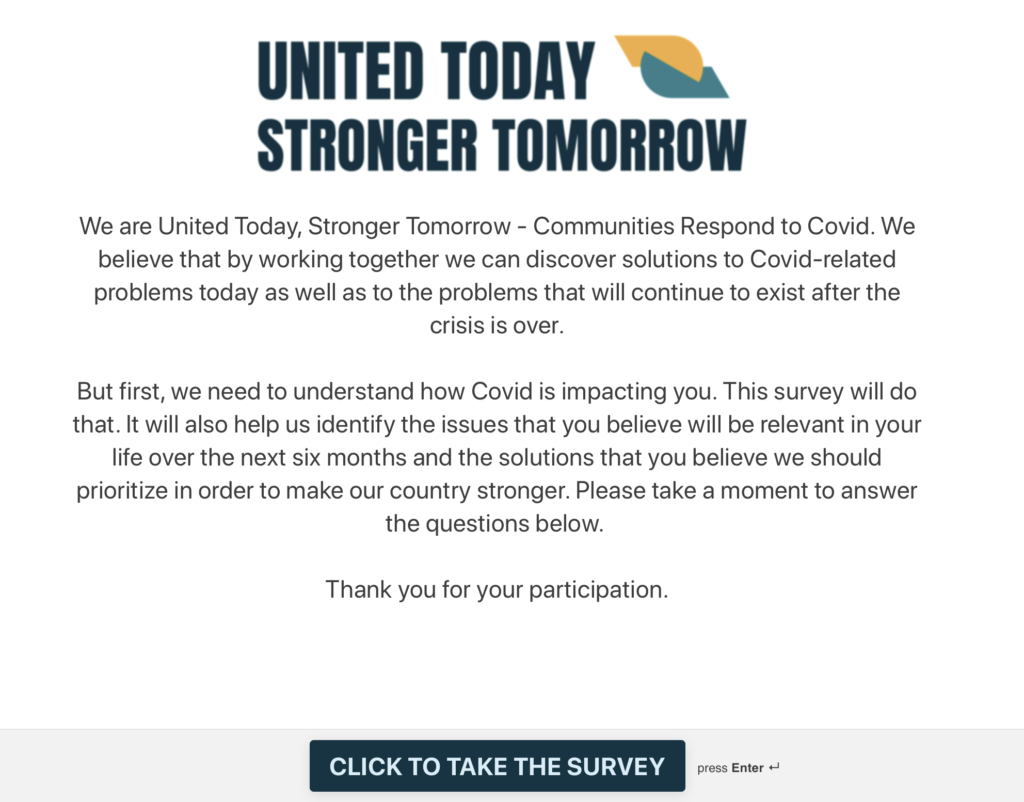 Evictions banned until October
This week, the statewide eviction ban was extended until October 1 under an ordinance by New York State Chief Administrative Judge Lawerence Marks. This is a win for renters and homeowners, and it's a result of the non-stop pressure we've put on our electeds. But this pause on evictions, like the ones before it, is temporary. We launched a call-in action to demand full support from legislators for our COVID-19 housing justice package. The package includes three bills that would help us avoid unprecedented homelessness due to the pandemic. We're fighting for rent and mortgage forgiveness, to rehouse the more than 92,000 homeless New Yorkers, and create a pathway to permanent housing in New York. Call your legislators today and make sure they're signed on to all three COVID-19 housing justice bills.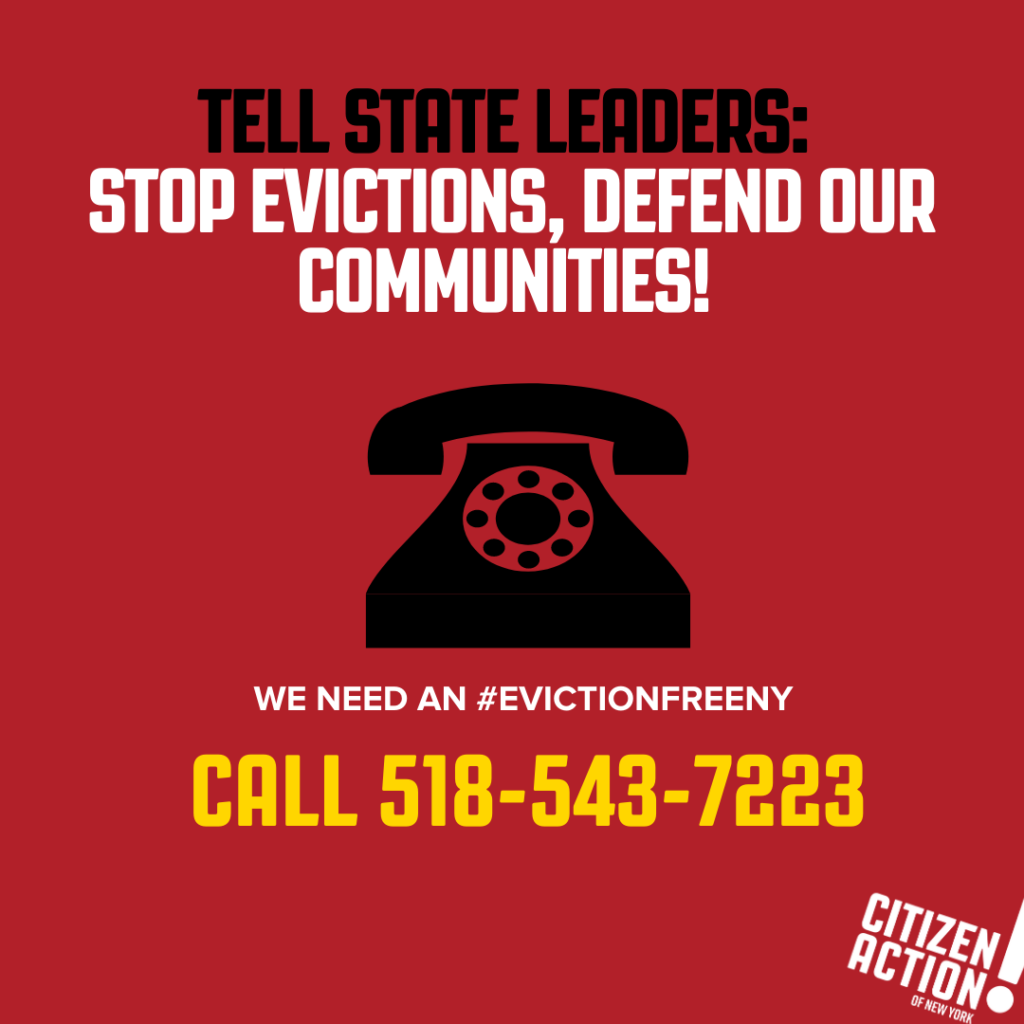 Black August Panel Series
This week, our Black August panel centered the voices of our incarcerated elders. The discussion was moderated by Stanley Fritz, our political director, and featured panelists Clyanna Lightbourn, our statewide civil rights organizer and Jose Saldana, who is the director at the Releasing Aging People in Prison Campaign.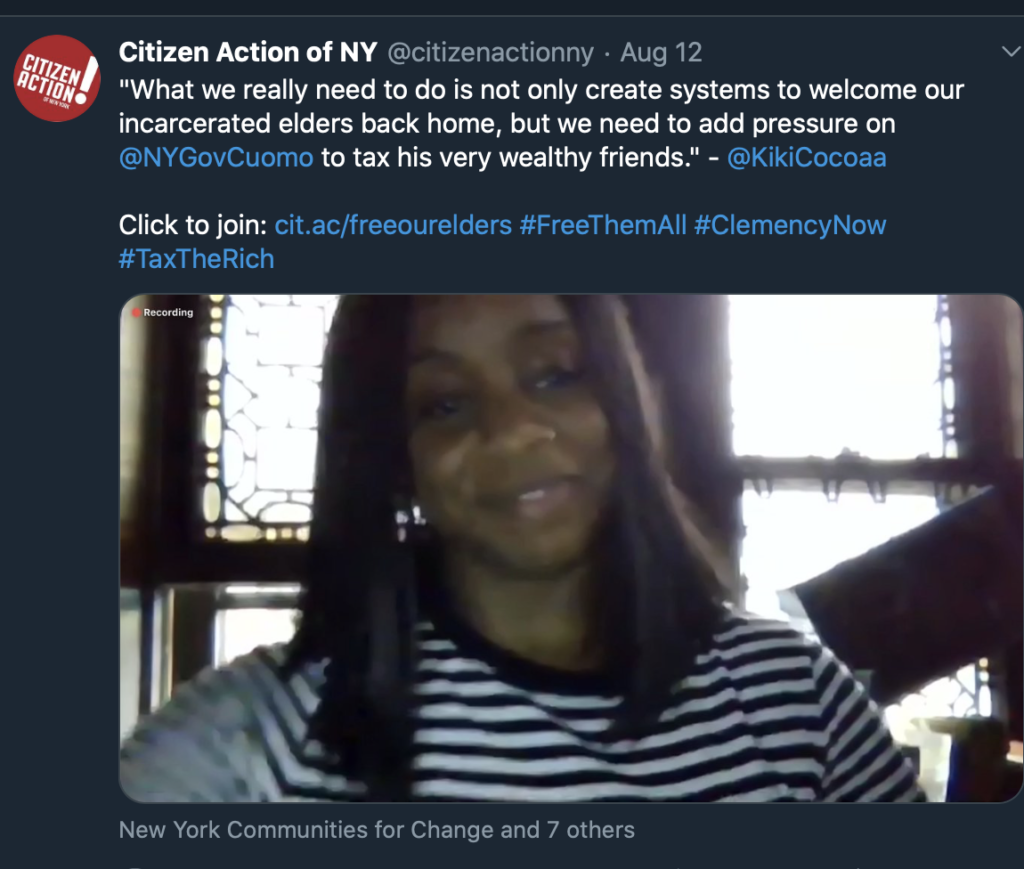 Clyanna Lightbourn, Citizen Action Statewide Civil Rights Organizer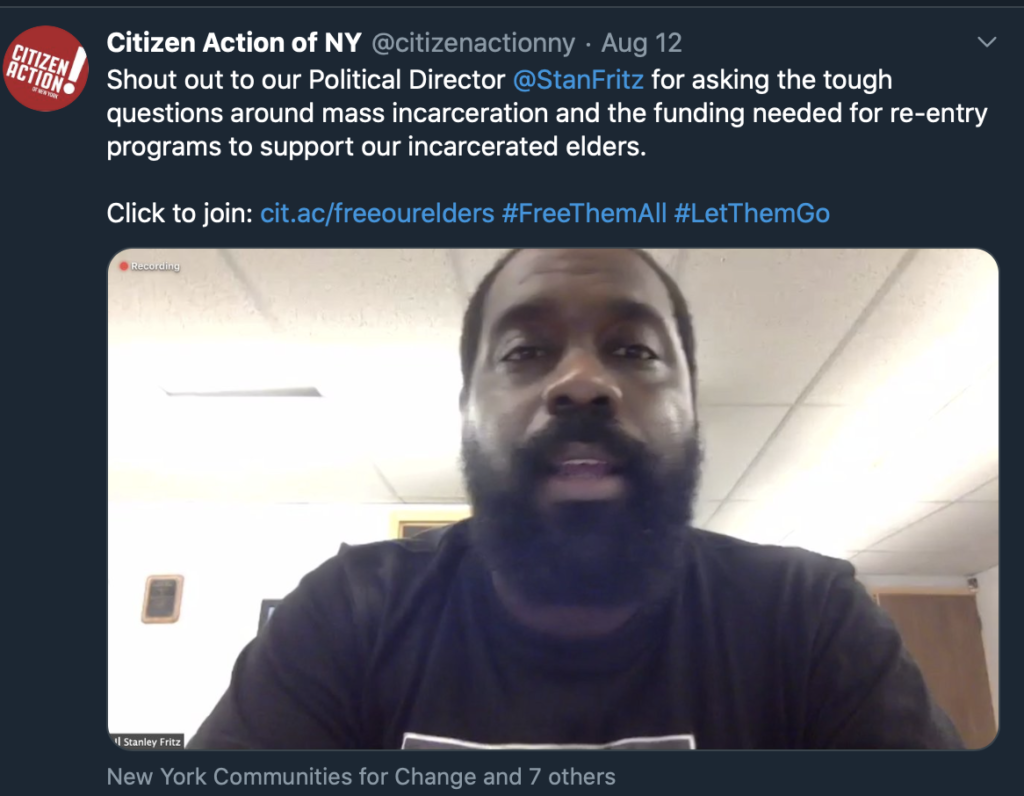 Stanley Fritz, Citizen Action Political Director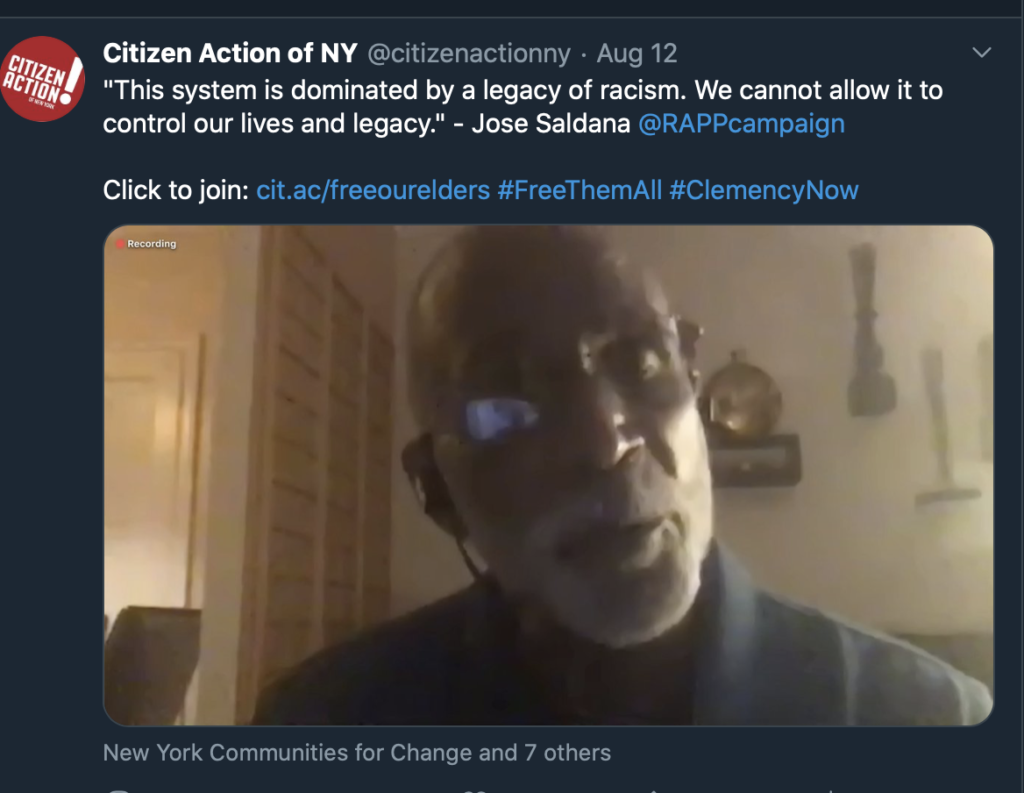 Jose Saldana, RAPP Director

2020 Jim Perry Progressive Leadership Awards – Capital Region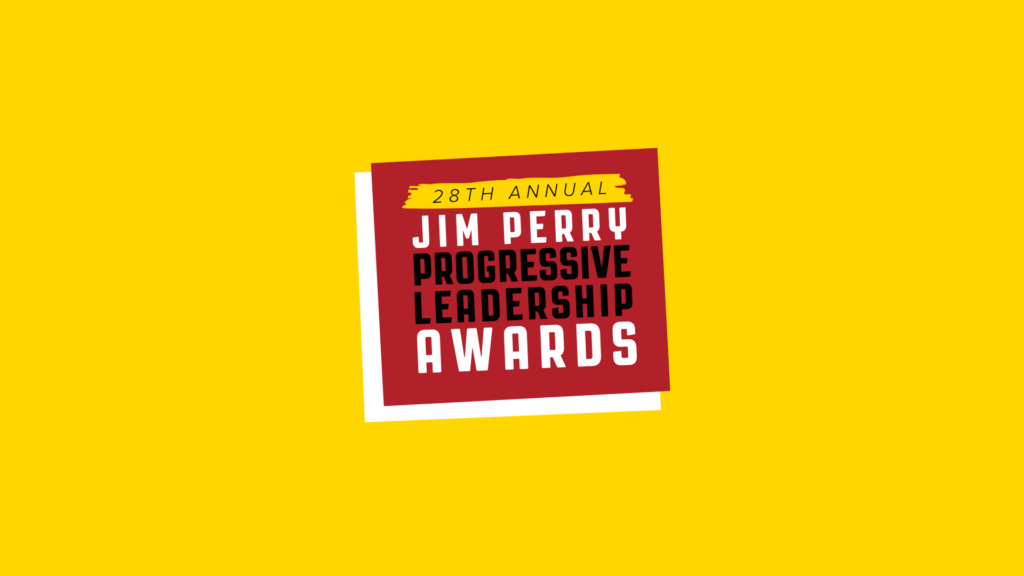 Registration is open for the Capital District chapter's annual Jim Perry Progressive Leadership Awards! This year's ceremony is being held on Thursday, September 10 from 6 p.m. to 8 p.m. Serving as the Capital District Chapter's major annual fundraiser, the Perry Awards honor the legacy of Jim Perry, a gay rights leader and founding member of the chapter whose leadership and dedication to progressive politics and coalition building was exemplary. It is with the memories of his actions and words that we present the annual Jim Perry Progressive Leadership Awards to recipients who have demonstrated a commitment to community activism and leadership. This year, we're honoring:
Laura Felts, Executive Director of United Tenants of Albany;

Lisa Good, Founder of Urban Grief;

Angela Warner, Director of Social Justice Ministries at St. Vincent de Paul Church; and

Bhawin Suchak and Darian Henry, Co-founders of YouthFX.

Anti-Racism Reading List
If you haven't already, check out this Anti-Racism Reading List that Citizen Action of New York organizers and volunteers created. The goal is to inform the history of systemic racism and fuel the direction for change. Click here to read the list on Medium.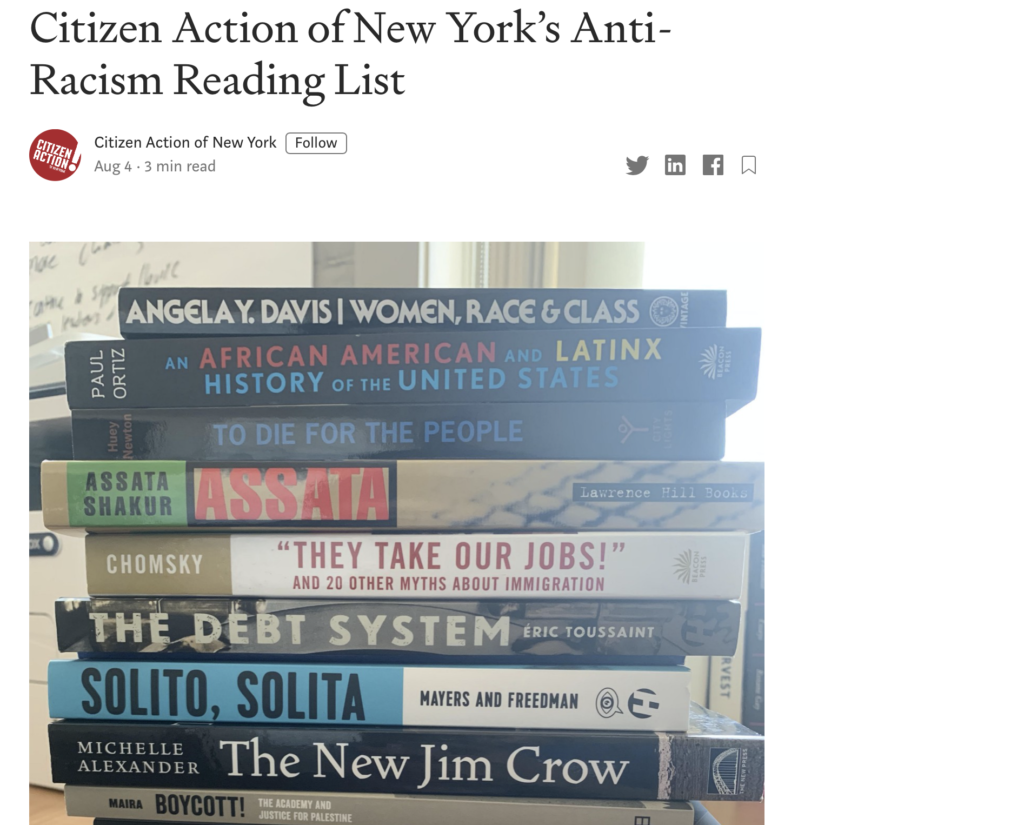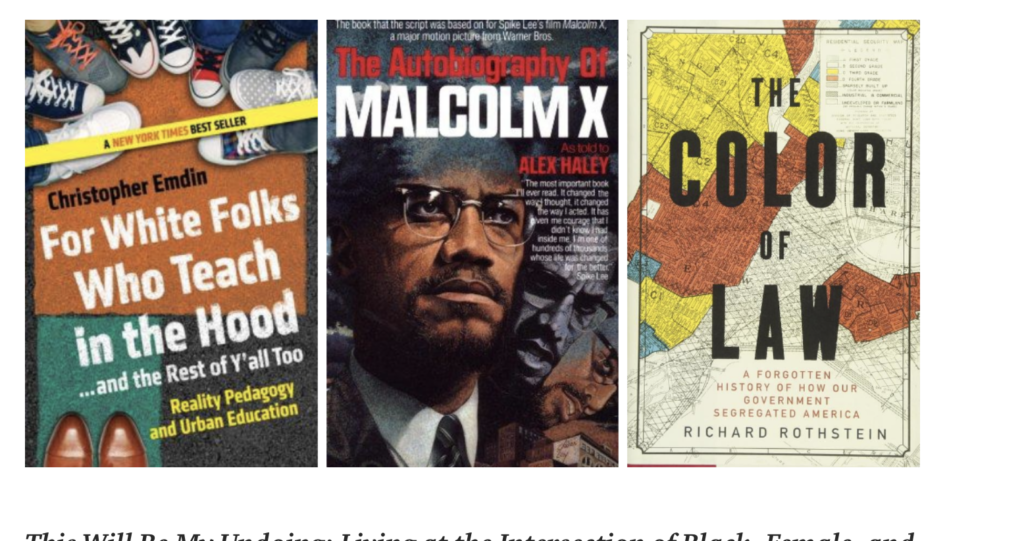 #GetCounted in the 2020 Census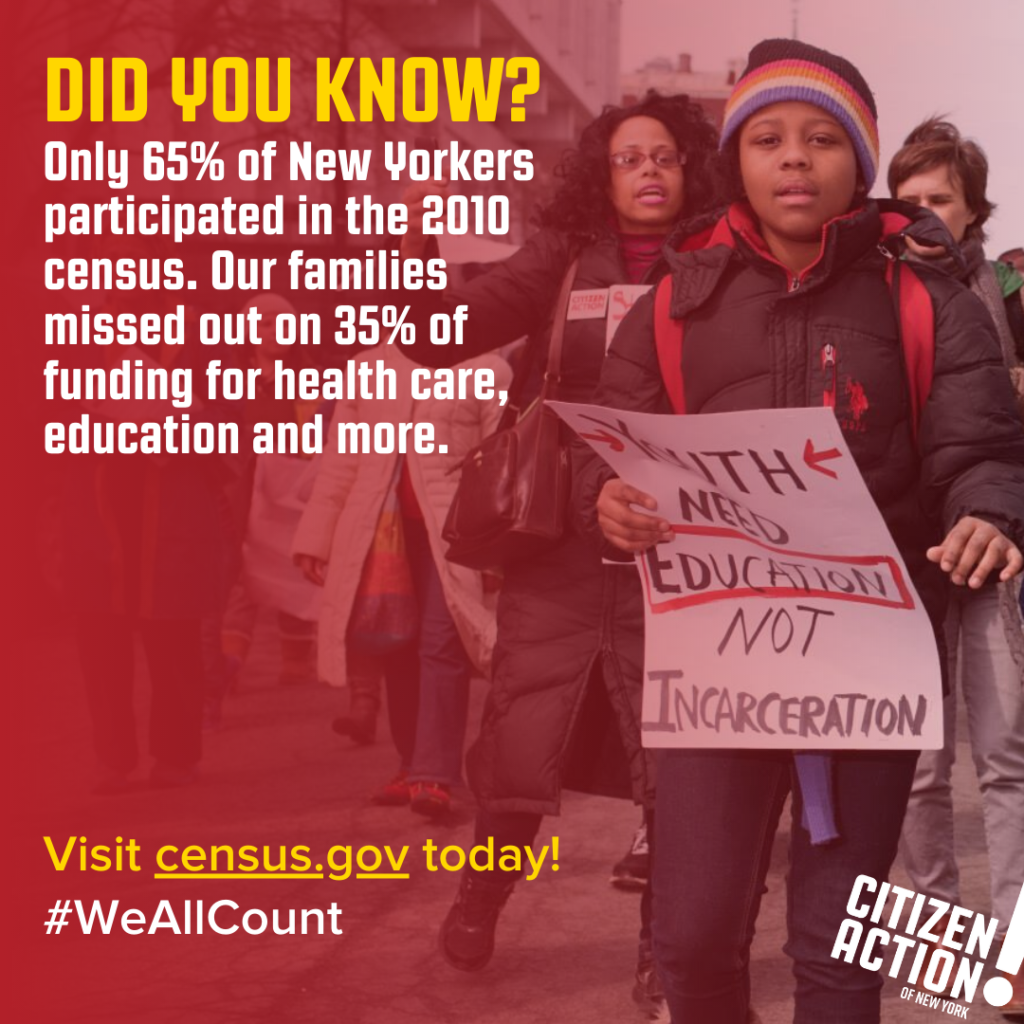 The census counts every person in the United States, and the results shape how billions of federal dollars flow in for the next decade in our communities. If you have already, you can still complete the 2020 Census by clicking this link!
In 2010, only 65% of New Yorkers participated in the census. Our families missed out on 35% of available funds. Your participation will help increase the count in communities that need the most support.
Mail your survey, or visit Census.gov to get yours done today! It takes less than 10 minutes and is fully confidential. Email Sheilah at sdavidson@citizenactionny.org with questions or for help. We're building a team of volunteers to make sure our communities receive the funding we need. There are many ways to help from home. Click here to join our team to make sure everyone is counted in this census!
Upcoming Events
Registration for People's Action 2020 Movement Politics Academy is now open. Learn how to lead winning campaigns that are deeply rooted in progressive movement building and community engagement as we head into the upcoming elections in November. Our Movement Politics Director Jodi Risper will be a trainer on August 19 and 24. Click here to apply. Classes start on Monday, August 17 through September.
 Wednesday, August 19 at 12 p.m.
"Climate, Jobs & Justice Recovery" campaign launch
We're joining our coalition partners at NY Renews for a virtual press conference and rally to demand climate justice in communities hit hardest by the pandemic; the creation of good green jobs; moving our state to 100% renewable energy; and making polluters pay. Click here to register.
Wednesday, August 24 at 6:30 p.m.
"Messaging the Moment"
Learn how we can build powerful, empathetic narratives that create the lasting change we want to see in the world. Click here to register.
Wednesday, August 26 at 6:30 p.m.
"State of the Black Resistance Movement"

Black August focuses on the fight against imperialism and colonialism. Join us on Wednesday, 8/26 at 6:30 p.m. for the "State of the Black Resistance Movement" panel. Click here to register.
Join the Movement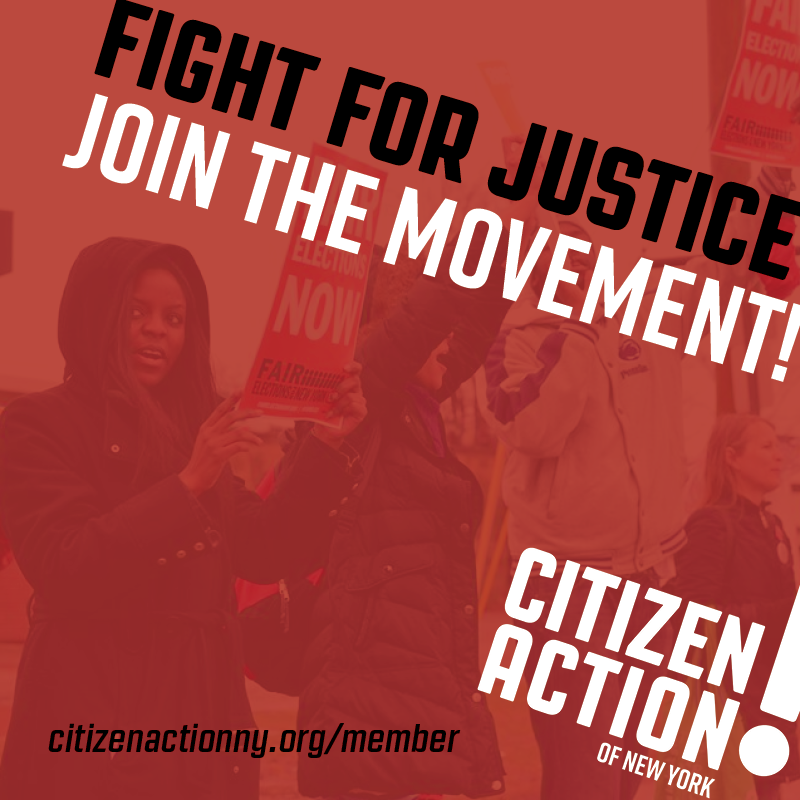 Citizen Action of New York is building power in communities across the state. Our members are the reason we're able to do effective grassroots organizing and achieve justice for our communities. Our members give what they can when they can, and each contribution is directly invested in local leadership development. Click here to support.
There are many ways to get involved right now. Click here to contact a Citizen Action chapter in your area and ask how you can get involved locally.
Stay Connected
Tweet us! For live updates, follow our statewide Twitter page. And if you're looking for cool articles, memes and a little conversation, like us on Facebook here.
Closing message:
"Your beautiful heart was meant to be poured out not bottled up." – APeaceofWerk on Instagram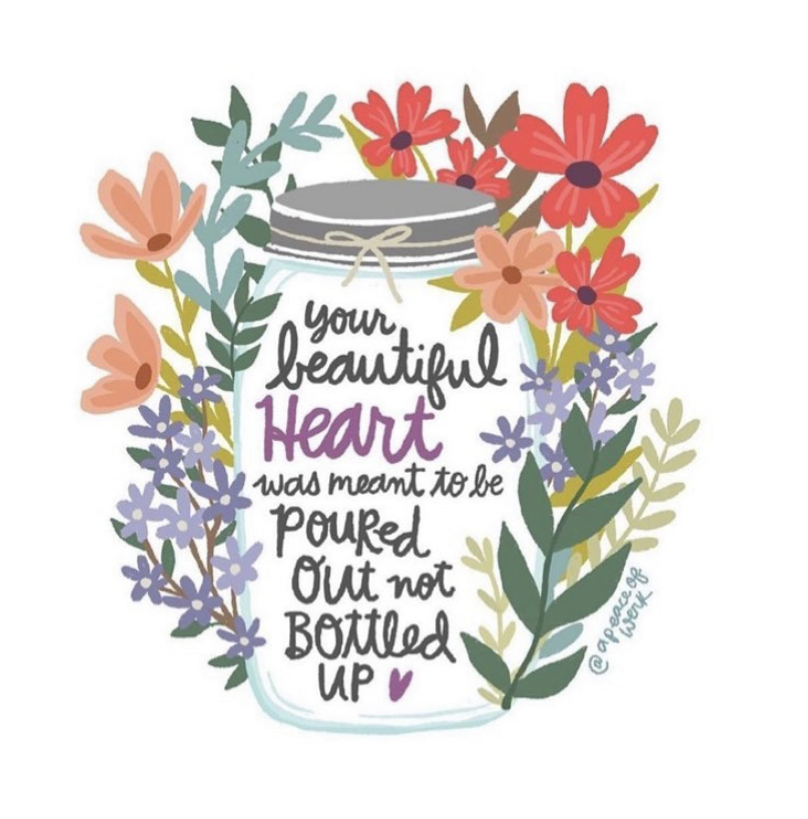 In solidarity, 
Tanique