Dear Activist,
The death of yet another Black person at the hands of police has sparked national outrage. Daniel Prude was experiencing a mental health crisis when he was suffocated by Rochester police back in March. Police body cam footage of the heartbreaking encounter became public this week, reigniting calls to defund the police. Citizen Action released a statement in solidarity with Free the People Roc, which can be found
here
. We're calling for all officers involved in Daniel's death and the cover up to be fired.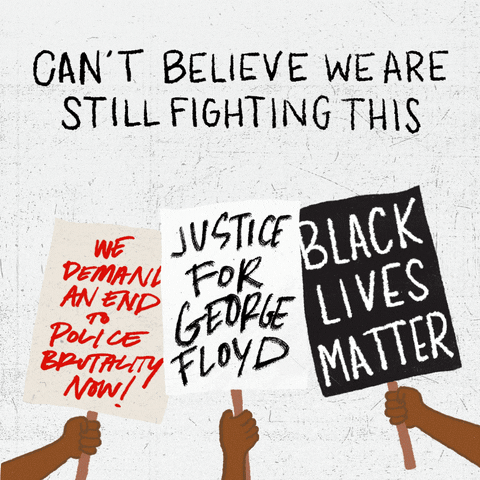 Leader Spotlight
This week's leader spotlight goes to Isabel Cardona in the Capital Region, who is the field director of the chapter's newly formed youth committee.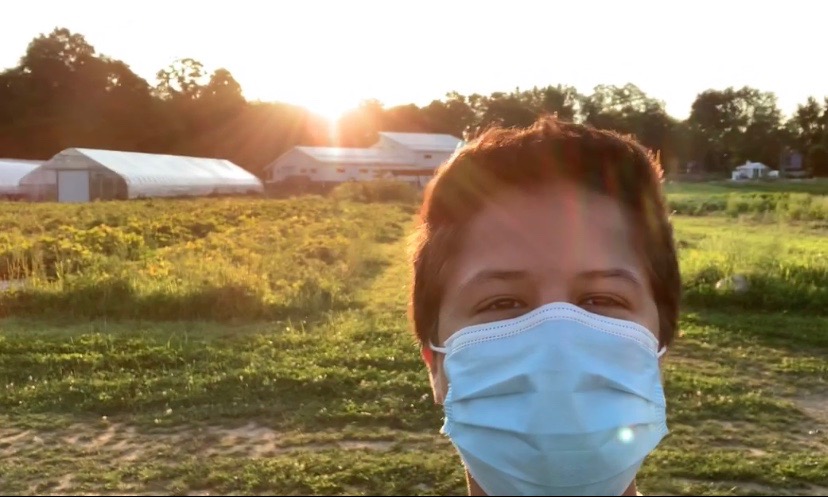 "I am most passionate about criminal justice reform and educational equality. Both of these topics tie into defunding the police, which would help bring immense change. It's not who you vote for, but what you vote for. A vote not used is a waste of democracy and a waste of the select freedom we have in this country. Everyone's opinions and values matter. The only way to effectively bring change to this state is by voting. We have the power every year to bring immeasurable change to our beautiful state."  – Isabel Cardona
Around the State 

Stop Cuomo's Cuts!
Just days before the first day of school, Governor Cuomo announced the state is withholding 20 percent of its funding to public schools. School districts are being forced to make catastrophic cuts because of Governor Cuomo's failure to act. Join us across the state for socially distanced rallies, speak outs and car caravans in defense of our schools and students!
Schenectady schools cut more than 300 teacher and staff positions this week. Albany schools will vote Tuesday on more than 200 teacher and staff layoffs. Programs and services that keep kids learning and thriving are being shut down.
Governor Cuomo and state legislators can raise taxes on millionaires and billionaires who are getting richer during the crisis. Cuomo can use the state's emergency fund to help. To intentionally hold back 20 percent of state funding for public education at any time is unconscionable; to do so now, days before schools are set to reopen amidst a pandemic is a direct attack on the safety of students, educators, and our communities.
Find an action near you next week.
We need an #EvictionFreeNY
This week, we joined tenants, housing advocates, our allies in the state legislature and incoming progresssive insurgents, including Citizen Action backed candidates Demond Meeks and Khaleel Anderson, to call on state leaders to enact a full eviction moratorium in New York and provide relief to tenants and homeowners. Advocates are calling for stronger tenant protections, and a tax on the wealthy to avoid cutting services to our communities. Amber Johnson, Citizen Action community organizer in Binghamton, emceed the conference. Click here to watch the video and check out some of our live tweets from the event.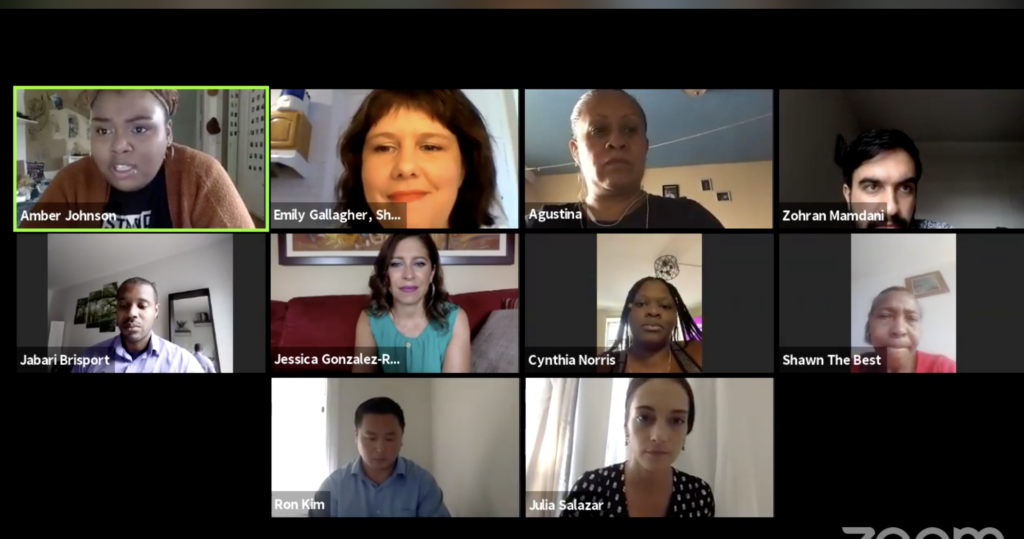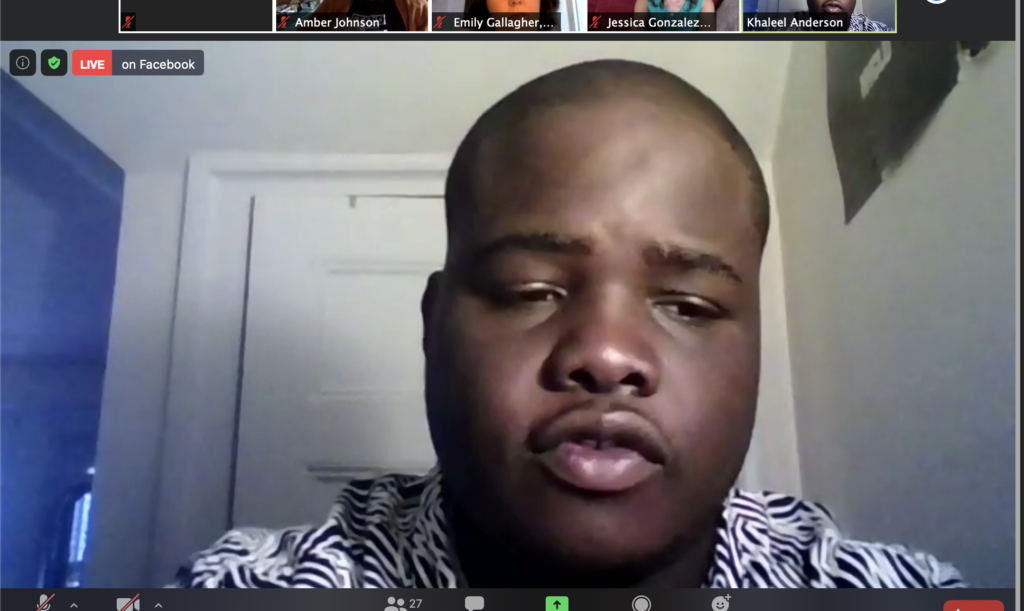 "Housing is a human right. We are living in a society where our current government does not prioritize renters. What we're seeing now is a band aid. We're not dealing with the root cause." – Khaleel Anderson on why we need to pass the cancel rent and Good Cause legislation.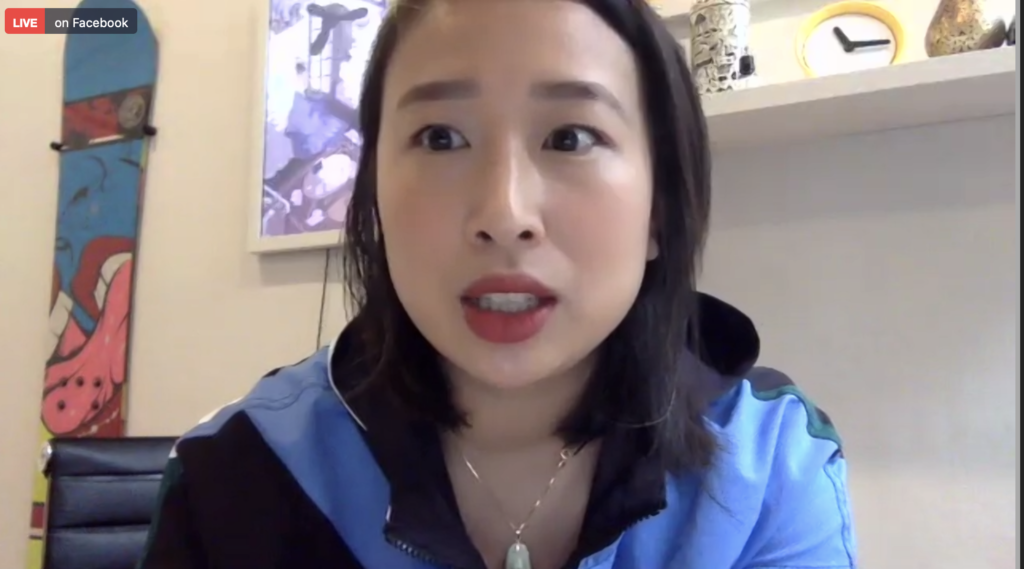 "I urge our state to come back into session to make sure we can pass these bills. If we don't pass permanent solutions now, we are not thinking about our future. The damage will be irreversible. And we need to make sure the money is coming from the right place. Richard LeFrak is a much richer billionaire [during the pandemic] and is increasing rents and making more money right now off the people who just lost their jobs." – Assemblymember Yuh-Line Niou
State leaders must return to session to pass the eviction moratorium and rent and mortgage forgive bills. The cancel rent legislation also establishes a relief fund to help homeowners.
Pass the NY HERO Act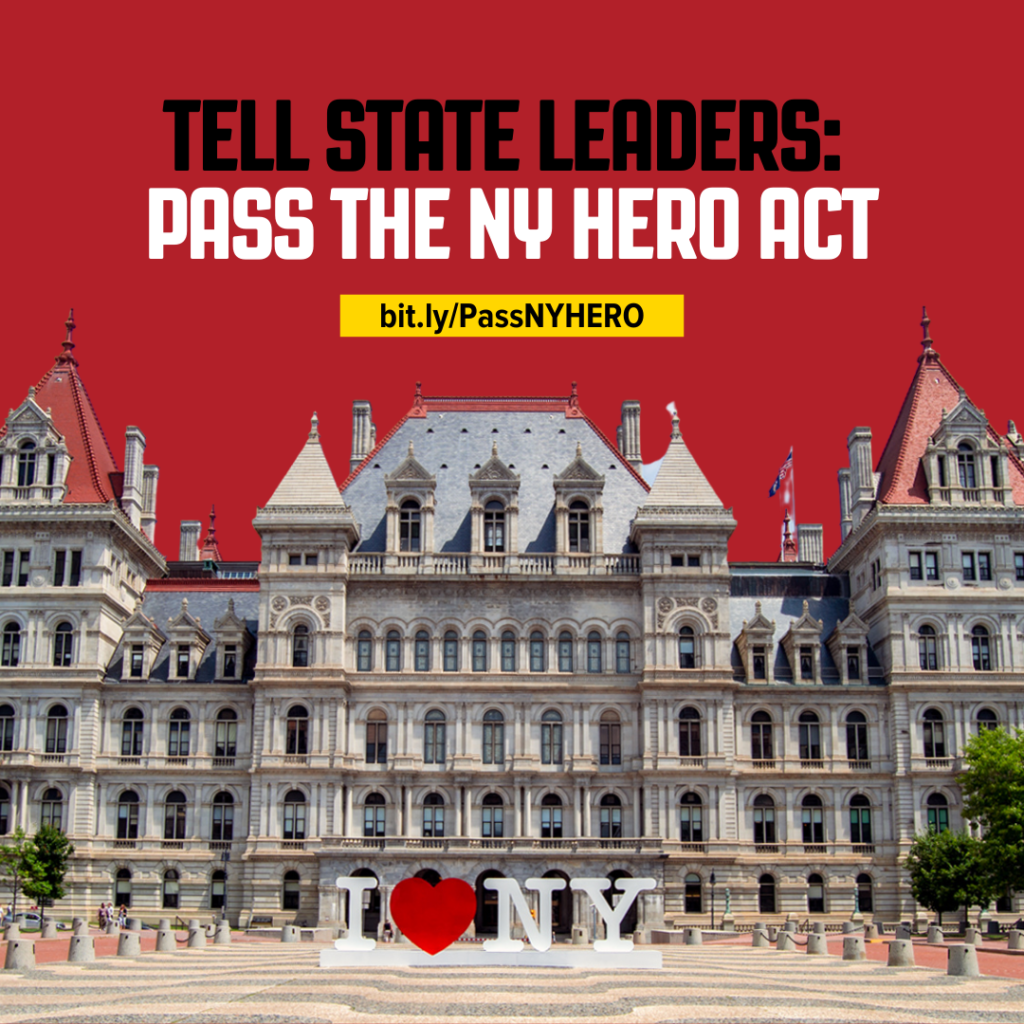 We partnered with ALIGN NY, the New York Nurses Association and Teamsters Joint Council 16 to launch a letter campaign calling for passage of the NY HERO Act, which would establish enforceable workplace safety standards for all working during the pandemic. Click here to take action.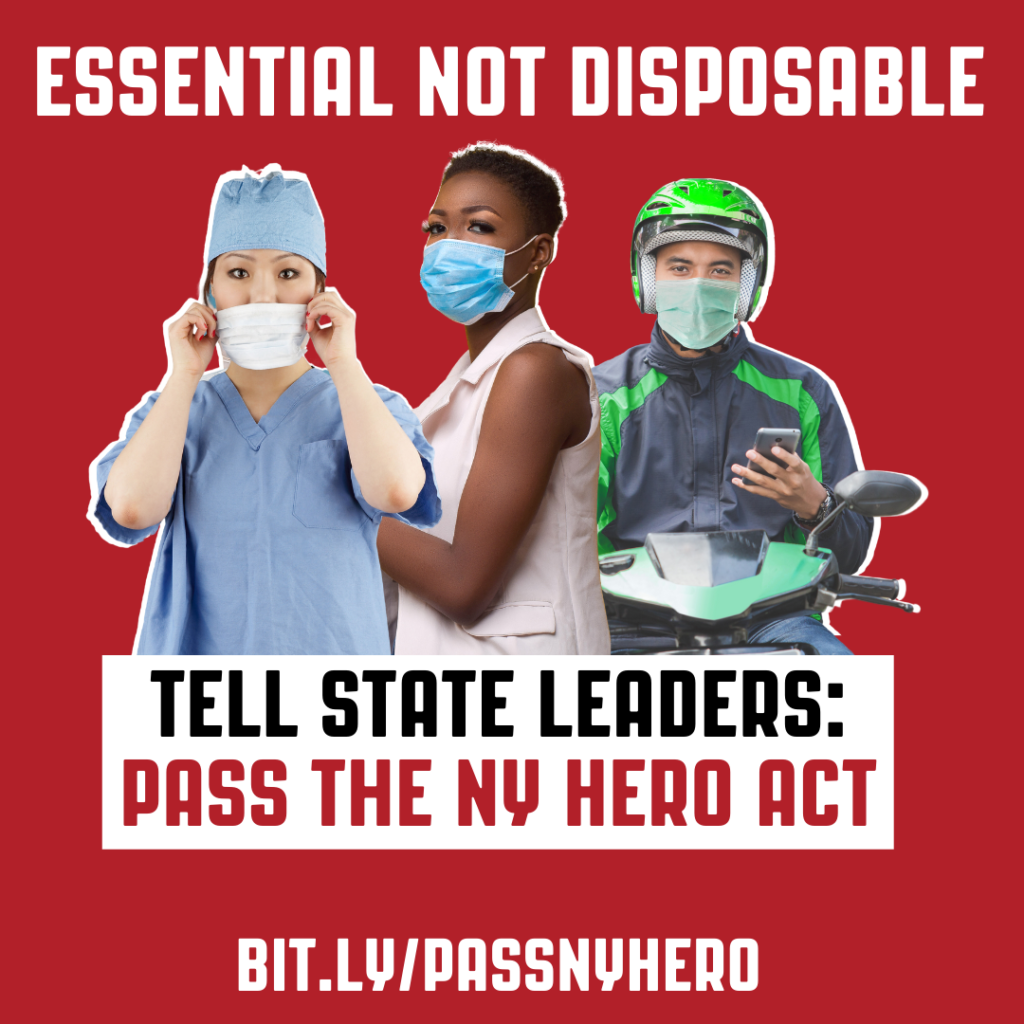 State Withholds Vital Education Funding
At a time when schools have already had to make devastating cuts, Governor Andrew Cuomo has decided to withhold 20 percent of school aid for districts statewide. The Alliance for Quality Education released a report detailing the impact this will have on high-needs school districts serving mostly Black and Brown students. In the Capital Region, districts are scaling back on in-person classes because they cannot afford to reopen safely. With more families in need of support for virtual learning, Cuomo should be taking steps to raise revenue to protect New York schools. Citizen Action President Ivette Alfonso released a statement in response to the cuts. Click here to read it.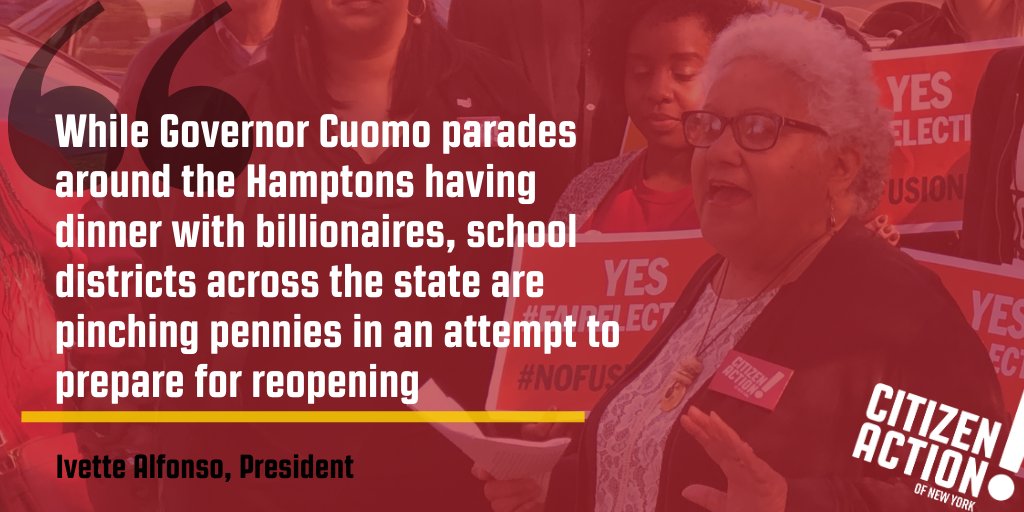 Capital Region Endorsements
This week, we announced our endorsement of candidates from the Capital Region who are running for the New York State Assembly and Senate. We've endorsed Brittany Vogel in Assembly District 107, Joe Seeman in Assembly District 112, Claudia Braymer in Assembly District 114, Patrick Nelson in Senate District 43 and Thearse McCalmon in Senate District 49. Click here to read our full announcement, and here to see our full list of endorsements.
#GetCounted in the 2020 Census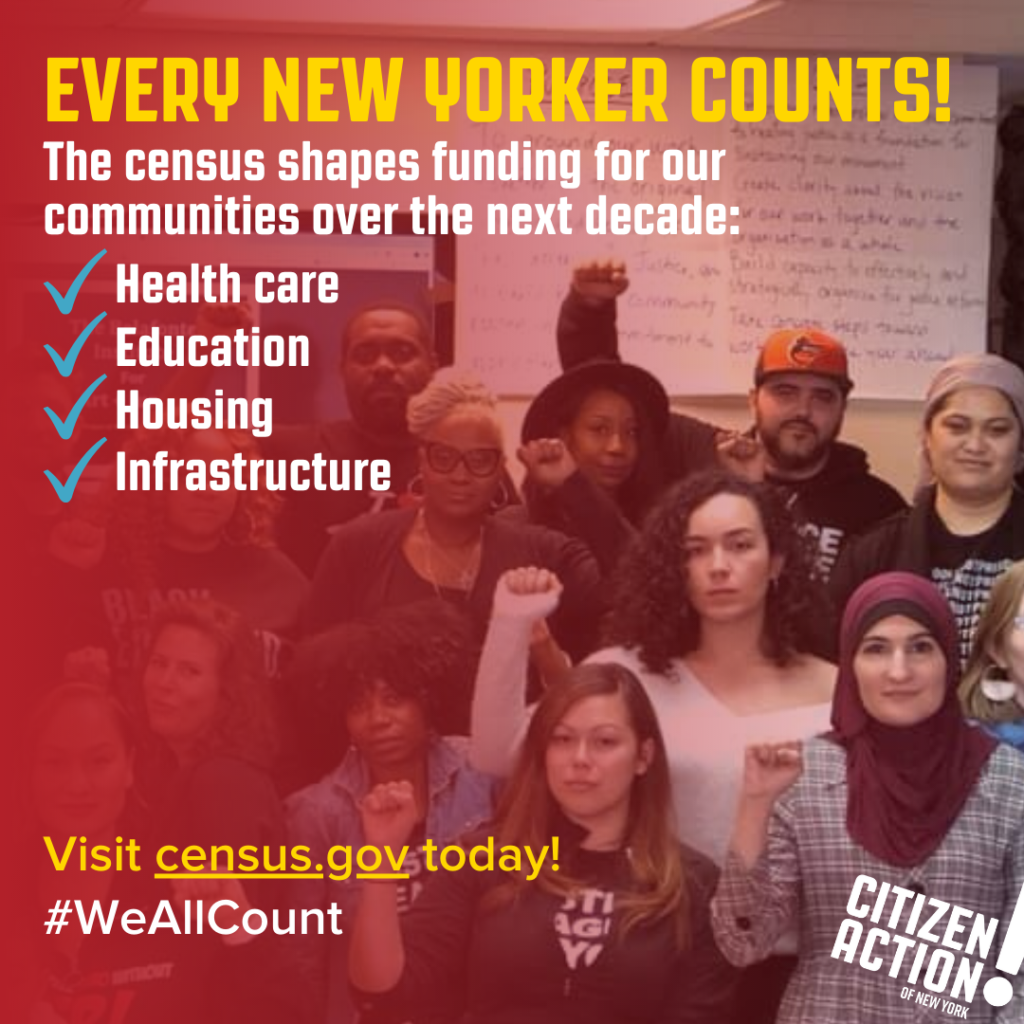 The census counts every person in the United States, and the results shape how billions of federal dollars flow in for the next decade in our communities. If you haven't already, you can still complete the 2020 Census by clicking this link! In 2010, only 65% of New Yorkers participated in the census. Our families missed out on 35% of available funds. Your participation will help increase the count in communities that need the most support.
Mail your survey, or visit Census.gov to get yours done today! It takes less than 10 minutes and is fully confidential. Email Sheilah at sdavidson@citizenactionny.org with questions or for help. We're building a team of volunteers to make sure our communities receive the funding we need. There are many ways to help from home. Click here to join our team to make sure everyone is counted in this census!
Upcoming Events
Monday, September 7 at 11- 1 p.m.
"Albany Labor Day Picnic Rally"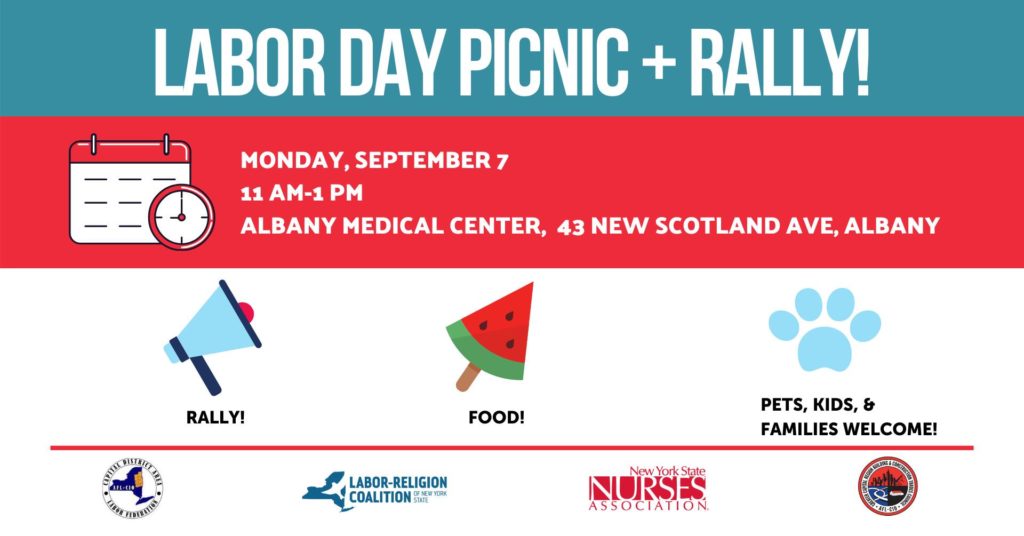 Join us for a Labor Day rally with unions and community members in front of Albany Medical Center to support the New York State Nurses Association nurses' fight for a fair contract. Participants must maintain social distancing and wear face masks. Click here to register.

Thursday, September 10 at 6 p.m.
"Housing Injustice Rally and Speak Out"
With the statewide eviction ban expiring in less than 30 days, state leaders must get back into session to pass the cancel rent bill and to stop evictions for the duration of the pandemic. We're holding space for community members to share their housing stories as we fight for an #EvictionFreeNY. Join us in Binghamton for a Housing Injustice Speak Out and Rally on Thursday, September 10 at 6 p.m. outside of the Department of Social Services at 36-42 Main Street. Face masks and social distancing required. For more information, contact Amber Johnson at (607) 723-0110 or ajohnson@citizenactionny.org
Thursday, September 10 at 6- 8p.m.
"2020 Jim Perry progressive Leadership Awards "
The 2020 Jim Perry Progressive Leadership Awards is on Thursday, September 10 at 6-8 p.m. We hope you can join us as we celebrate progressive leaders in the Capital Region. This is a time to lift up the struggles for racial and social progress, and to honor those who are doing extraordinary work to help bring justice and healing to our communities. We're honoring Lisa Good, Laura Felts, Darian Henry, Bhawin Suchak and Angela Warner. Get your ticket here.
Tuesday, October 6 at 6 p.m.
"Our Everyday Heroes Awards"
Join us for the "Our Everyday Heroes Awards" on Tuesday, October 6! The Everyday Heroes Awards is our largest annual awards ceremony, but due to the challenges of Covid-19, we have decided to celebrate virtually this year. Click here to register.  
There's still time for you to join our host committee! During the largest civil rights uprising in U.S. history, let's celebrate our social justice movements and leaders on the frontlines. We have a lot of work to do heading into this election. Click here to join the host committee for Our Everyday Heroes Awards.
Join the Movement

Citizen Action of New York is building power in communities across the state. Our members are the reason we're able to do effective grassroots organizing and achieve justice for our communities. Our members give what they can when they can, and each contribution is directly invested in local leadership development. Click here to support.
There are many ways to get involved right now. Click here to contact a Citizen Action chapter in your area and ask how you can get involved locally.
Stay Connected
Tweet us! For live updates, follow our statewide Twitter page. And if you're looking for cool articles, memes and a little conversation, like us on Facebook here.
Closing message: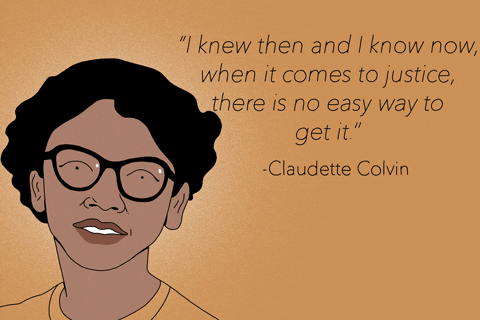 In solidarity, 
Tanique