Dear Activist,
At a time when so many of our progressive values are at stake, it's hard to process the passing of Supreme Court Justice Ruth Bader Ginsburg, who was affectionately known as "The Notorious RBG" by many. She was a true progressive champion, having fought for marriage equality, reproductive justice and health care, among many other progressive issues. Her final wish was to not be replaced until after Trump was out of office. On Saturday, September 19, from 8-9 p.m., the Working Families Party (WFP) held an emergency Assembly in honor of Justice Ginsburg and to discuss ways to ensure her wish is respected. Click here to find out more about the event.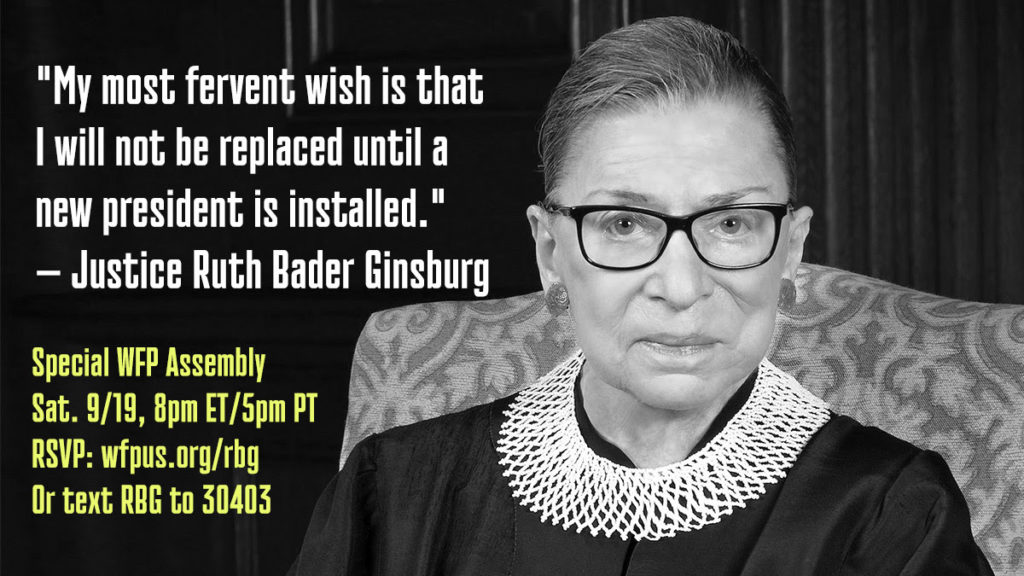 You may have heard by now that New York's minor parties, including the WFP, are facing an uncertain future. Due to new rules backed by Governor Cuomo in an attempt to diminish the WFP's influence, minor parties will need to secure at least 2% of the vote or 130,000 votes—whichever is higher— on November 3 in order to maintain ballot access. We're also nearing the deadline for the 2020 Census! There's still time to complete the form, if you haven't already—the census information is completely confidential. Although the official deadline is in limbo, the tentative deadline looks like it's going to be extended to October 31.

The family of Breonna Taylor was awarded a $12 million settlement in their wrongful death lawsuit against the city. The settlement comes with reforms aimed at preventing future tragedies like Breonna's murder, but it still remains to be said whether the officers involved will be charged. Disciplinary actions must be brought against the officers, and the department must take FULL ACCOUNTABILITY and acknowledge their missteps that lead to this tragic incident. #JusticeforBreonna
Leader Spotlight 
This week's Leader Spotlight goes to Dominic Micalizzi, a volunteer with our Southern Tier Chapter. Dominic has been with the chapter since January and is on the Demand Justice Committee. He joined as an intern for the Human Services program at Broome County College and continued to intern through the summer.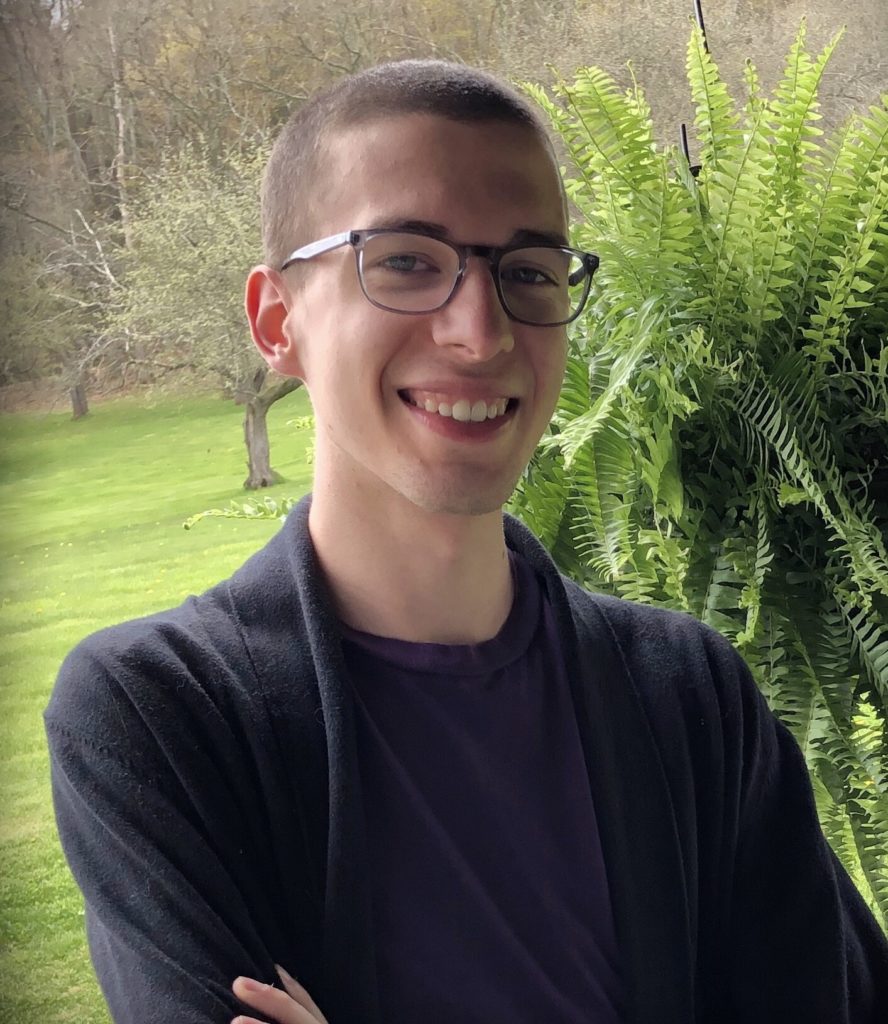 Dominic Micalizzi
Dominic's activism is driven by his commitment to social justice and societal change, particularly, police reform and uplifting the voices of "the most oppressed, most vulnerable and most silenced." When the pandemic hit, he helped organize and operate the chapter's mutual aid food pantry, and has lobbied for bail and discovery reform, spoke out against mistreatment in the Broome County Jail and attended court watches. "Being able to provide people directly with the food and items they need was such an amazing feeling," he said. Dominic said he lives by this quote by Muhammad Ali: "Service to others is rent we pay for being alive." Dominic is working toward becoming a social worker. 
Around the State
The city of Albany heard from tenants and housing advocates this week about the importance of upgrading the city's building codes. Our Capital District Chapter joined United Tenants of Albany, New York State Poor People's Campaign and VOCAL-NY for a rally outside City Hall as the hearing was taking place. They're also calling on state leaders to pass the Good Cause eviction bill. Before the pandemic, tenants and housing justice advocates were pushing the measure to protect tenants from unscrupulous propoerty owners.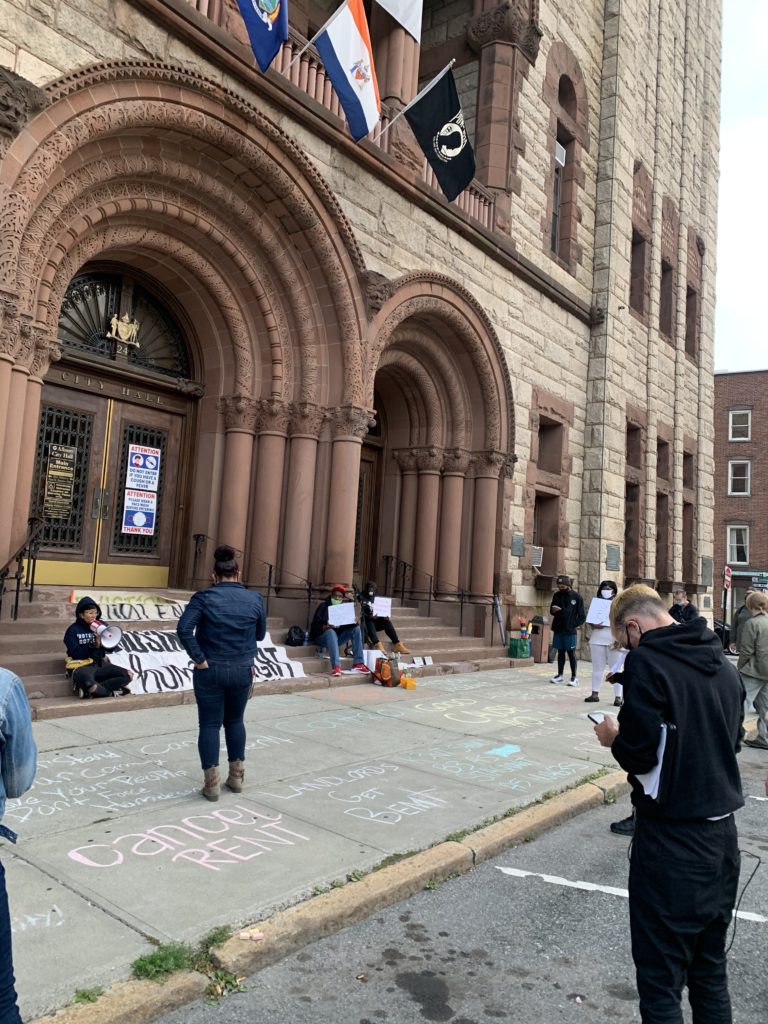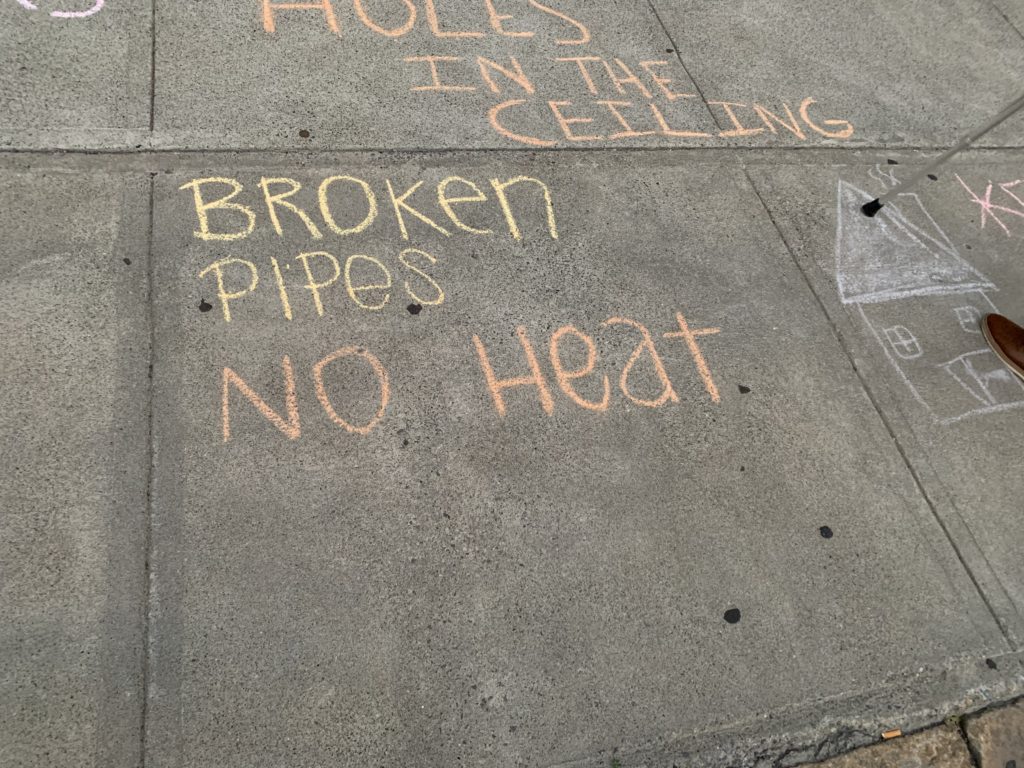 The Housing Crisis Predates the Pandemic
Leaders in Binghamton rallied this week outside of the Broome County Department of Social Services to demand safe and affordable housing for low-income residents amid the pandemic, as well as a rent freeze and an #EvictionFreeNY.
"Those properties, to be honest, should really be condemned, but people have to live there because it's the only place that they're able to afford," said Amber Johnson, Citizen Action community organizer. Click here to read more about the rally.
Stop the Cuts, #ProtectNYSchools
Last week's statewide education day of action was a huge success! Hundreds of activists rallied to oppose the 20 percent cuts to education and demand a tax on billionaires to fund our public schools.This week, Governor Cuomo announced that the September batch of school aid will be fully funded! However, we're not out of the woods yet. We must keep fighting for a complete roll back of the cuts and a solid plan that school districts can work with. Check out the photos from the statewide actions below.
New York City
A car caravan and rally took place at the district offices of Assembly Speaker Carl Heastie and Senate Majority Leader Andrea Stewart-Cousins. According to the New York City Department of Education, a 20 percent cut would translate to a loss of $2 billion in funding and 9,000 positions across the city.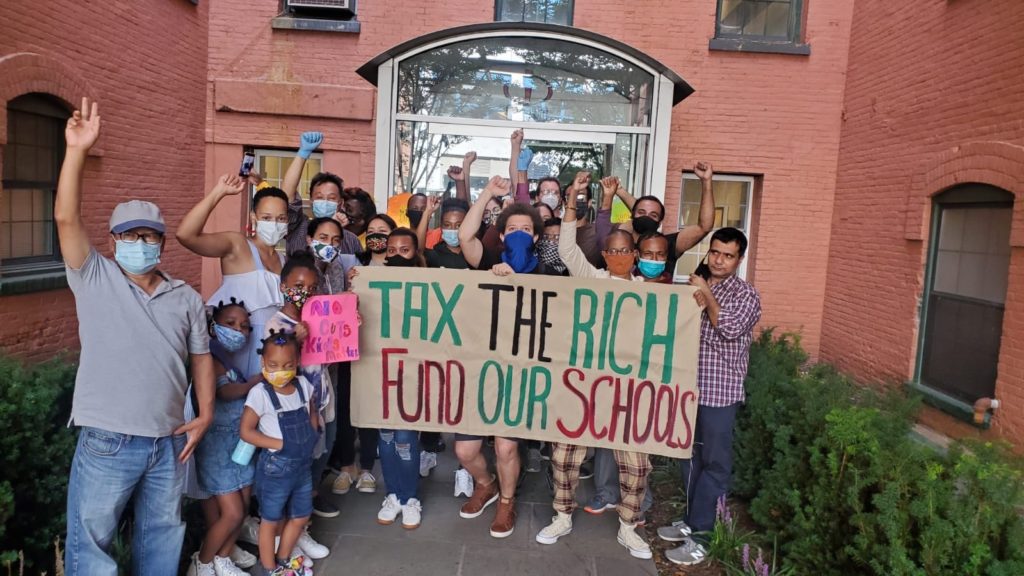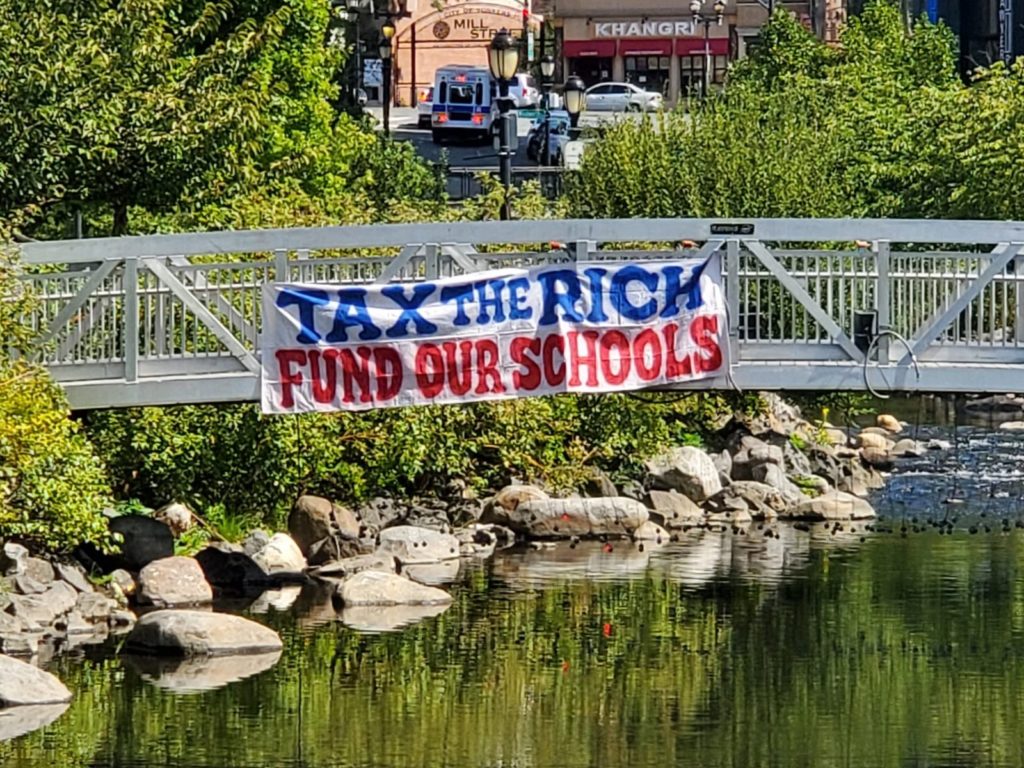 Hudson Valley
Activities in the Hudson Valley rallied outside of Kingston High School. A 20 percent cut in state aid would translate to a loss of $14 million in funding for Kingston schools.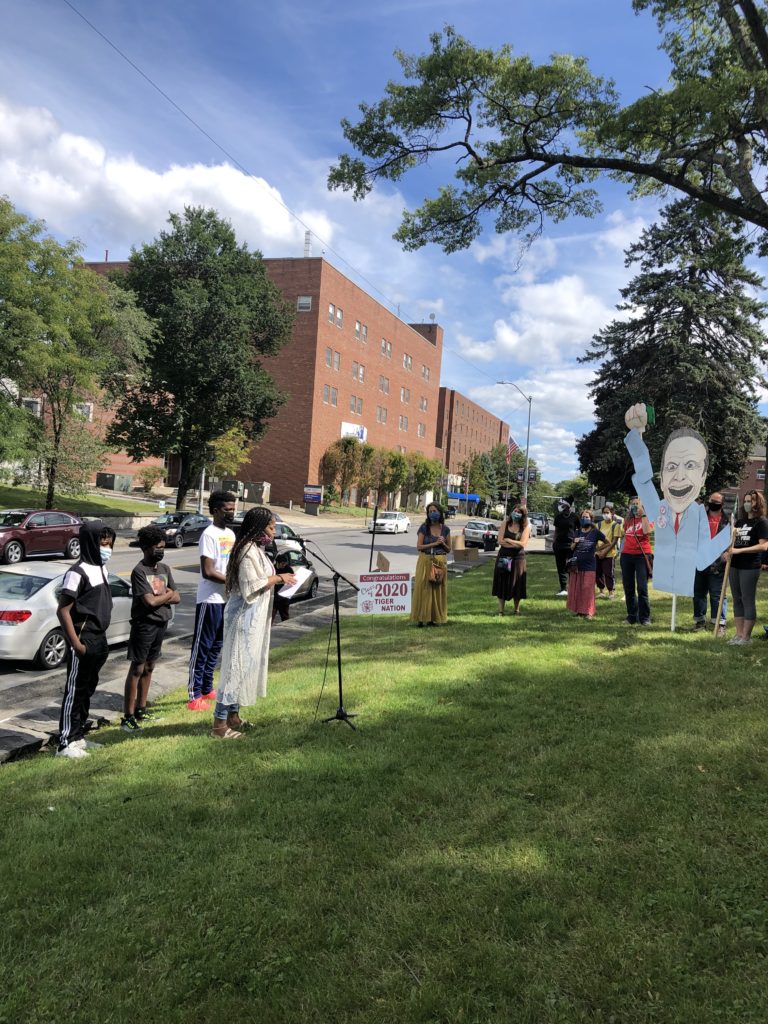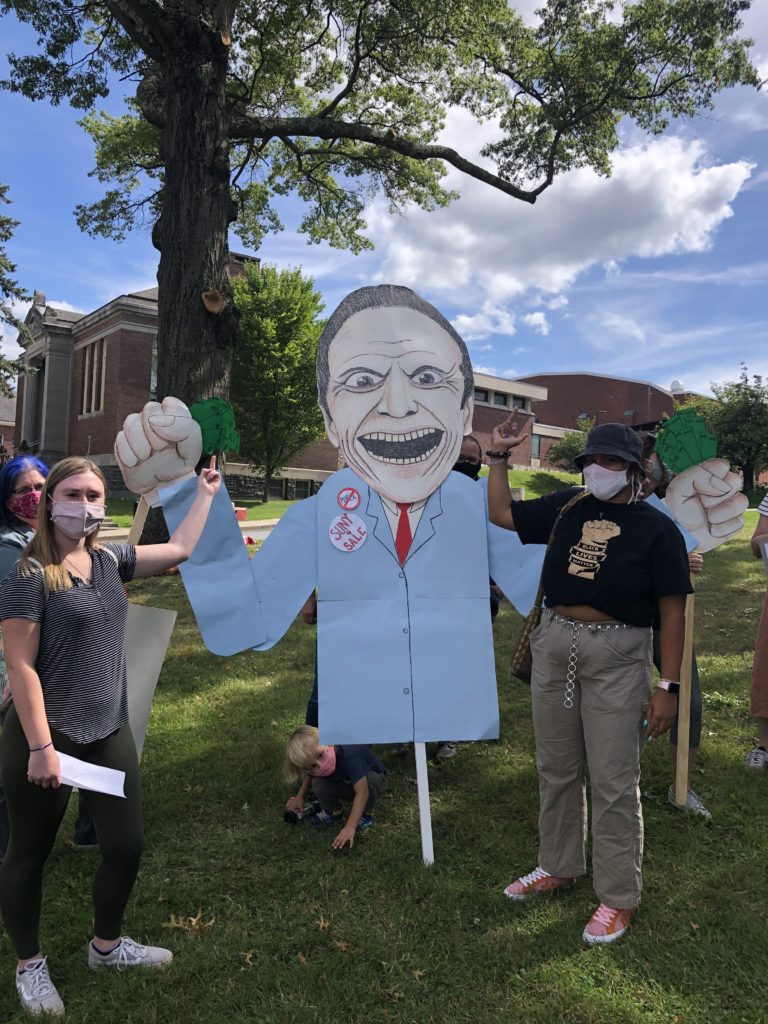 Capital Region
A 20 percent cut in state aid would translate to a loss of $25 million in funding for Albany and $28 million for Schenectady schools. Albany and Schenectady school districts have already made cuts to their budgets for the upcoming school year.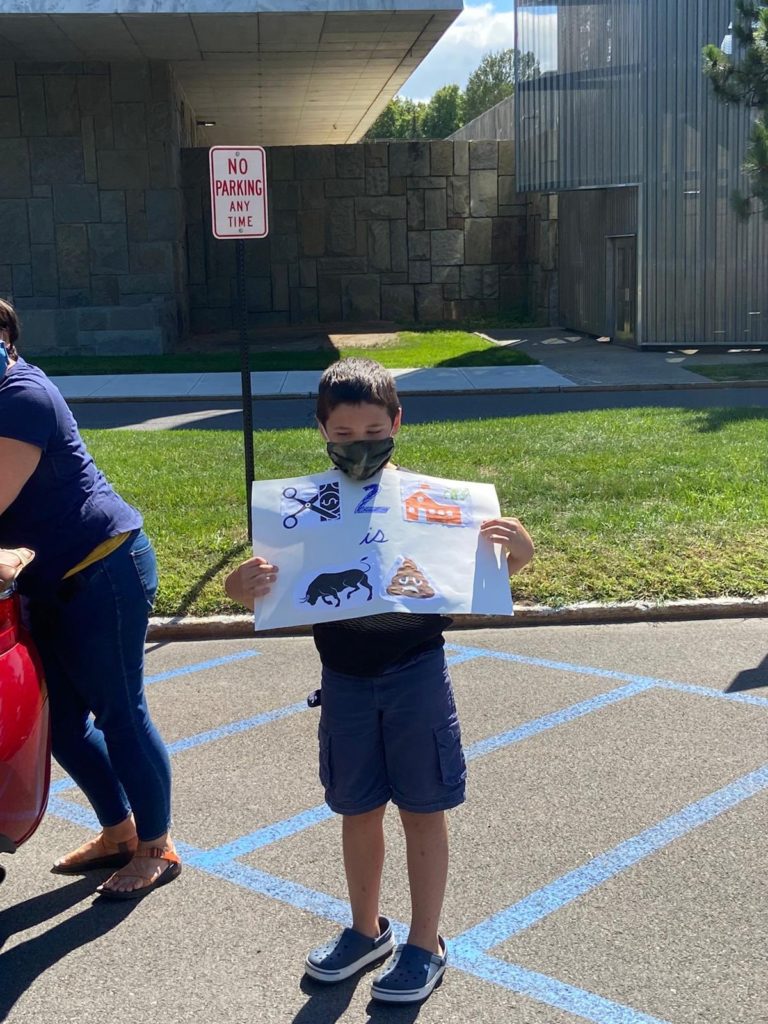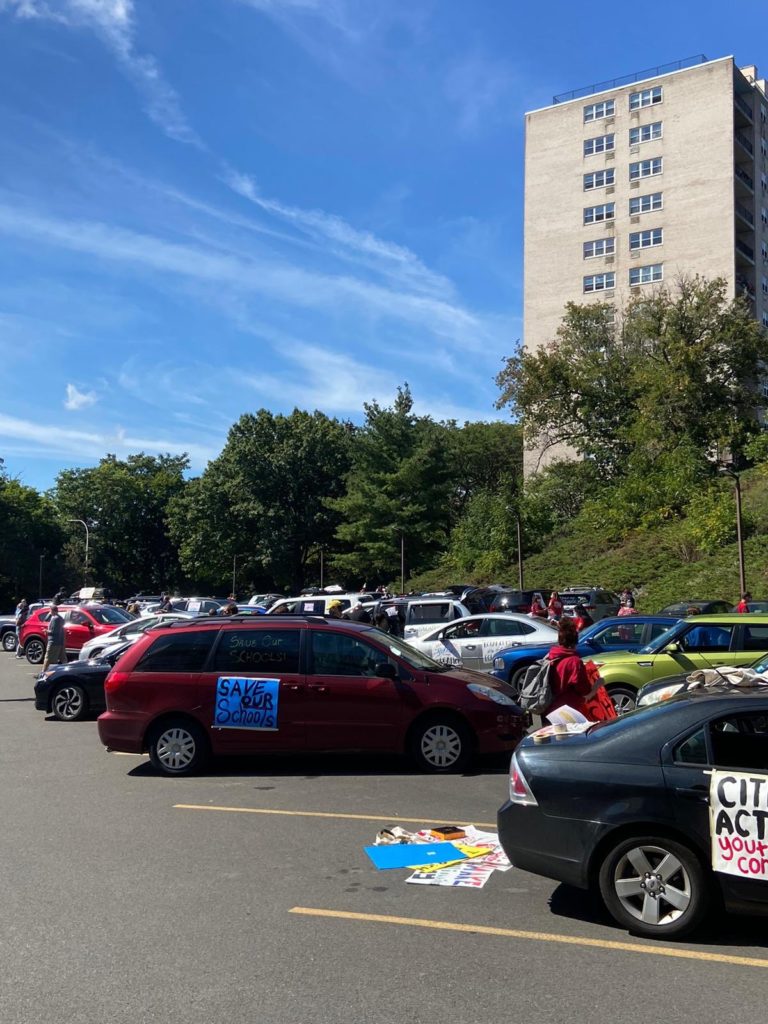 Central New York
Our Central New York chapter kicked off the statewide day of action with a caravan and rally that started at Fort Stanwix Monument in Rome and ended at the State Office Building in Utica. A 20 percent cut school aid would translate to a loss of $32 million in funding for Utica schools, and $15 million in Rome, both of which are high needs school districts already owed a combined $57 million in back funding. Click here to read more.

Western New York
Our Buffalo chapter rallied outside of the State Office Building in downtown Buffalo. A 20 percent cut in state aid would translate to a loss of $163 million in funding for Buffalo Public Schools.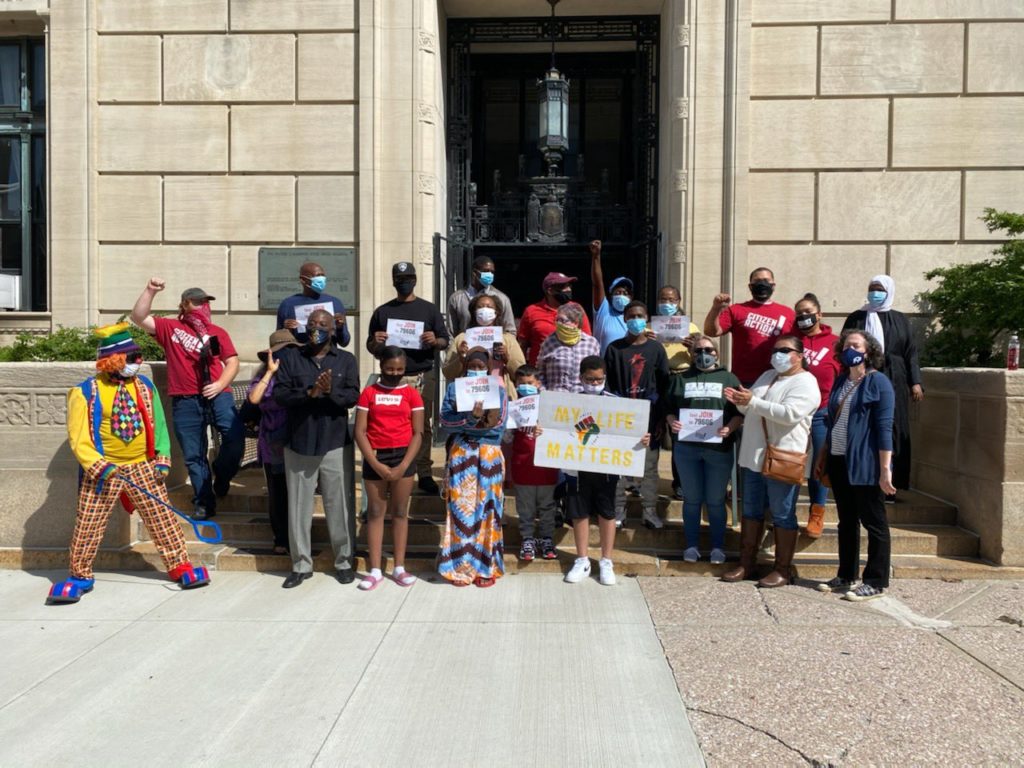 Rochester
Our Rochester chapter kicked off today's day of action to #ProtectNYSchools at Gov Cuomo's regional office. A 20 percent cut in state aid would translate to a loss of $139 million in funding for Rochester Public Schools, and already the district has been forced to cut its budget for the coming school year.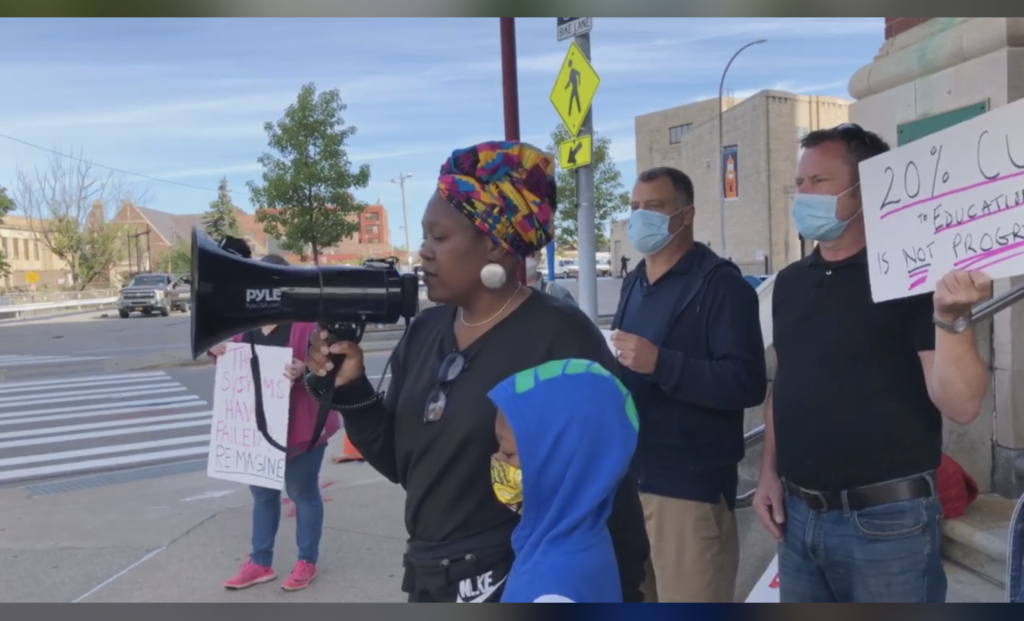 How are our children expected to lead if you're steadily cutting funding to our schools?" -Serena Lilato Viktor Click here to watch the video of Serena's speech.
Fund Excluded Workers Billboard
This week, the campaign to fund excluded workers launched billboards in the district offices of Assembly Speaker Carl Heastie and Senate Majority Leader Andrea Stewart-Cousins. See the images below, in case you missed it. Click here to find out more about the campaign to #FundExcluded workers. The legislation, sponsored by Senator Jessica Ramos, would establish a tax on billionaires to fund a bailout for workers who have been excluded from our state's safety net.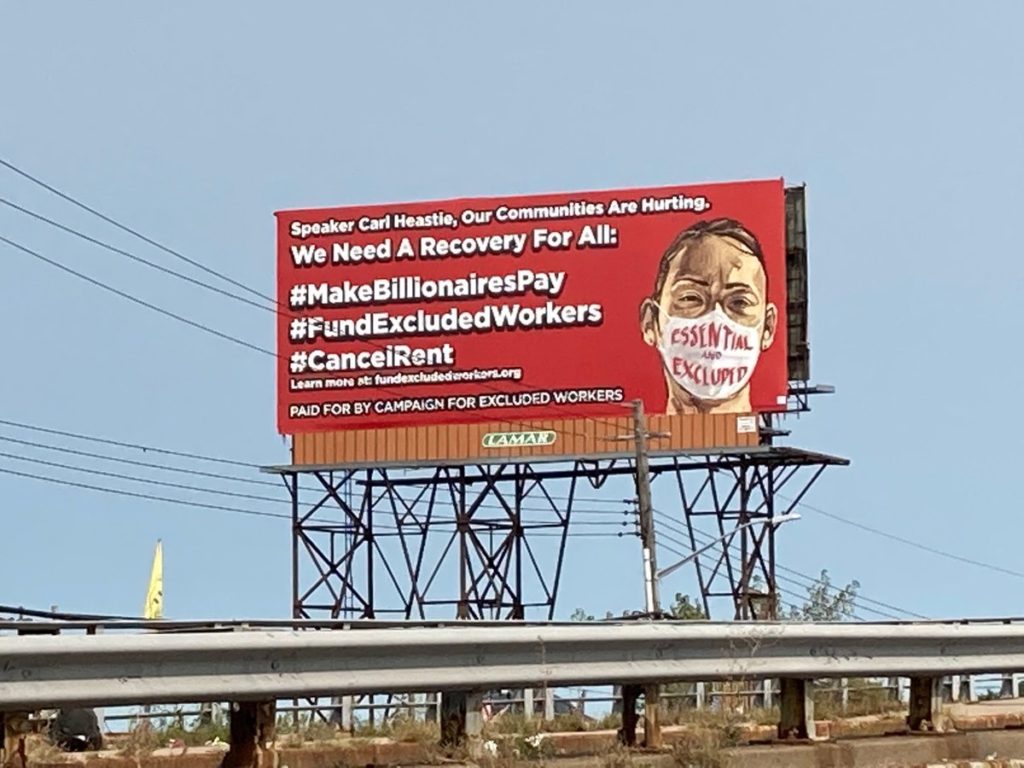 Rochester Makes Demands Justice for Daniel Prude
The protests in Rochester for Daniel Prude, who was killed by Rochester police officers in March, have been nonstop for more than 2 weeks now. After days of protest, Rochester Police Chief La'Ron Singletary announced his resignation. Advocates have been calling for his registration for his role in the attempted coverage of Daniel's death, which was ruled a homicide. The officers involved have been suspended without pay. New records show how the Rochester Police Department spent months doing everything they could to cover up their murder of Daniel Prude. They need to be held accountable. The Rochester City Council held a listening session on Wednesday to hear from community members about policing and to reimagine public safety. Add your name to demand #JusticeForDanielPrude and immediate reforms to policing in Rochester:http://cit.ac/justice4daniel.
Police brutality case in utica  
Our Utica chapter members are organizing around a recent case of police brutality in Utica. Body camera footage released last week shows Utica police officer Matthew Felitto repeatedly kicking Kerwin Taylor in the head while he was subdued. The officer was suspended without pay pending an investigation into his actions. Officer Felitto, who admitted to wrongdoing, is facing termination. The incident fueled increased calls for transparency and community collaboration in addressing police misconduct and accountability.
In other news surrounding police misconduct, ProPublica and THE CITY released an investigation into high-ranking NYPD officers who are routinely promoted, despite misconduct complaints against them. Click here to read the full report.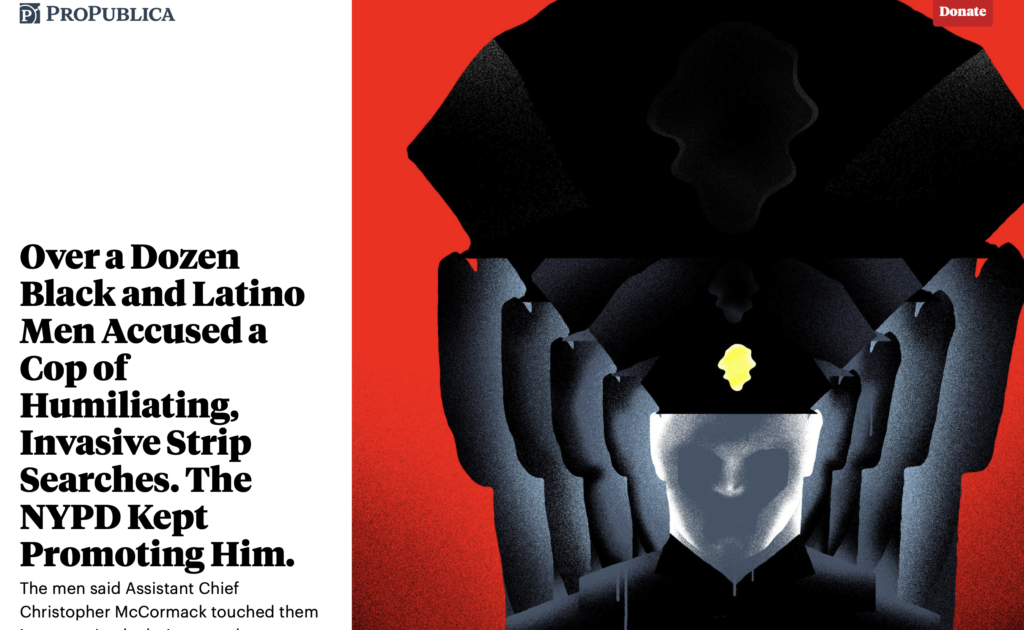 We need the NY HERO Act
Farmworkers are sending a clear message: enough is enough, treat all workers with dignity and respect. Workers need enforceable health and safety standards now. Tell state leaders#protectNYHeroes and pass the NY HERO Act: bit.ly/PassNYHERO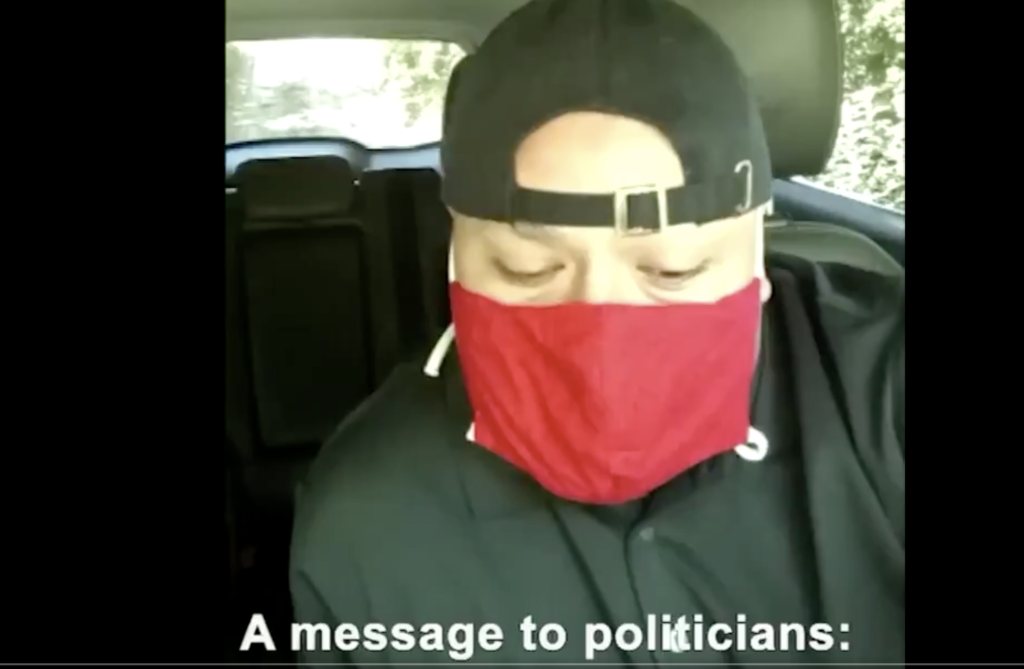 #GetCounted in the 2020 Census

The deadline to complete the 2020 Census is fast approaching! The census counts every person in the United States, and the results shape how billions of federal dollars flow in for the next decade in our communities. If you haven't already, you can still complete the 2020 Census by clicking this link!
Mail your survey, or visit 2020Census.gov to get yours done today! It takes less than 10 minutes and is fully confidential. You can also email Sheilah at sdavidson@citizenactionny.org if you have questions or need help. We're building a team of volunteers to make sure our communities receive the funding we need.
Upcoming Events
 Friday, September 25 at 4:30-6:30 p.m.
Joe Seeman is running for New York State Assembly in the 112th District! Joe is a long time activist and ally and would be a progressive addition to state politics fighting for upstate communities. Our Co-Executive Director Jessica Wisneski will be co-hosting a fundraiser for Joe on Friday, September 25 at Collins Park in Scotia. Click here to join. And here to see Citizen Action's full list of endorsement.
Tuesday, October 6 at 6 p.m.

"Our Everyday Heroes Awards"
Join us for the "Our Everyday Heroes Awards" on Tuesday, October 6! The Everyday Heroes Awards is our largest annual awards ceremony, but due to the challenges of Covid-19, we have decided to celebrate virtually this year. This year's theme is "Democracy for All." Click here to register.
There's still time for you to join our host committee! During the largest civil rights uprising in U.S. history, let's celebrate our social justice movements and leaders on the frontlines. We have a lot of work to do heading into this election. Click here to join the host committee for Our Everyday Heroes Awards.
Join the Movement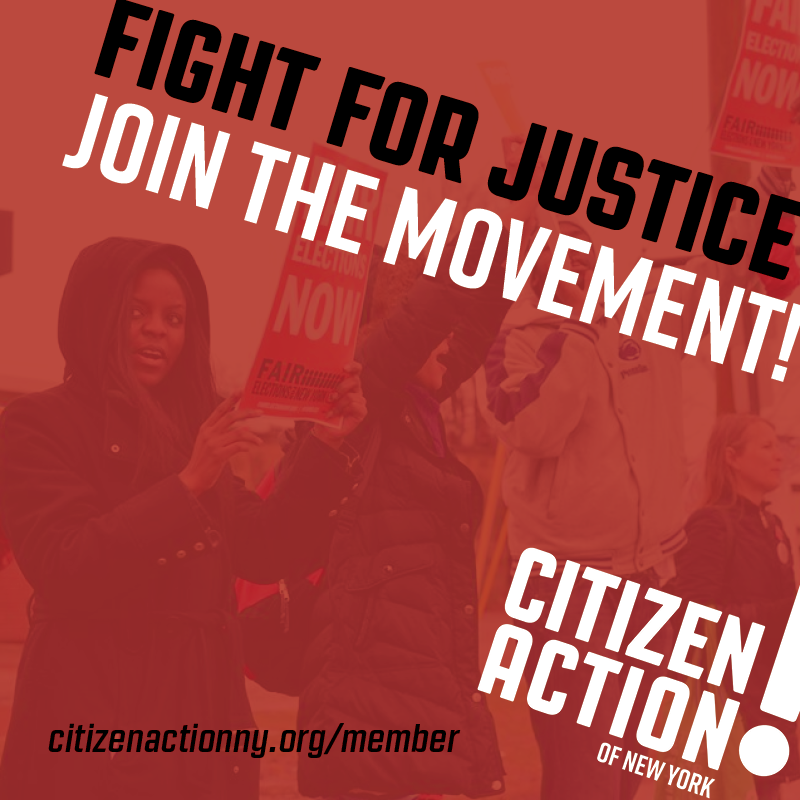 Citizen Action of New York is building power in communities across the state. Our members are the reason we're able to do effective grassroots organizing and achieve justice for our communities. Our members give what they can when they can, and each contribution is directly invested in local leadership development. Click here to support.
There are many ways to get involved right now. Click here to contact a Citizen Action chapter in your area and ask how you can get involved locally.
Stay Connected
Tweet us! For live updates, follow our statewide Twitter page. And if you're looking for cool articles, memes and a little conversation, like us on Facebook here.
CLOSING MESSAGE:
"Fight for the things that you care about, but do it in a way that will lead others to join you." – Ruth Bader Ginsburg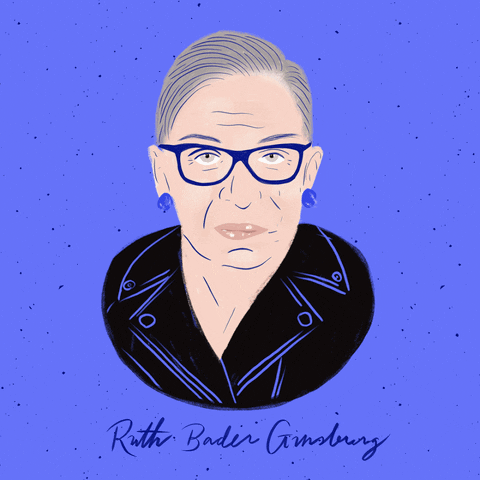 In solidarity, 
Tanique