Dear Activist,
My heart goes out to the people of Texas right now. As if things could not get any worse, a severe winter storm has left millions of Texans without power, running water and food. Devastation has struck yet another community as we grapple with Covid-19's impact. News of people dying in their cars and freezing in their homes is beyond heartbreaking. Extreme weather continues to be a serious threat to our communities! That's why here in New York, we're fighting to pass laws like the Climate and Community Investment Act (CCIA) this session. The measure would establish a corporate polluter fee, fund a just transition to clean energy, and set New York on a path to environmental justice. The corporations that have contributed to the climate crisis and treated our lives as expendable for profit must be held accountable. Passing the CCIA is one way to do that while creating tens of thousands of new jobs and supporting our communities. To learn more about the CCIA, click here.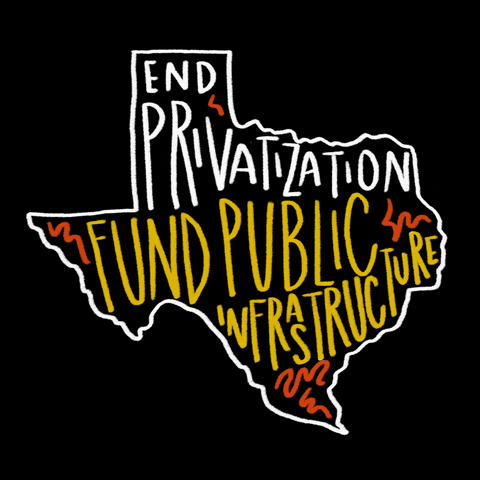 The internet has been buzzing with reactions to President Biden's stance on student debt. During a recent CNN Town Hall, the president said he would not be willing to go beyond forgiving up to $10,000 in student loan debt, and would not support a plan to relieve students of up to $50,000 of debt. Not only is the amount that should be forgiven a point of contention, but also whether the president can legally clear student debt through an executive order. The fact that Biden is not on board with outright canceling student debt for those who need it most is unsettling and discouraging, but not surprising. Crippling student loan debt disproportionately impacts Black and Brown students, and I appreciate Derecka Purnell's response, found below, to Biden's comments. Education justice is racial justice.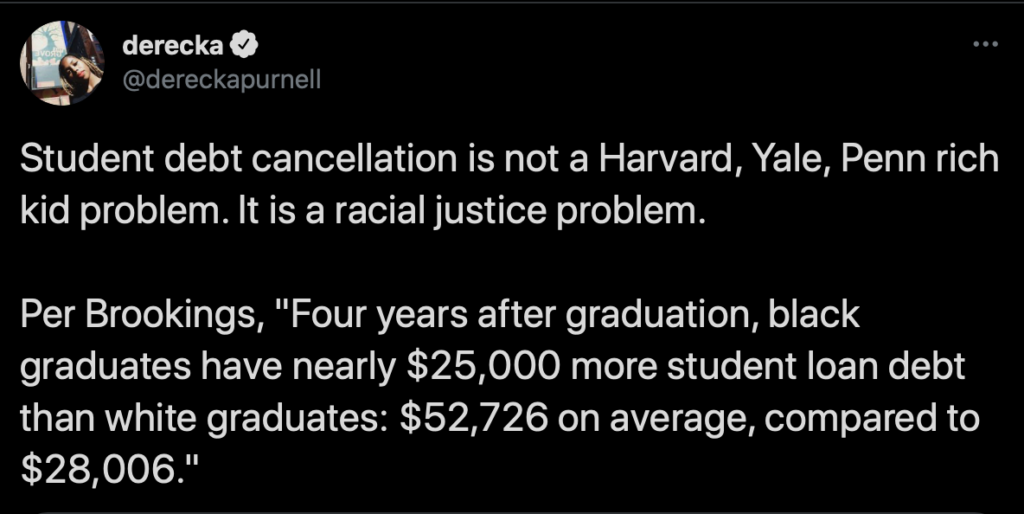 Leader Spotlight 
Citizen Acton's leader spotlight will now feature activists on a monthly basis. 
Da'Von McCune is Citizen Action's leader of the month. He is a member of the Buffalo Men of Color Committee and has been involved with Citizen Action for over a year. Da'Von is passionate about social justice, access to higher education, health care for all, housing as a human right, transforming the justice system, and tackling food insecurity. "I believe there is a living standard that all humans deserve, a floor which no human should live below," he said. Da'Von is a firm believer that love conquers all— through action, sacrifice, patience and forgiveness. "I believe that we must have honest conversations with ourselves, look deeply at what we care about and how we operate. I believe in order to change the world around us there has to be a conscious look at self, our relationships and then out into the community."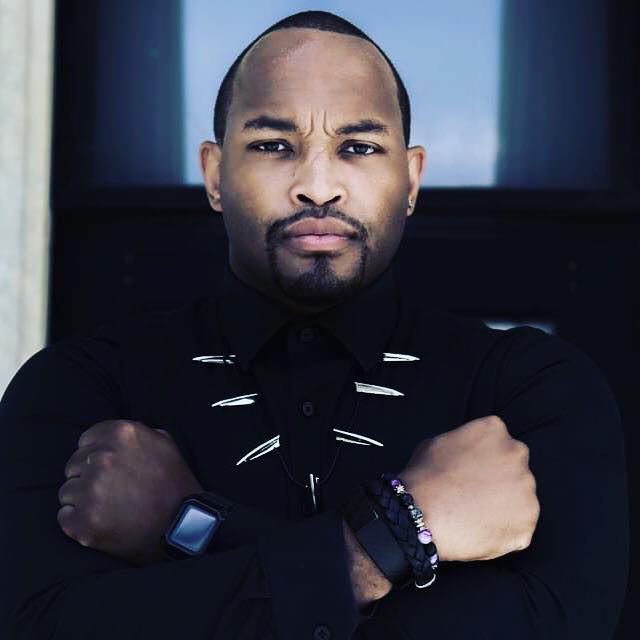 Da'Von shared the following quotes with us: "Every man must decide whether he will walk in the light of creative altruism or in the darkness of destructive selfishness. " -Dr. MLK, Jr.
"There is hope for humanity, but in order for us to get there, we really have to interrogate not just what it takes to change laws, but what it takes to change culture that supports laws that uplift humanity and also supports laws that serve to denigrate it." – Alicia Garza
Around the State
New York City Chapter Kickoff
Citizen Action of New York City held its kickoff chapter meeting on Wednesday, February 17, featuring guest keynote speaker Tiffany Cabán. Endorsed by Citizen Action, Tiffany is a candidate in the race for New York City Council District 22. This was a great opportunity to meet chapter leaders and community organizers, as well as learn more about the housing, criminal justice and Invest in Our New York campaigns. Click here to watch a recording of the virtual kickoff meeting on Facebook.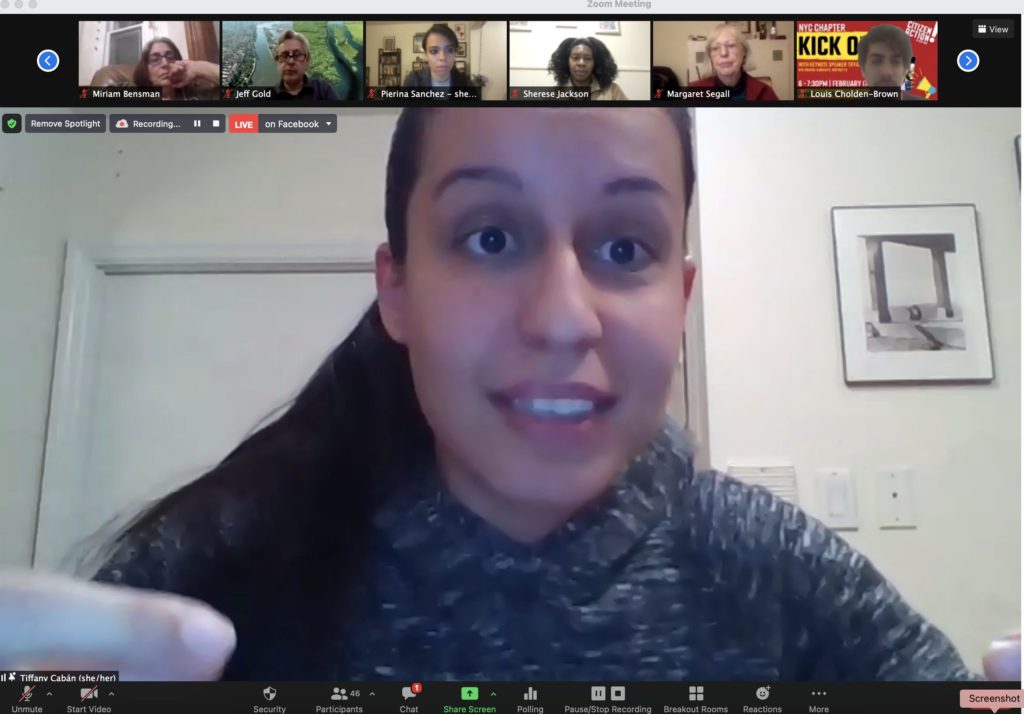 "What @citizenactionny is doing is creating the kind of environment where the will of the people HAS to get done. We are putting tools into the hands of our neighbors." – Tiffany Cabán
NYC Council Endorsements
This week, our New York City chapter also announced another slate of ranked choice candidates for city council. Citizen Action is backing Alexa Avilés as its first choice in Council District 38, and Cesar Zuñiga as its second choice. With ranked choice voting, instead of choosing one candidate on election day voters will rank candidates in order of preference. Click here to read our full announcement about the endorsements, and here to learn more about ranked choice voting in New York City.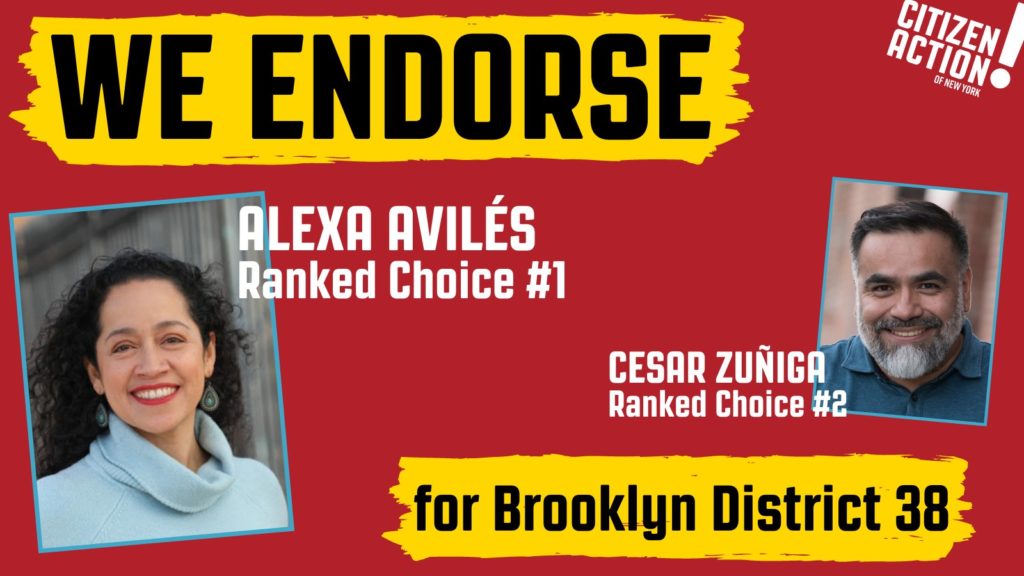 In New York City Council District 32 in Queens, the chapter announced its endorsement of Felicia Singh. In District 42 in East Brooklyn, Citizen Action has endorsed Wilfredo Florentino. Click here to read our full announcement. You can also check out our announcement tweets here.
Hardship Declaration is Available to Tenants
This week, housing justice advocates joined state Senator Brian Kavanagh and Assemblyman Jeffrey Dinowitz to raise awareness about New York's Hardship Declaration Form. Tenants can submit the form to avoid facing eviction or unnecessary court proceedings until at least May 1. Click here to read more about the conference, including a quote by Rebecca Garrard, our statewide housing justice campaigns manager. Click here to access the Hardship Declaration Form.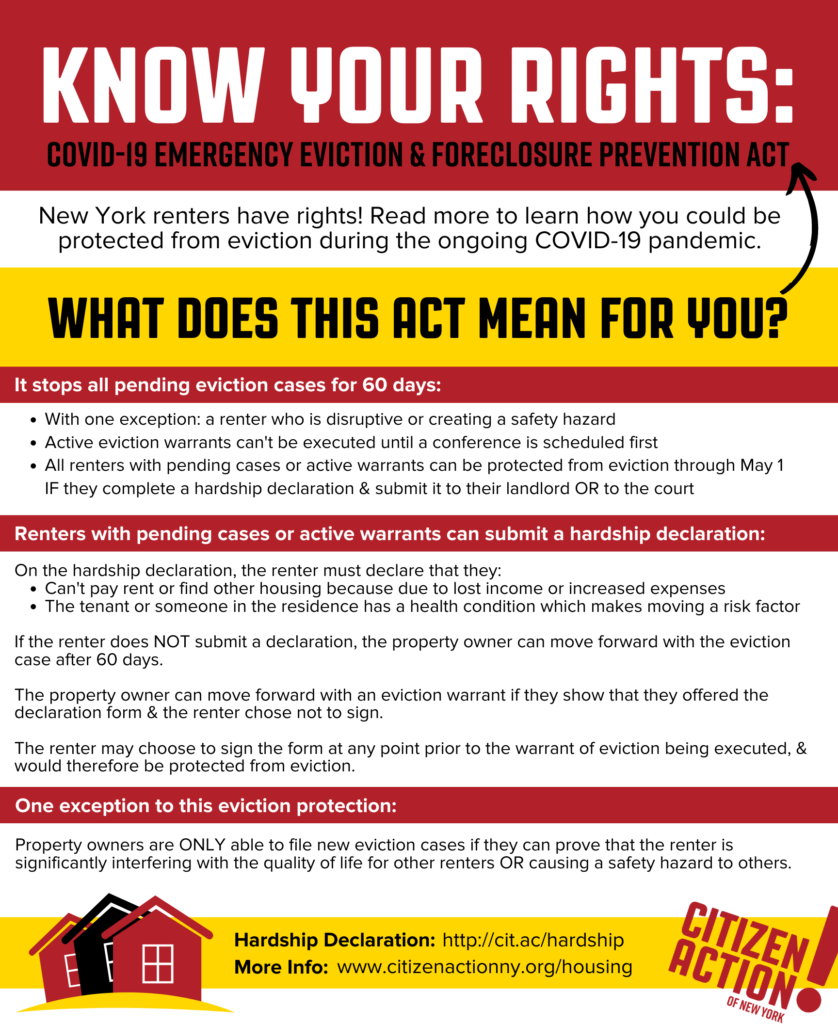 "This eviction moratorium was won through relentless tenant organizing, but its protections are only as strong as its implementation. Tenants must be made aware of their rights in order to assert them, and landlords and judges must be held accountable in ensuring this happens." – Rebecca Garrard, a tenant advocate and Campaigns Manager for Housing Justice.

Just Recovery for All
A just economic recovery is possible, but only if everyone has a real chance to recover. We need a $15 federal minimum wage and support for small businesses in the next COVID Relief package. It's time for Congress to step up. Every worker deserves to earn a livable wage, and every small business deserves a chance to succeed. Click here to send a letter to your legislator.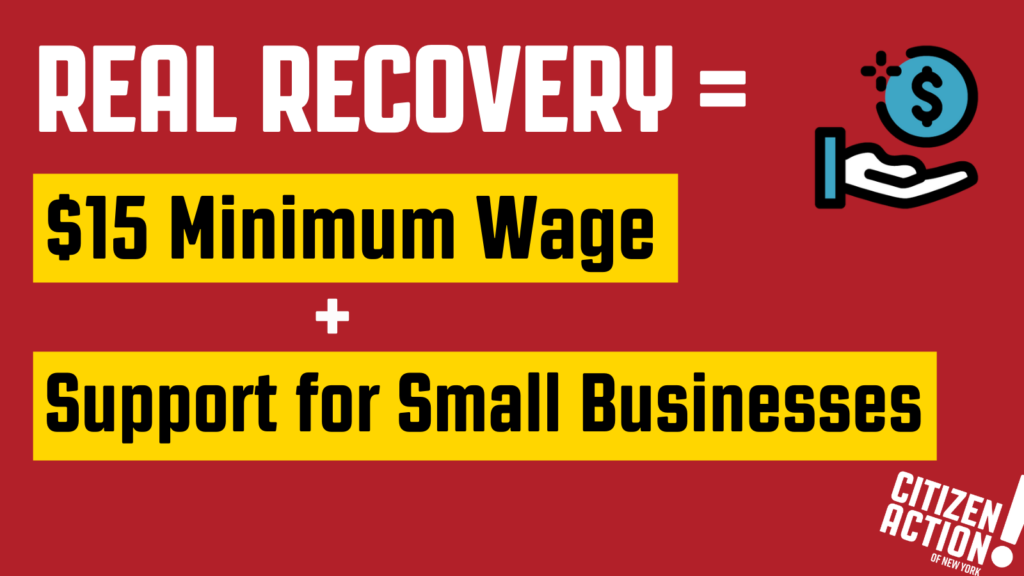 Health Care is a Human Right
Health care should not be a luxury good it should be a basic human right. During the pandemic. 1.2 million New Yorkers are without  health insurance coverage and this disproportionately impacts Black, Latinx, low-income and immigrant communities. It's time to tax the rich and invest in our New York. Click here to take action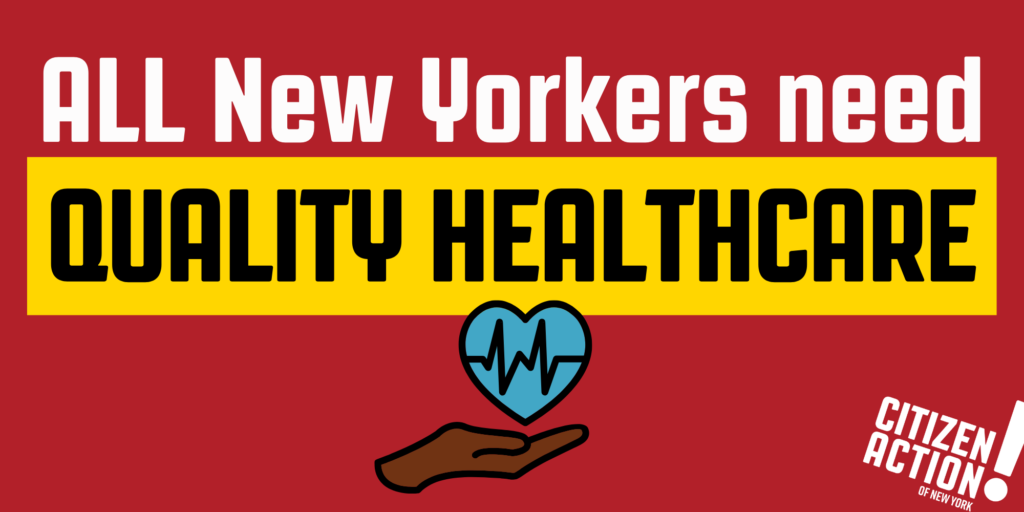 Upcoming Events
Breaking the Cycle
February 20th from 12-3:30 p.m.

Breaking the Cycle is a workshop that goes through the history of mass incarceration, the power players within this system, and how we can reimagine justice. This conversation will be the start of creating a vision of what communities can look like when we invest in safety and resources. Click here to register.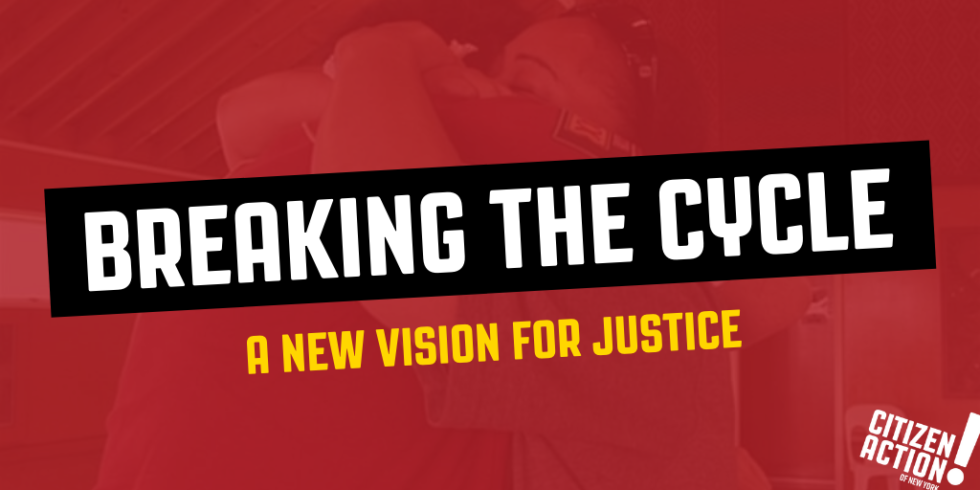 WNY Education Action
Tuesday, February 23 at 6-7:30 p.m.
New York's schools have been underfunded for decades and the Covid-19 pandemic only made the crisis worse. We can't wait for the federal government to send us relief – we need permanent, reliable state funding that our schools and our students can rely on. A one-time payment won't give our children the quality education they deserve. To truly invest in our children and end educational racism, we MUST tax the rich.
Join WNY Citizen Action, Alliance for Quality Education, Buffalo School Parents and allies on Tuesday, February 23, to organize our community to fight education justice! We must Tax the Rich and Invest in our Communities! Register here: http://cit.ac/wnyedaction
Inequality in Education: How Did We Get Here & What Can We Do Now?
Wednesday, February 24 at 6:30 p.m.
Across New York Black, Brown, or low-income children are left without the resources they need to learn. Join us to discuss the history of inequity in our school systems & plan for how we can#InvestInOurNewYork & #FundPublicSchools. Click here to register: http://www.cit.ac/edu
Join the Movement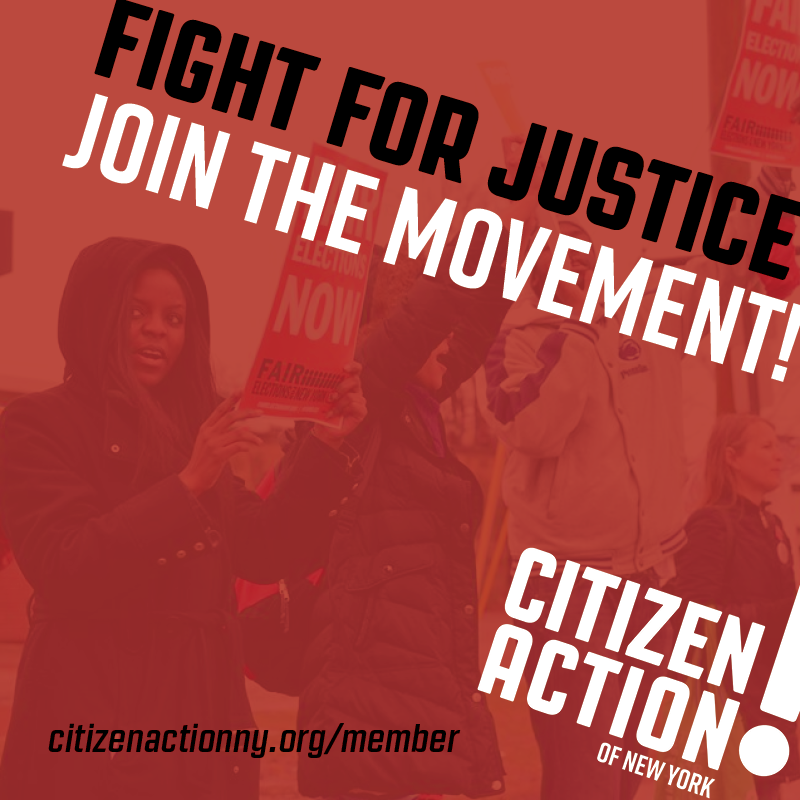 Citizen Action of New York is building power in communities across the state. Our members are the reason we're able to do effective grassroots organizing and achieve justice for our communities. Our members give what they can when they can, and each contribution is directly invested in local leadership development. Click here to support.
There are many ways to get involved right now. Click here to contact a Citizen Action chapter in your area and ask how you can get involved locally.
Stay Connected
Tweet us! For live updates, follow our statewide Twitter page. And if you're looking for cool articles, memes and a little conversation, like us on Facebook here.
Closing message:
"Capitalism is a stupid system, a backward system." – Stokely Carmichael
In solidarity,
Tanique