Dear Activist,
 It's negotiation time! We're ramping up our calls for justice! Budget negotiations are set to wrap up by the end of the month, before the April 1 deadline. With the Assembly and Senate one-house budgets released, we know exactly where we need to push harder. While both houses put forth progressive tax revenue proposals that would raise $7 billion, their proposals are just the starting point. The proposals fall far short of the $50 billion that the Invest in Our New York Act would raise, but their efforts show that legislators are listening and our actions are making a difference. Senate Majority Leader Andrea Stewart-Cousins and Assembly Speaker Carl Heastie must stand firm in their negotiations with the Governor, and pass a budget that makes strong investments in our communities.
Before we get into what's been happening around the state, I want to take a moment to send love to our AAPI family. Our hearts are with the loved ones of the 8 people, including 7 women, killed this week in Atlanta, and everyone who has been impacted by the surge in violence targeting the Asian American community nationwide. It's sad to say, but I'm not surprised at the mainstream media's attempt to downplay the threat of white supremacy in America. Hearing about news reports that attempt to justify the murderer's actions by saying he was "having a bad day" is outright hurtful and a slap in the face to communities who have endured this type of violence for decades. Racism, misogyny and xenophobia are deadly. America has a white domestic terrorist problem that it needs to address! We released a statement of solidarity to the AAPI community.
"We stand with our AAPI sisters and brothers. Over the last year, we have seen an unacceptable rise in anti-Asian violence. Hate crimes targeting AAPI people are up 150% since January 2020." Click here to read the full statement by our Political Director Stanley Fritz.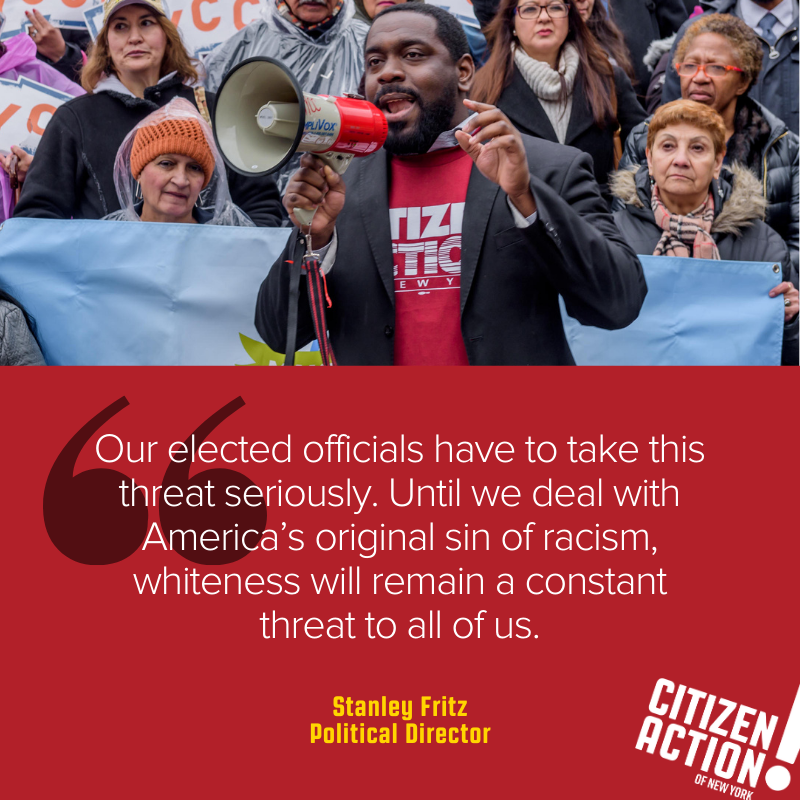 Around the State 
One-House Budgets Released 
In response to the Assembly and Senate one-house budgets, Citizen Action President Ivette Alfonso said:
"On Governor Cuomo's watch, New York has steadily grown to crisis levels of inequality. For a decade, he's used his influence to protect billionaires at the expense of the rest of us. That ends here. In a time of instability and crisis, we cannot count on Governor Cuomo. The budget proposals put forward this week by the State Senate and Assembly show that our legislators are listening and they have the power to hold the Governor accountable for years of divestment in Black, Brown and low-income communities."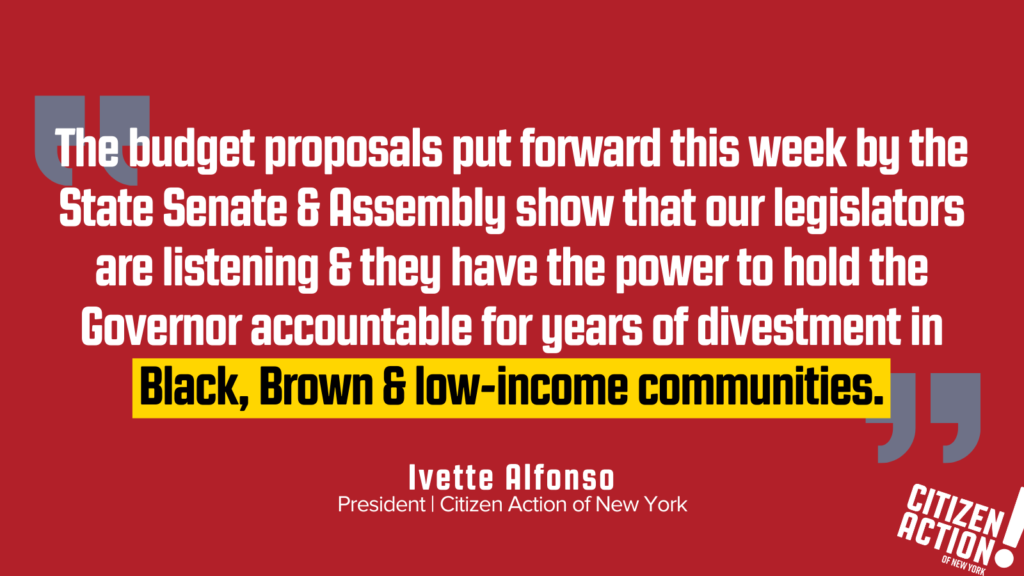 Click here to read the full statement
HALT Solitary Bill Awaits Governor's Signature 
The HALT Solitary Confinement Act is one step closer to becoming law! The New York State Senate passed the bill this week, and the pressure is now on Governor Cuomo to make sure he signs it. The HALT bill restricts the use of isolated confinement and prohibits it for vulnerable people like pregnant women and those with histories of mental health issues. Jalil Muntaqim, community organizer in Rochester, released a statement in celebration of this good news and shared with me some information about his time in solitary confinement.
"I did 9 months in solitary and recognized how damaging it can be for many others. I witnessed men become mentally distraught. I recognize solitary confinement is damaging to the mind, but also to the spirit. Therefore, the HALT Solitary Act saves lives."  Click here to read his full statement.