Paid Sick Days for Albany County!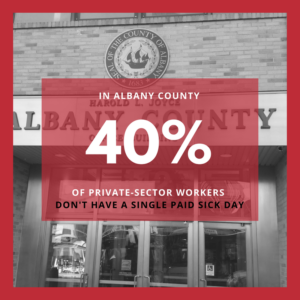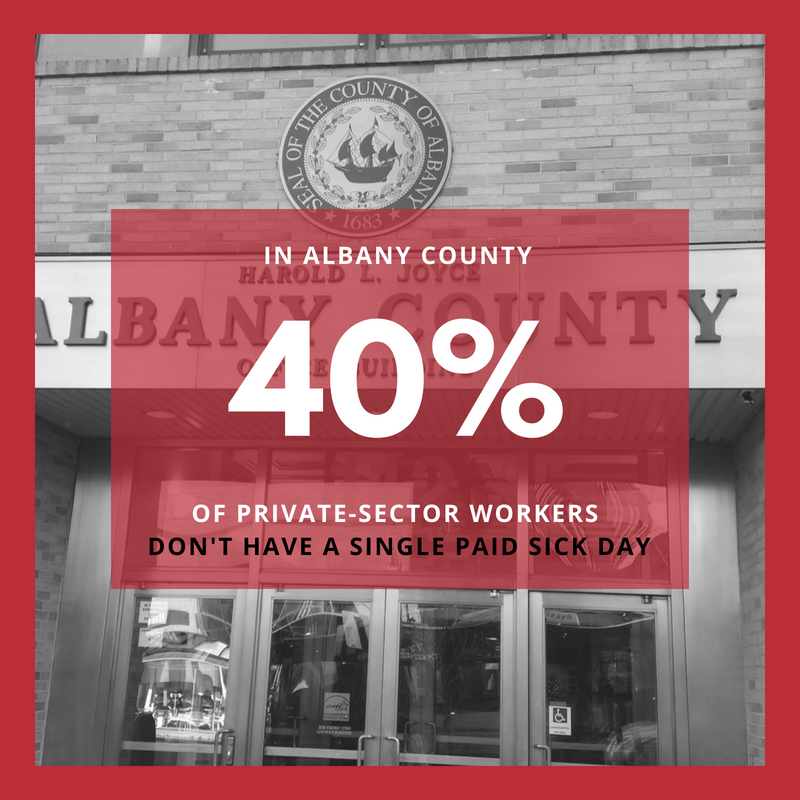 40% of private sector workers living in Albany County don't have a single paid sick day. 
That isn't right! All workers deserve the right to take time off when they or their children are sick. No one should have to choose between making ends meet or getting the care they need. And workers who experience sexual assault or domestic violence need time to access support and recovery services. 
The Paid Sick Days law would provide all workers with job protection if they take sick time. 
It would also require all employers with more than five employees to allow workers to earn and use one hour of paid sick time for every 30 hours worked, up to 40 hours per year. 
Ten states and 30 municipalities have passed Paid Sick Days legislation and the results are very positive. 
Research shows flu rates and emergency room costs have decreased, while post-natal check-ups and child immunizations are up. Employers see less staff turnover and greater employee satisfaction and there has been no documented increase in program or business closings. New York City workers have enjoyed paid sick days benefits for five years. Westchester County is now implementing the Paid Sick Days bill passed last fall. Albany County workers deserve the same!

Contact Your County Legislator
The County Legislature is now considering this proposal for Paid Sick Days. Click below to send a message to your County Legislator asking them to support Paid Sick Days!
Attend the Public Hearing!
When: May 28, 2019 
7:00 p.m.  (Arrive at 6 p.m. to sign-up to speak)
Where: Albany County Legislature Chambers
Albany Court House, 2nd Floor, Eagle Street
Anyone who lives in Albany County is encouraged to speak. All of us are impacted when workers cannot afford to stay home when they are sick, or stay home to care for a family member who is sick.
What's in the Law?
Who would be covered?
All private sector workers. (Albany County Legislature cannot set benefits for federal, state, city and town workers)
Workers at small businesses are covered but are provided with fewer paid sick days.

 
How much time and how is it earned?
Employees earn one hour of Paid Sick Time for every 30 hours worked.

Employees must have worked 90 days for their employer before using Paid Sick Time.

Employers with more than 5 employees must allow workers to earn and use up to 40 hours of job-protected, Paid Sick Time per year.

Employers with 5 or less employees must allow workers to earn and use a minimum of 40 hours of job-protected,

unpaid

sick time per year.

 
For What Reasons Can An Employee Take Paid Sick Time?
For an employee's short term illness or need for diagnosis and medical care.

For an employee to care for a family member when ill or in need of diagnosis or medical care. (The law has a broad definition of family)

To deal with medical, legal or relocation issues related to domestic violence, sex trafficking or child abuse.

In the event a public official closes a school or place of business due to a public health emergency.

 
What Protections Are Available to the Employer and Employee? 
Reasonable notice of foreseeable leave may be required.

Documentation may be required for leave of more than 3 days.

Nonprofits with grant funded programs can wait to comply until a new contract is negotiated.

Workers cannot be fired or otherwise hurt by the employer for taking Paid Sick Time.

Workers cannot be required to find replacement workers.

 
Who Will Enforce the Program?
The County of Albany will be the enforcement agency.

The Commission on Human Rights will assist with judgement decisions.