Happy Women's History Month! Are you excited? I am! While the Check-in will still have all of the chapter updates that you look forward to, I think it's important that we take a moment and think about some of the amazing women in our lives. At this moment, I can't help but be thankful for one of the greatest women that I have ever known. She is kind, smart, considerate, and one of the most influential people of our time. Wonder who I'm talking about? Well, if the first person that came to mind was our Legislative and Campaigns Director, Jessica Wisneski, you weren't that far off. She's pretty awesome. But the correct answer is: the one and only Kelly Kapowski from Saved by the Bell. She's the only candidate that could ever overtake Jess on my list of badass women. Who is a woman that's inspired you?  Think it over while you catch up on our actions this week.
-Stanley
---
We're a people-powered organization. Click here to support us in the movement for justice.
---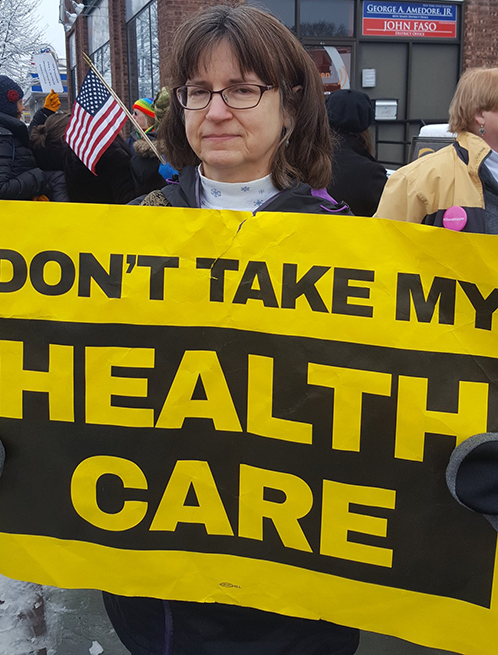 We Don't Want Trump Care. In this week's Check-in, I would like to start our updates with one of the final actions that took place this week. That's because earlier today, the Hudson Valley Chapter paid their favorite Republican Congressman, John Faso, a visit to demand he vote no on Donald Trump's ridiculously bad health care bill. After promising for months to introduce a "beautiful" plan that would cover everyone, Agent Orange and the Republican party signed off on a $500 billion dollar tax cut for the 1%, while trying to tell the rest of us it's affordable health care. Kingston residents are having none of that and want Faso to say NO when it's time to vote!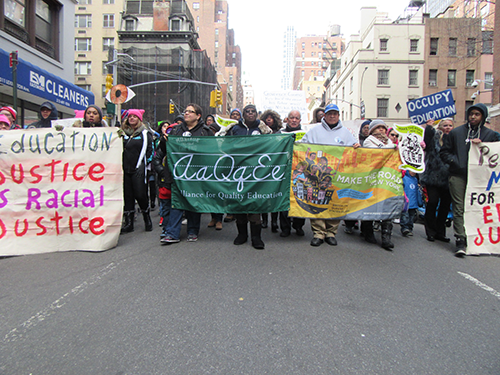 Education is our Right. On Saturday, March 4, Citizen Action's chapters in New York City, Kingston, the Capital District, Southern Tier, Western and Central New York, joined the Alliance for Quality Education, Long Island Progressive Coalition and Metro Justice in a march to demand education justice. In the wake of Betsy DeVos' confirmation, the People's March for Education Justice demanded full and fair funding for our schools and called on Governor Cuomo and state legislators to reject the same privatization and high-stakes testing policies being pushed by Trump and DeVos.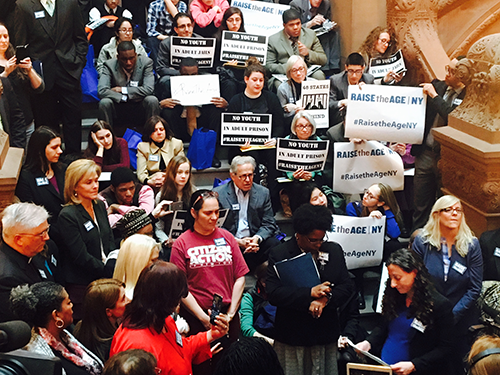 Would You Raise the Age Already? On March 7th, the Southern Tier Chapter joined Metro Justice, our New York City, Hudson Valley, Western New York and Capital District chapters in Albany for the Raise the Age Lobby Day. New York is one of only two states in the U.S. where 16 and 17-year-olds are automatically prosecuted as adults. Before meeting with electeds, a press conference was held at the Million Dollar Staircase where our organizing director, Rosemary Rivera, gave a stirring speech about her experience with the criminal justice system in New York State. Meetings were held with state Senators and Assembly members.
---
BLOGS
Governor Cuomo has gone out of his way to look like the progressive champion of New York, but his budget proposal for education looks a lot like trickle down economics. I decided to call him out for it in the Huffington Post. Click here to read.
---
PODCAST
This week in the Activist Check-in Podcast, I spoke with a good friend, mentor, and Greenpeace board member Karen Topakain. Karen was one of the activists who hung the "Resist" banner behind the White House. In this episode, she'll tell us how Greenpeace came up with the idea, the role she played in it and how people responded. Click here to listen.
---
IN THE NEWS
The New Paltz Oracle-Parents, students, educators and activists alike marched in support of public education this past weekend in Kingston. Click here for the story.
WIBX950-School Advocates To March Across New York For Funding Read More: School Advocates To March Across New York For Funding. Click here for the story.

Politico- IDC, mainline Democrats unite to back raise the age as parents and community members rally on the million dollar staircase. Click here for the story.

---
EVENTS
March 11. Citizen Action will host a showing of the Netflix film "13th" followed by a discussion of the issues raised by this important film. Click here to RSVP.

March 19 Join the New York City Chapter to share stories about how the raise the age campaign has affected you, loved ones, or friends and let those four men in a room not leave until Raise the Age is passed! Click here to RSVP
---
TAKE ACTION!
Instead of working to build on the progress of the Affordable Care Act and toward making universal health care a reality, Donald Trump and Republicans want to roll the dial back and take coverage away from as many as 30 million people. Help us put an end to this, tell congress that health care is a human right- not a privilege for the wealthy few! Click here to take action!
Want daily updates and live footage of our events and actions? We can make that happen (I know a guy). Click here to follow us on Twitter and get real-time updates. If you're looking for cool articles, memes, and a little conversation, like our Facebook page here.