I just finished reading the 43-page complaint against Senate Majority Leader Dean Skelos. If the stories in this document are true, they point to a truly sad situation: that the leader of the New York State Senate used his position for personal gain. We all know that there's corruption, but when it's written out so clearly, it's hard to stomach.
Last night, at least four major newspapers in New York State (New York Times, The Daily News, The Times Union, and the Syracuse Post-Standard) published editorials calling on Skelos to resign. He should, but that won't really change anything. Preet once again left his podium yesterday eerily foreshadowing "stay-tuned."
The focus of the Skelos complaint is on the scheme arranged by Dean Skelos to get payments to his son, Adam. Basically, Dean pushed a top executive at Glenwood Management – a major real estate development firm headed by 102 year old billionaire Leonard Litwin – to get a company to hire Adam and pay him a monthly consulting fee, among other payments.
But tucked away in the document are multiple references to Litwin's influence through, and Skelos reliance on, campaign contributions… big ones.
These can't be overlooked – they were central to Skelos' corruption scheme. Skelos got arrested because of the illegal corruption that he allegedly participated in: using his elected position to get payouts for his son. But, this complaint outlines clear evidence of legal corruption:
Skelos expected and directed major campaign contributions from super wealthy people who wanted legislation that would make them even more super wealthy.
The developer dumped millions into NYS politics.
The developer got many more millions in tax breaks, weakened rent control laws, and new state contracts.
That's the corruption that can only be addressed by changing the system. We need a system where candidates don't need to rely on billionaire developers to get elected. We need a system where power rests with support from ordinary voters.
Below I've pasted in the multiple references to campaign finance in the Skelos complaint.
Don't let any elected official in New York respond to Skelos' arrest with anything other than publicly funded elections. It's the only thing that will change Albany's culture of corruption.
Page 8:

Page 9 & 10:


Page 10: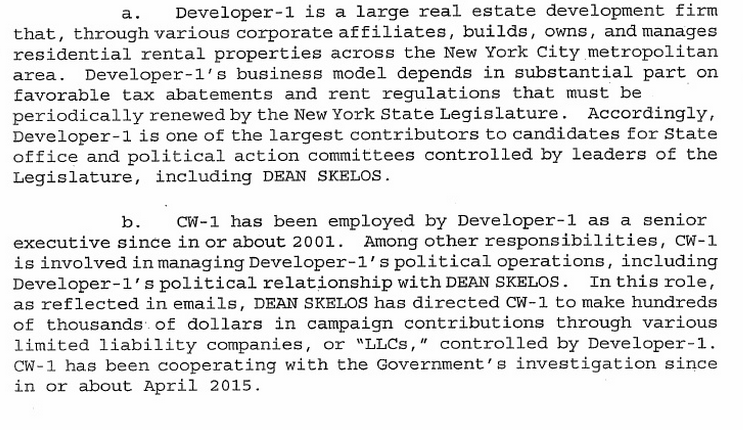 Page 11:

Page 12:

Page 17: