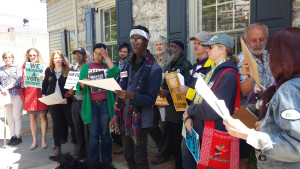 Earlier today, community, environmental and worker groups from across the Hudson Valley rallied at New York State Senator George Amedore's Kingston, NY office to say that simply changing the state Senate leadership in the wake of Dean Skelos' resignation isn't enough – he has to get behind the Moreland plan to end corruption.
The Moreland plan proposes sweeping campaign finance and ethics reforms that target the root of New York's corruption problem: the outsize influence of corporate mega-donors.
"This isn't about a few bad actors. Playing musical chairs with the legislative leadership isn't enough. We need to change the system that elected officials are operating in, which right now depends on huge contributions from big donors," said Charlie Davenport, member of Citizen Action of New York. "We need Senator Amedore to get on board with fundamental reform: enacting the Moreland Commission plan to end corruption."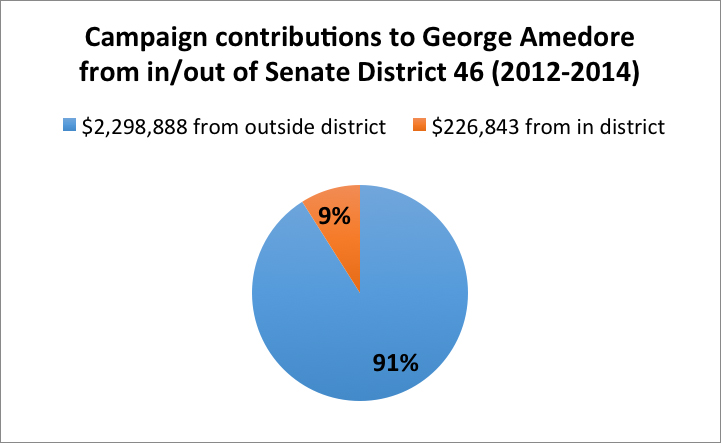 Among the proposals included in the Moreland plan are the closing of the LLC loophole, establishment of a public funding of elections system and the creation of an truly independent election law agency and the empowering of prosecutors to aggressively root out public corruption.
Citizen Action of New York released an analysis of Sen. Amedore's campaign finance disclosure records that show he received tens of thousands of dollars from Glenwood Management – the same developer at the center of the Silver and Skelos corruption scandals.
In total, 91 percent of Sen. Amedore's campaign contributions came from outside his district, including $99,600 from LLCs owned by Leonard Litwin's Glenwood Management.
"When elected leaders owe their allegiance to a wealthy few campaign donors, it becomes inevitable that the laws they pass making the already-rich richer, while leaving working people to shoulder the tax burden," said Sara Niccoli, executive director of the Labor Religion Coalition. "Our leaders should be passing laws that enjoy overwhelming popular support, like raising the minimum wage, fairly taxing the wealthiest New Yorkers, and investing in quality public education – instead, they're too busy gaming a corrupt system. It's time to get at the root of the problem and get big money out of politics."
Campaign Contributions to Sen. George Amedore (2012-2014)
91 percent of Sen. Amedore's campaign contributions came from outside his district
$99,600 from Leonard Litwin/Glenwood Management-controlled LLCs
$840,000 in independent expenditures from the Litwin-backed Jobs For New York PAC during the 2014 election
$768,774 from Skelos-directed NYS Senate Republican Campaign Committee
$20,300 from Friends of Dean Skelos
Source: New York State Board of Elections, Campaign Financial Disclosure Records