Dear Activist,
I hope you had a nice, relaxing holiday week. Yesterday, we celebrated the federal holiday commemorating the legacy of the late Rev. Dr. Martin Luther King Jr. Many of us may have started thinking more deeply about his vision for our country around his birthday on January 15. I usually see an abundance of quotes from his "I Have A Dream" speech being shared during this time of year, but it's seems that in this current political climate – with income inequality being the highest it has ever been – more people were gravitating towards his 1976 speech, "The Other America," which he gave at Stanford University. 


Dr. King said,
…"there are literally two Americas…one that's "overflowing with the milk of prosperity and the honey of opportunity… but tragically, there's another America…people are poor by the millions. They find themselves perishing on a lonely island of poverty in the midst of a vast ocean of material prosperity."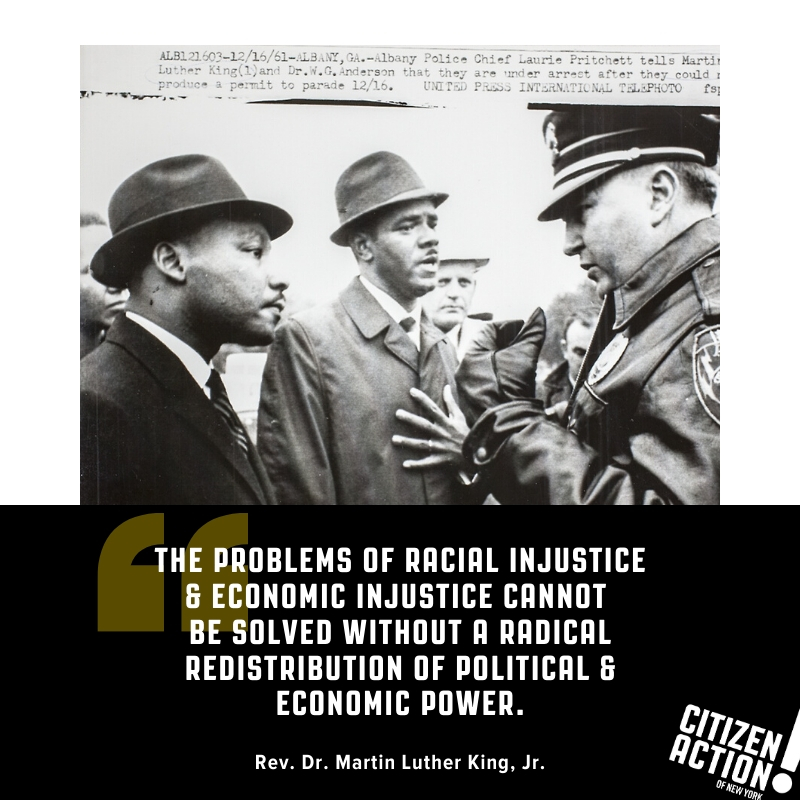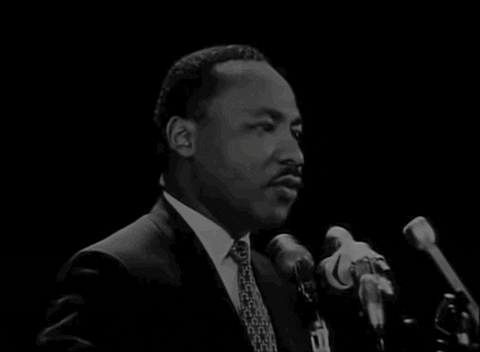 Last week, several actions took place at the Capitol and our regional offices to help carry on Dr. King's fight for equality and justice. Many of you were there, making your voice heard on the issues that directly impact our communities, building power and encouraging leadership. As Dr. King also famously said,  
"Somewhere we must come to see that social progress never rolls in on the wheels of inevitability. It comes through the tireless efforts and the persistent work of dedicated individuals. And without this hard work time itself becomes an ally of the primitive forces of social stagnation. And so we must help time, and we must realize that the time is always ripe to do right."
With that being said, I want to thank you tanique, for the way you support and uplift our communities. Thank you for keeping Dr. King's legacy alive. Thank you for supporting Citizen Action! Be sure to check out the dates for our upcoming events and actions below.
Around the State
On Monday, January 13, our Statewide Housing Campaigns Manager, Rebecca Garrard, joined our coalition partners at Housing Justice for All for a counter protest against Under One Roof – a group of property owners and real-estate developers backed by wealthy special interests who are trying to repeal New York's new tenant protections, which have prevented thousands of evictions since taking effect this summer. Check out video from our counter protest here.
We're calling for expanded protections for tenants to stop unjust evictions and unaffordable rent hikes, investments in public housing, and a #NYHomesGuarantee.
Tuesday, January 14, was a super busy day! Our education lobby day with the Alliance for Quality Education (AQE) took place, which packed the halls of the Capitol and The Well in the Legislative Office Building with hundreds of students and parents.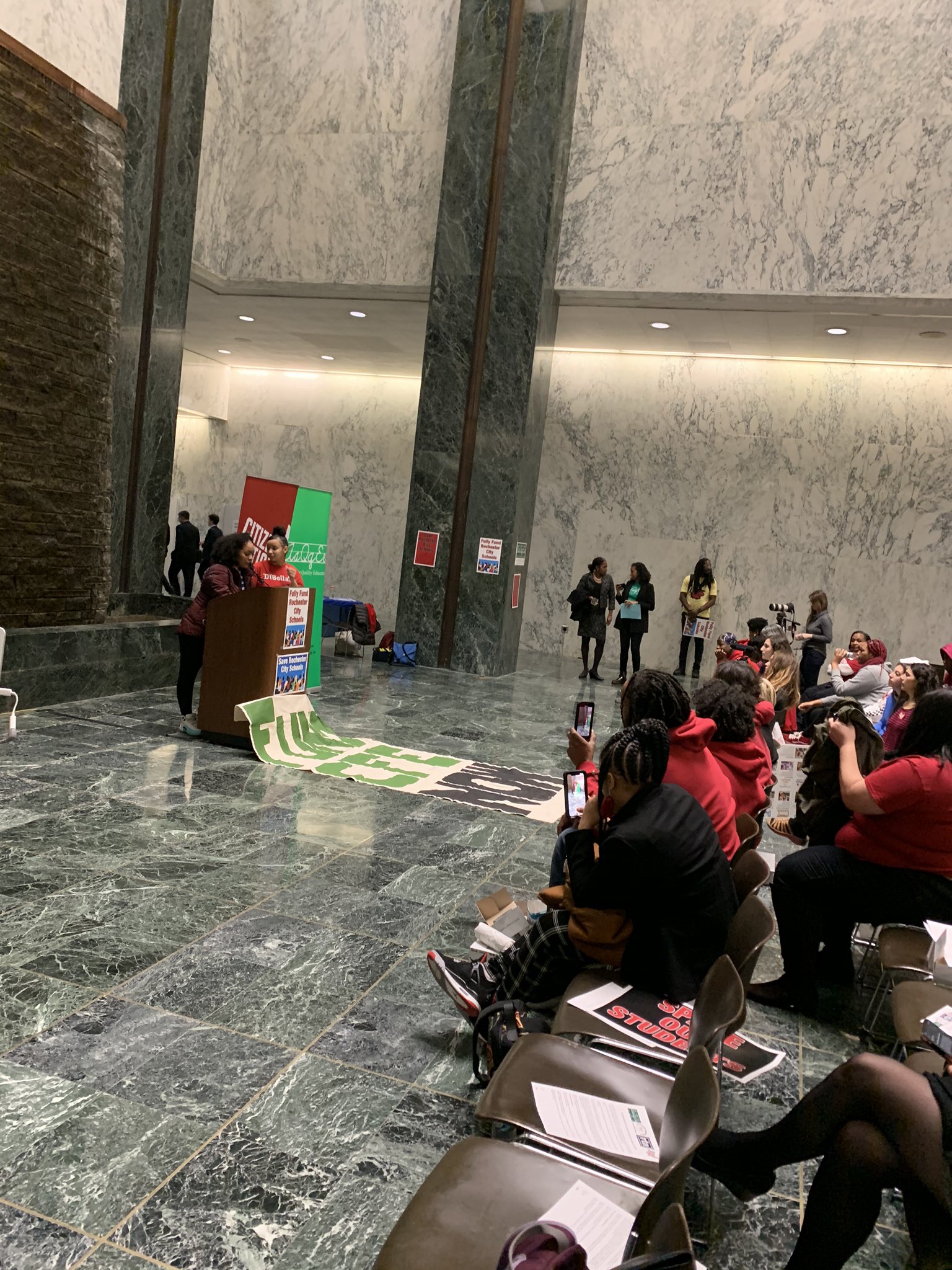 #TaxTheRich #FundNYSchools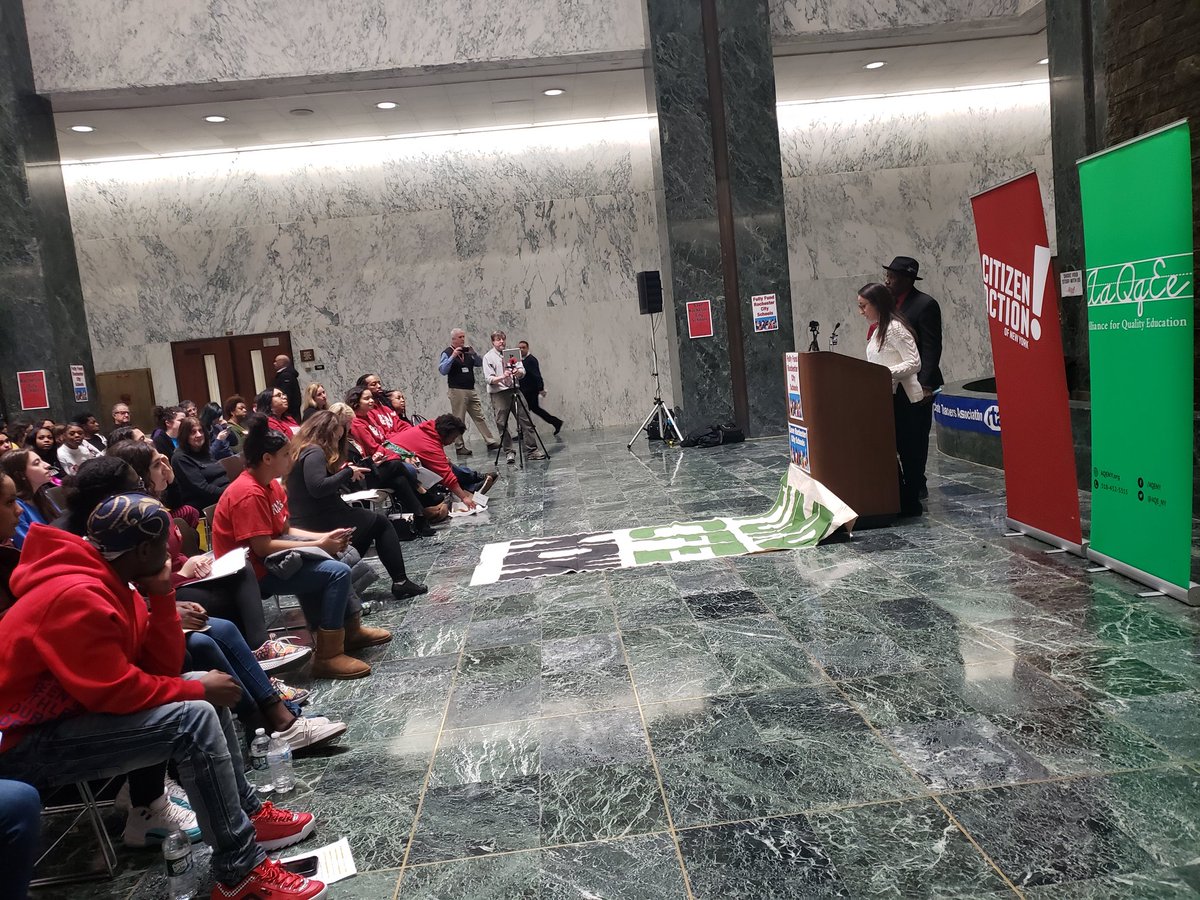 Students spoke about the devastating teacher cuts and how it feels to be a student at a severely underfunded school.
Education justice is racial justice!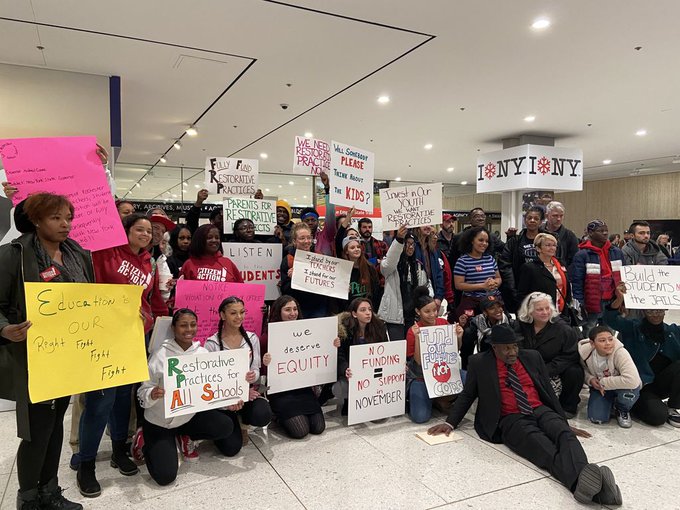 The rally focused on the loss of hundreds of Rochester City School DIstrict teachers who were laid off during the holiday season, meanwhile New York State owes Rochester schools $86 million in Foundation Aid. Shoutouts to all the students who've spoken out and those who organized the student walk-out to protest the cuts.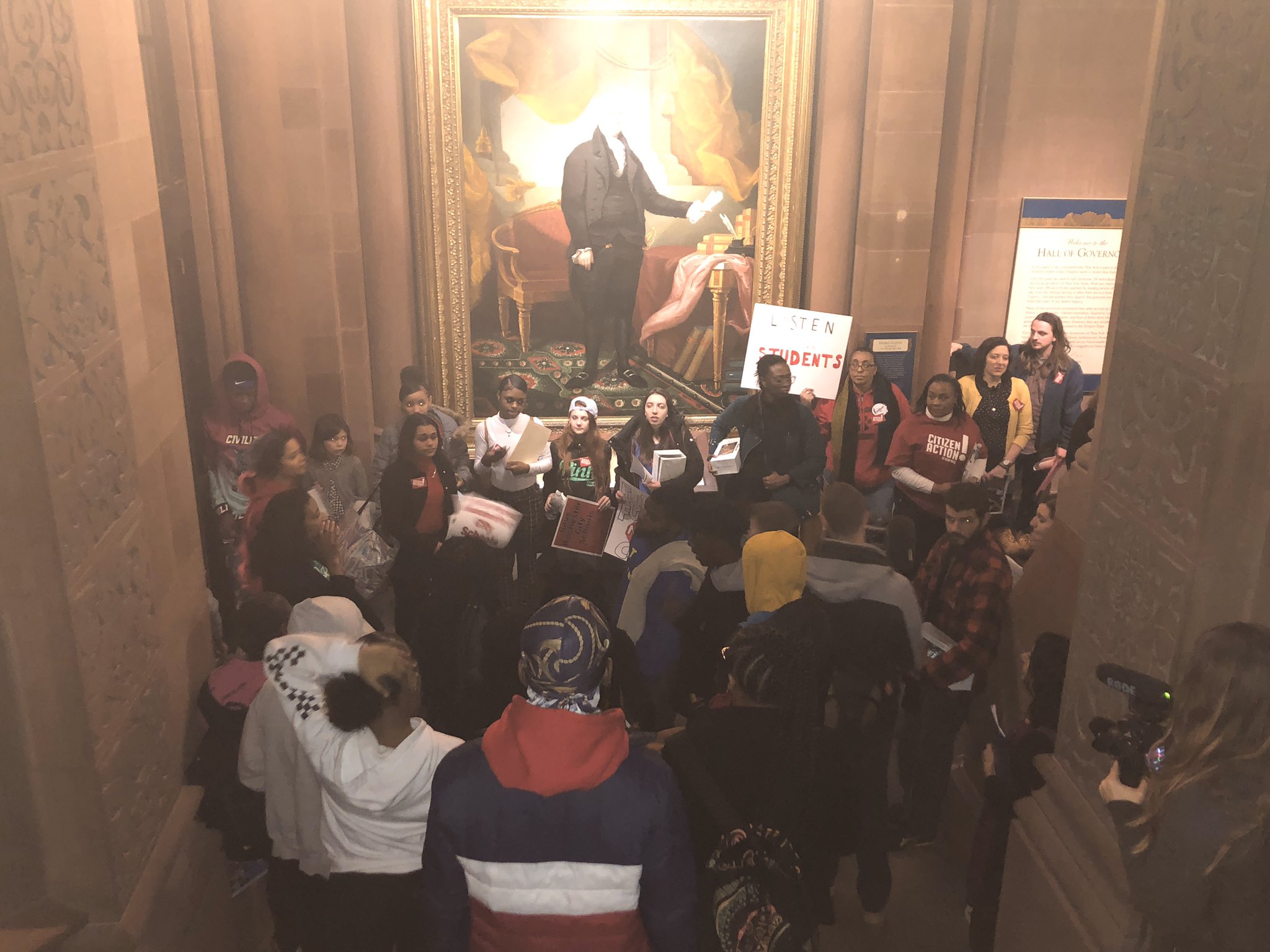 Picture above: Youth activists from Rochester in front of the Governor's Office, demanding funding for their schools. Education Lobby Day, Jan. 14, 2020.  
WE also participated in the
New York Poor People's Campaign's rally calling for housing and health Care for all!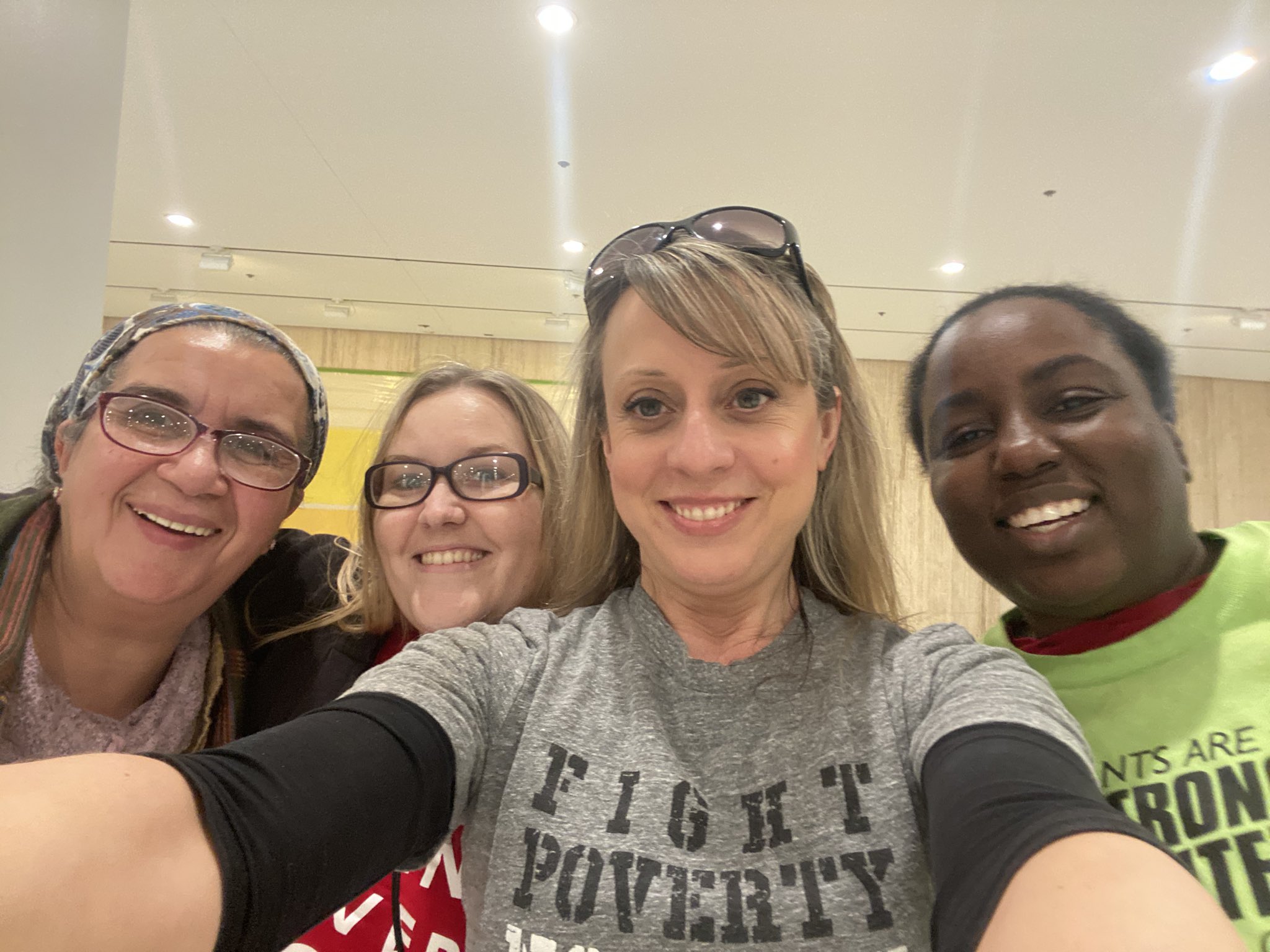 Picture above: Statewide Housing Campaigns Manager, Rebecca Garrard, with advocates from Buffalo and Syracuse. Jan. 14, 2020.
AND we joined a massive group advocates for the Release Aging People in Prison's (RAPP) lobby day and rally on the Million Dollar Staircase, calling for an end to death-by-incarceration sentences. #LETTHEMGO #FreeOurElders #parolejustice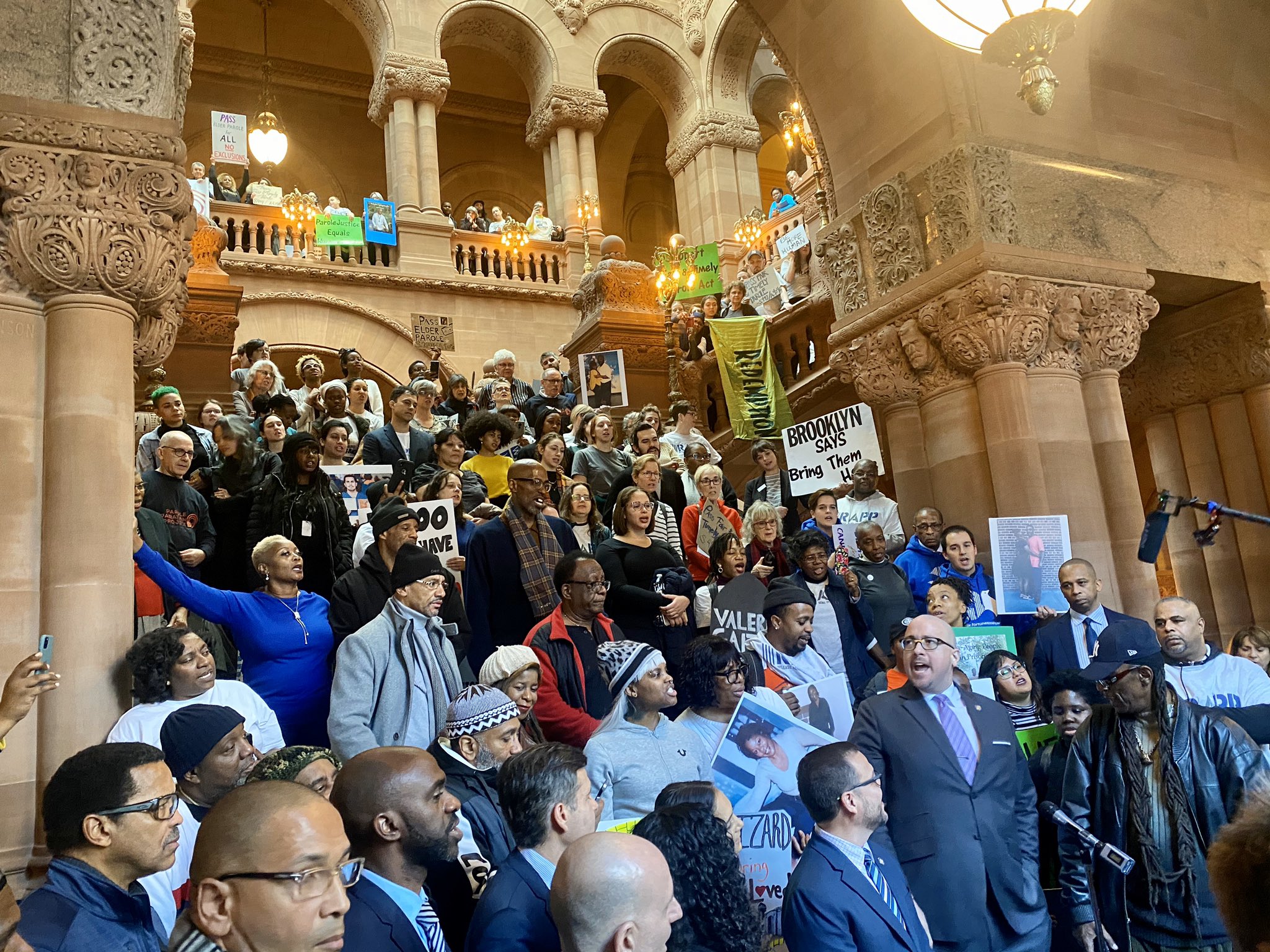 In Utica, dozens of Citizen Action members and allies attended the Common Council meeting to defend the public comment session, demanding that the council not take away the community's right to speak and engage at meetings.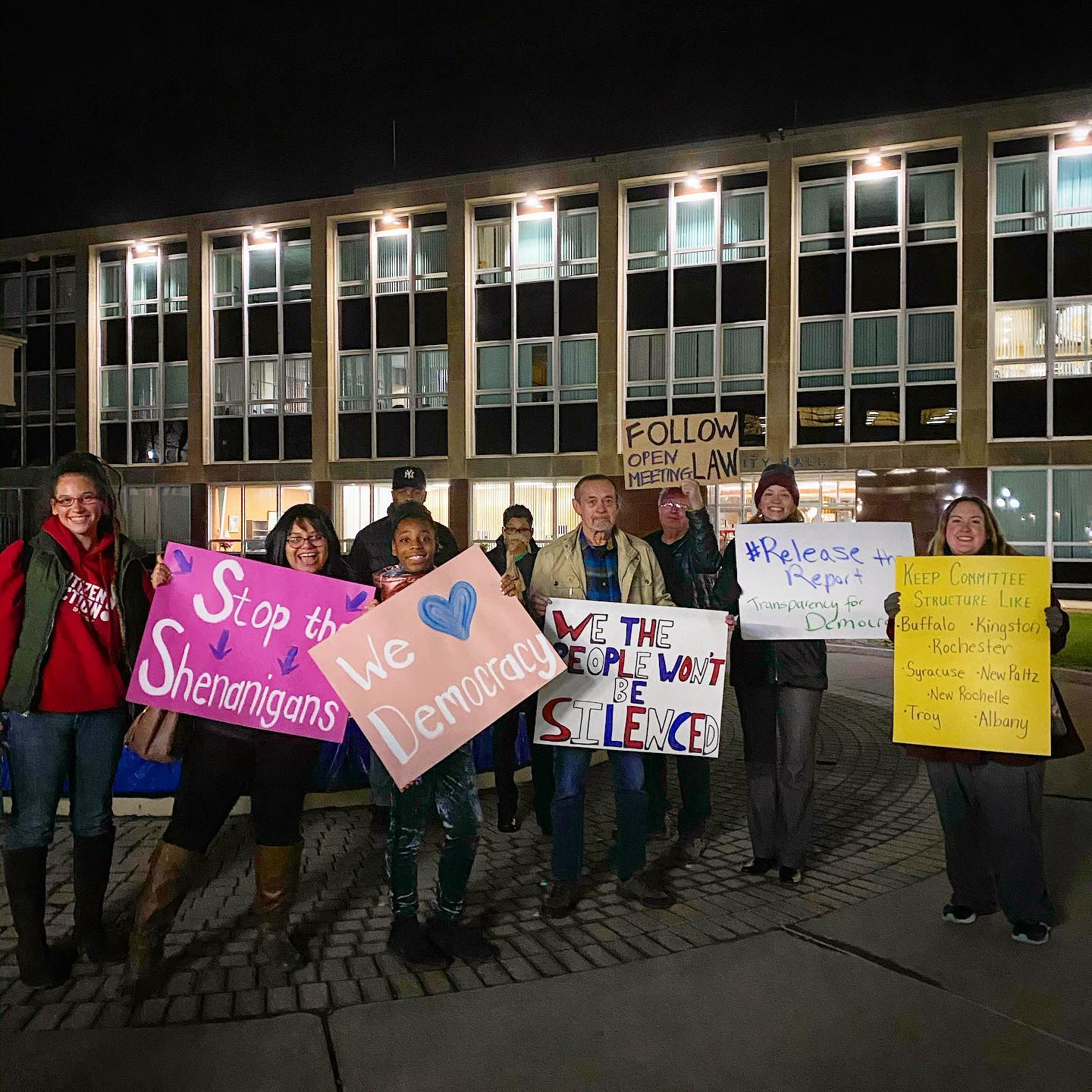 "Activists rallied outside, chanting in the cold, and then packed the council chambers, with many Citizen Action members speaking out to defend democracy and demand the Council follow the open meetings law. The Council voted to keep the public comment section intact, with just a few changes. We're grateful for the small victory, but plan to continue showing up to keep an eye on our Utica lawmakers and pushing to advance our local legislative agenda." – Kristina Andreotta, Citizen Action Regional Director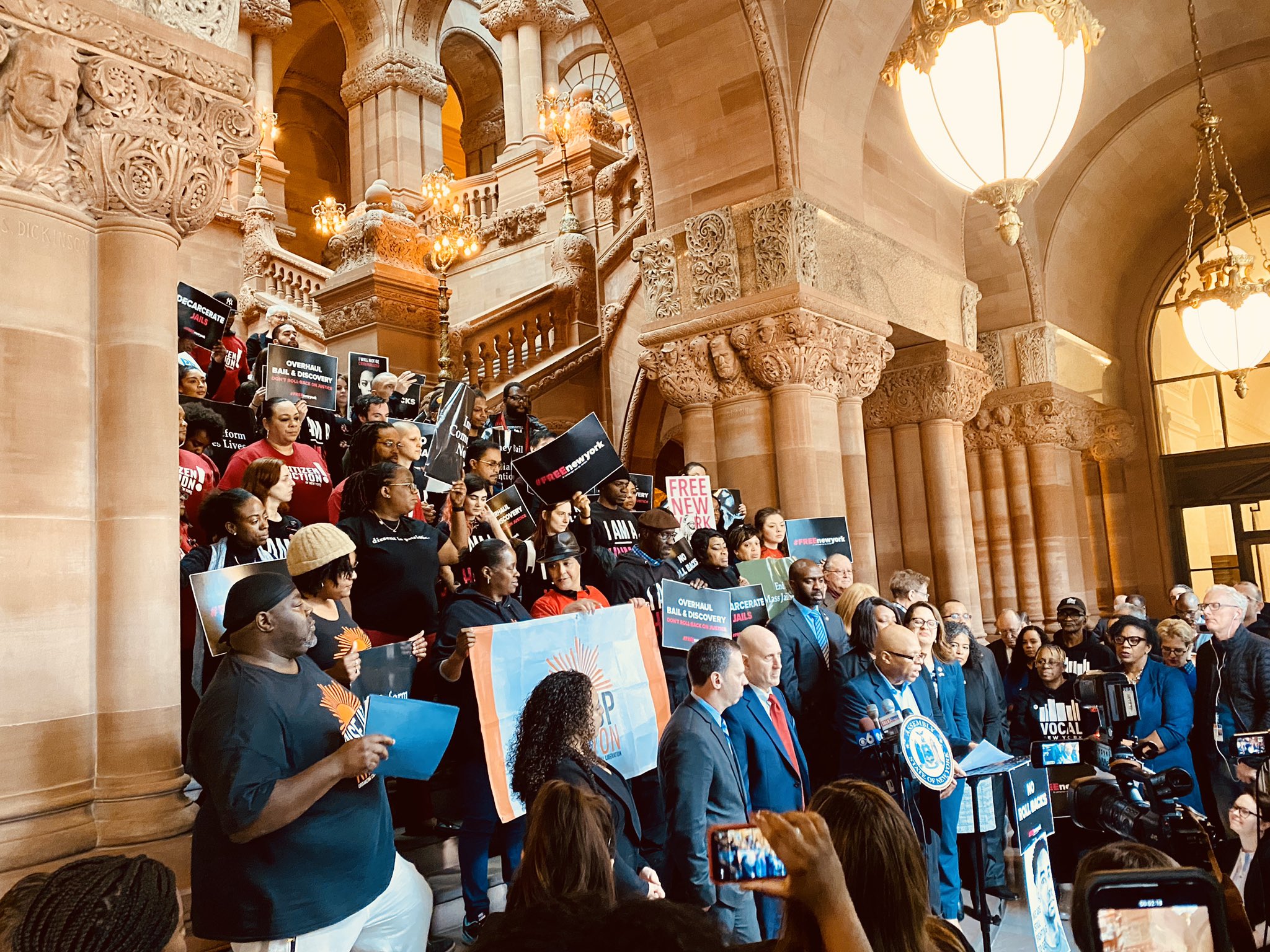 Other events happened at our regional chapters:
Our Western New York Chapter in Buffalo hosted a Game Night, and their Women of Color and Men of Color committee meetings last week!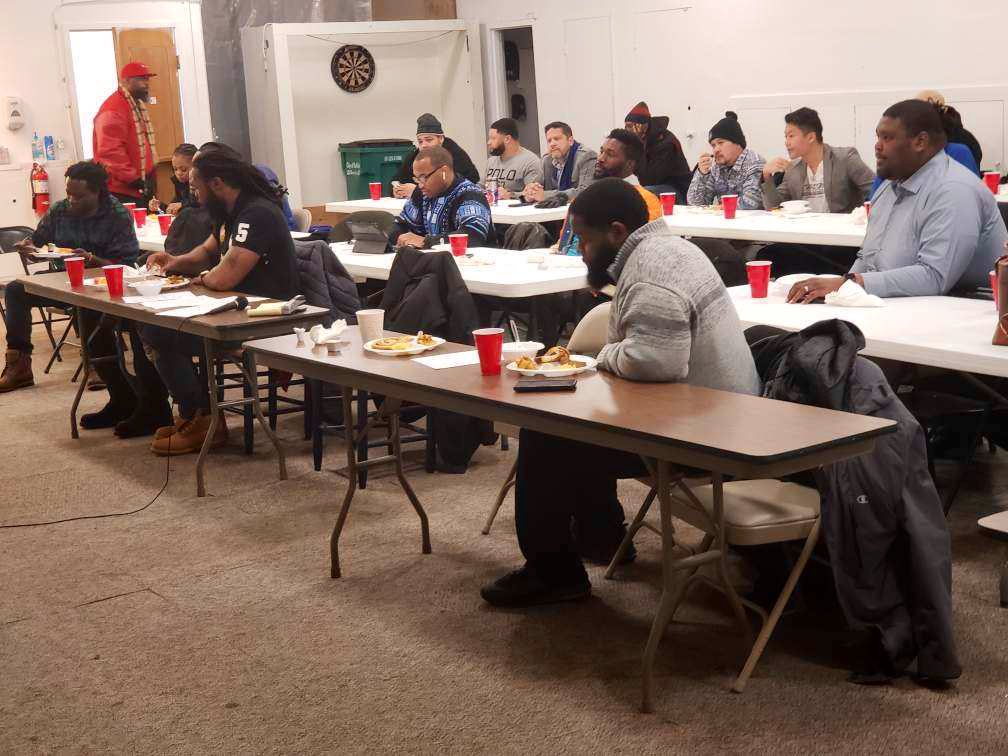 Picture above: attendees at our Buffalo chapter's Men of Color Committee meeting on Jan. 20, 2020.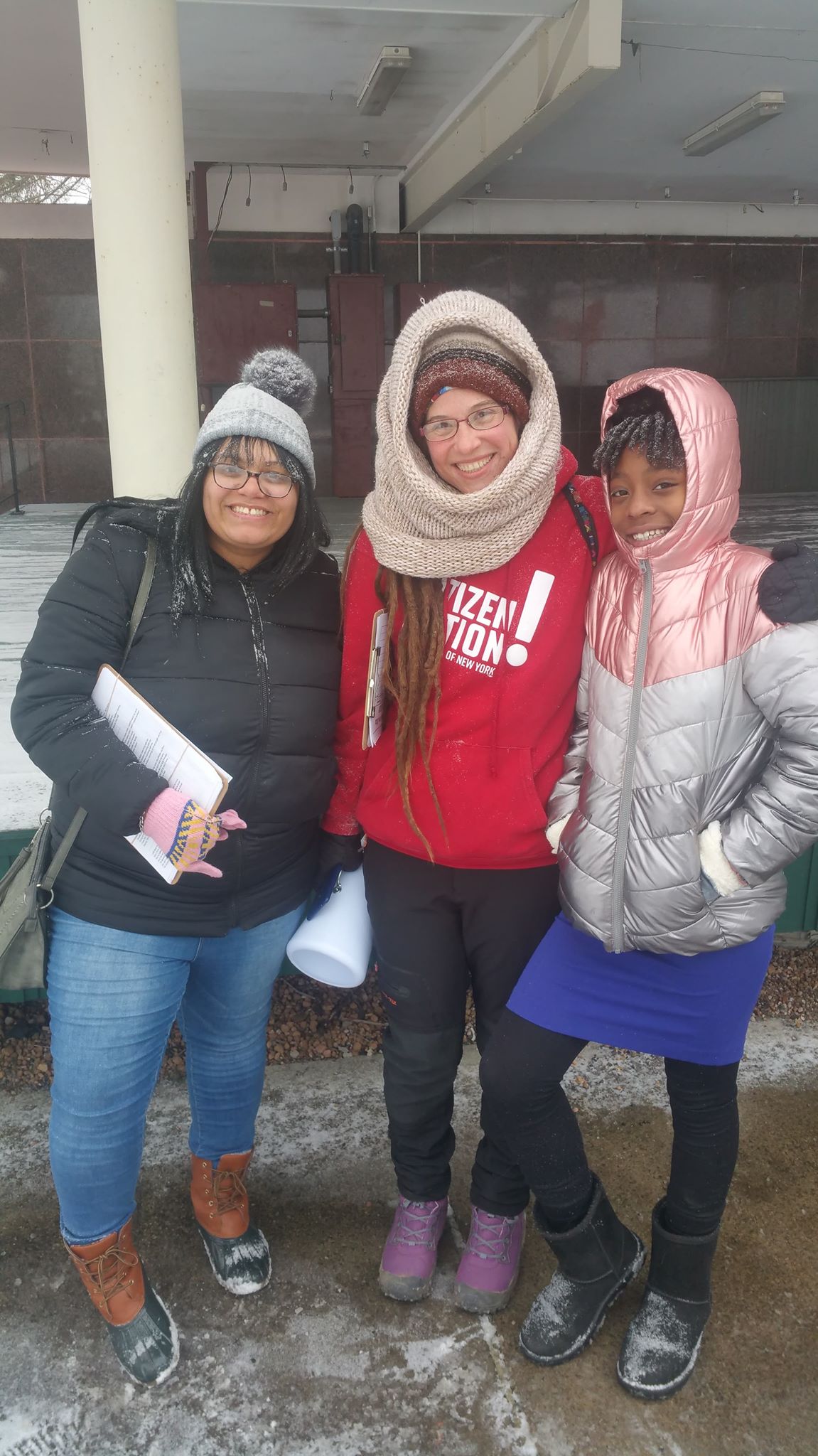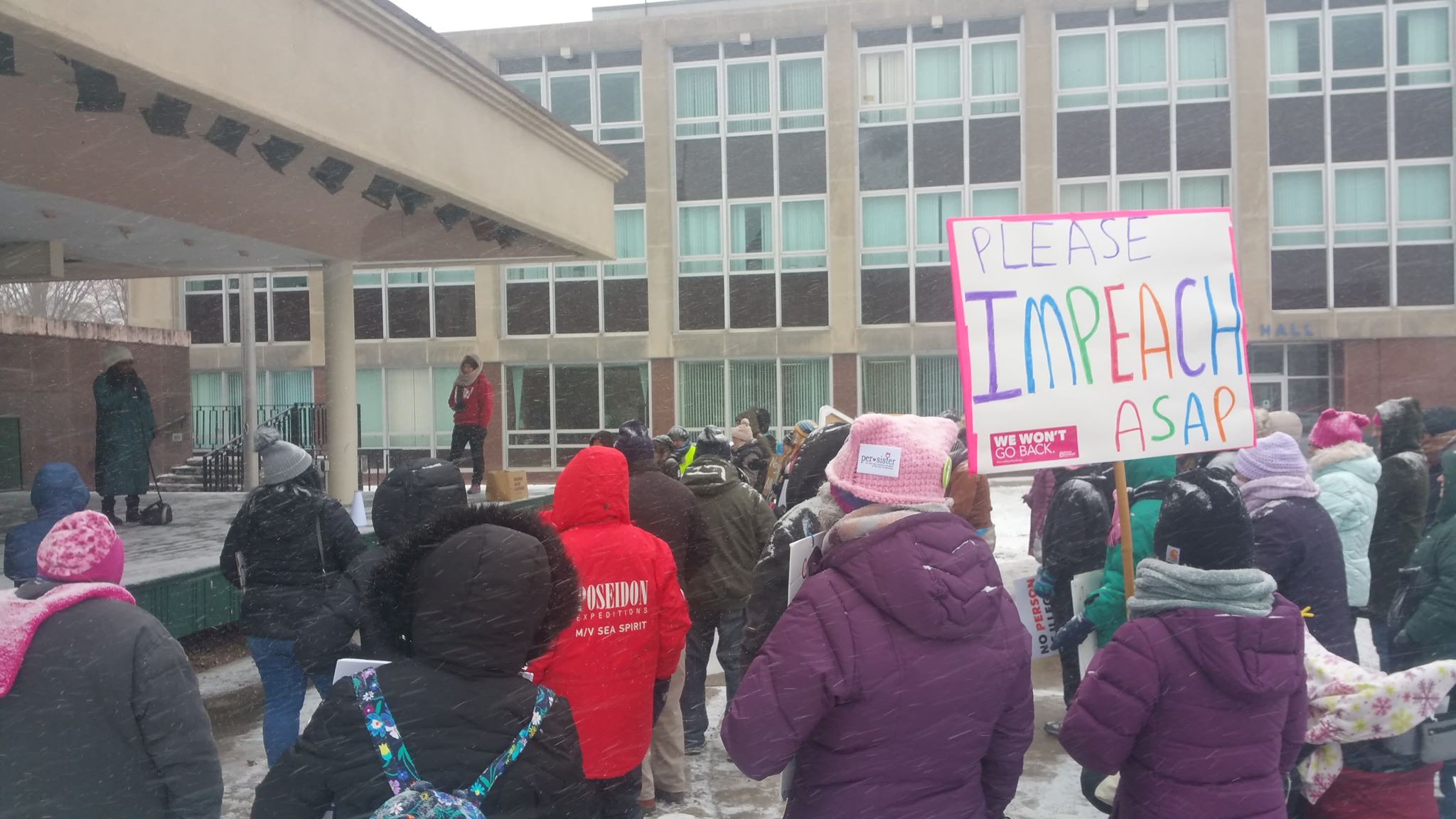 Upcoming events
Albany
Wednesday, January 22 at 4-5:30 p.m. – Winning Sick Paid Days for All New York Workers – Governor Cuomo called for statewide Paid Sick Days in his 2020 State of the State message. Our local efforts to win Paid Sick Days in Albany County helped pave the way for this, but it will not happen without a well organized statewide effort and Capital Region advocates will play a critical role. Join us for a regional strategy and planning session for the statewide Paid Sick Days Campaign. RSVP on Facebook.
Saturday, January 25 at 11 a.m.-12 p.m. – Anti-War Protest and Rally – Join people, communities, groups and organizations from across the Capital District and beyond as we join the Global Day of Protest. RSVP on Facebook.
Sunday, January 26 at 2-4 p.m. – 2020 Chapter Open House – Learn about Citizen Action of New York here in the Capital Region and have the opportunity to hear from our Board of Directors as well as our committees. Enjoy live spoken word by D. Colin, exciting speakers and a brief overview of Citizen Action's statewide work and local issues. RSVP on Facebook
Monday, January 27 at 11 a.m.-3 p.m. – No Empty Promises: Fund Climate Justice Now – Join us for a day of action in Albany – we'll be singing and dancing to celebrate our monumental victory in 2019 and rallying and lobbying to express our demands for climate justice in this year's budget. RSVP on Facebook.
Tuesday, January 28 : Marijuana Justice Lobby Day & Paid Sick Days Lobby Day at the New York State Capitol.
Binghamton
Thursday, January 23 at 5:30-7 p.m. – Bing Tenants United Meeting – Want to know what your rights are as a Tenant? Are you interested in fighting for housing justice? Have you had bad experiences with property owners or housing conditions? All are welcomed to join our Binghamton Tenants United Meeting. RSVP on Facebook.
Tuesday, January 28 at 6-9 p.m. – Broome County Land Trust Launch Party –  Learn about the Broome County Land Trust's "mission to bring a Justice-Centered Community Land Trust to Broome County. Food, drinks, music, and childcare will be provided. Email broomelandtrust@gmail.com if you have any questions or need transportation." RSVP on Facebook.
Buffalo
Tuesday, January 28 at 6-9 p.m. – Demand Justice Committee Meeting – We need to fully fund our schools, ensure every child has a quality education, end the school-to-prison pipeline, end mass incarceration and criminalization, fundamentally transform the justice system and repair the harm done to our communities. RSVP on Facebook.
Kingston
Tuesday, January 28 at 6-8 p.m. – Police Accountability Community Forum – Join us to have all of your questions answered about Police Accountability in Kingston, and to take action. We need to YOU to make Police Accountability happen! RSVP on Facebook.
New York City
Saturday, January 25 at 11 a.m. – Quarterly Chapter Meeting –  We will be rolling out, discussing and continuing to plan our issue based and electoral 2020 agenda. Come and participate as we collectively develop strategy, break bread and meet with other activists across the city. Lunch will be provided. RSVP on Facebook.
Tuesday, January 28 at 9 a.m.-5 p.m. – MRTA Lobby Day – Join StartSmart in Albany as we push our lawmakers to pass the Marijuana Regulation and Taxation Act. Free buses from NYC to Albany will be available! RSVP on Facebook.
Rochester
Wednesday, January 22 at at 6-7:30 p.m. – Education Committee Meeting – Join us for our next education meeting. We will go over the RCSD climate, local needs, and next steps. Please RSVP here if you plan on attending. If transportation is needed, email Community Organizer Stevie Vargas at svargas@citizenactionny.org.
Closing Message
This week, I found myself on the verge of a mental breakdown. I've been battling a cold and felt out of balance emotionally. Although there's much excitement in the work we do while connecting with each other, there's also stress and disappointments, and sometimes we set unreasonable expectations for ourselves – I'm we, we is me. Sometimes it's hard to be transparent about how we're really feeling. Generally speaking, we don't want to show any signs of weakness or instability, but I am constantly reminded not to be too hard on myself. We're human, not machines. However, being as transparent as we can with the people we trust about where we're at physically, emotionally, mentally and even spiritually, will truly make a difference. Don't carry unnecessary baggage – you're supported and cared for. Let someone help take the weight off.  Your Citizen Action family is here for you. Until next time,