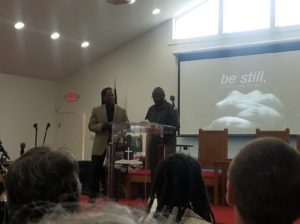 What Have We Been Up To?
This past Saturday, we were honored to co-sponsor Kingston's fifth official celebration of Juneteenth, with an impressive guest list that included host and keynote speaker Dr. G. Modele Clarke of New Progressive Baptist Church, Bryant "Drew" Andrews of the Center for Creative Education, 105-year-old activist Journey Truth, and Odell Winfield of the A.J. Williams-Meyers African Roots Library. We are grateful to these individuals for their role in this event, and the year-round contributions they make to promoting justice and education through art.
What's Happening This Week?
Sign-up to make calls from home to people in states whose Republican Senators could be the deciding vote to defeating this disastrous bill. You'll be able to transfer them right over to the office of the person they need to contact!
Tuesday, June 20th, 7:00 p.m.
244 Fair Street, 6th Floor
Ulster County Legislature Monthly Meeting and
Public Hearing
Come out to show your support for having a public hearing on the Sanctuary County laws that are being discussed at the County Level.

Thursday, June 22nd, 5:00 p.m.
Kingston City Hall (420 Broadway)
Building Power Through Local Action
Join Attorney General Eric Schneiderman as he speaks to us about his role in protecting New Yorkers from Trump. As the highest ranking law enforcement officer for the State, Eric has taken on some tough fights to protect New Yorkers – because he believes there has to be one set of rules for everyone, no matter how rich or powerful.
Eric encourages members of the community to take action in a meaningful way to achieve the world we want to see. Citizen Action of New York will offer a strategic plan to build power in the Hudson valley as well as education and training so that we can can take back CD19.
Space for this event is limited, so please register in advance!
Is there anything you'd like to ask A.G. Schneiderman? Submit questions here.
Phonebanking
Monday and Tuesday at 5:30 p.m.
Just bring a phone and a charger; we have numbers, scripts, and snacks!
Community Canvassing*
Wednesday at 5:30 p.m.
Saturday at 10:00 a.m.
You get fresh air, your neighbors get a fresh perspective. Everybody wins!
*If you love outreach and live in the city of Kingston, ask about joining our
Block Captain program. Email Callie (cjayne@citizenactionny.org) to learn more!

Faso Friday
721 Broadway, Every Friday at 12 noon.
Bring a sign and your loudest voice and let him know we're watching. This week – we're encouraging people to go tell their healthcare story to Faso's office. So, come out this week to tell John Faso how his decisions are affecting your life.
Note: We have heard rumblings of a counter-protest. If you encounter opposition, stand strong, but stay safe. Our best defense against those who favor oppression is simply to show them that we're not going anywhere.

Committee Meetings and More!
Follow our Google Calendar to stay on top of what's happening each week.
Save the Date!
Saturday, August 12th
Kingston, NY (Further details to follow!)
Citizens' March*
* The definition of the word "citizen" is "an inhabitant of a particular town or city". We chose this name to combat the right-wing rhetoric and help change the narrative around what a Citizen really is. We welcome all concerned members of towns and cities across the Hudson Valley!

The Trump budget will be devastating for all, and we must make sure our voices are heard!
We believe that we can do better.
Come march to show that we demand a budget that meets everyone's basic needs, regardless of their age, ability, financial or immigration status — a budget that does not take from our most vulnerable to give tax cuts to the most wealthy.
RSVP Here, and if you are part of a group that wants to endorse this event, please fill out this form.
"How Can I Show Support This Summer?"
Seed Song Farm has launched a new CSA (Community Supported Agriculture) program, and the directors have generously committed to donating a portion of the proceeds from each share sold to
Citizen Action of the Hudson Valley. (Please be sure to indicate on your form that you support us!) Purchasing a share is a great opportunity to try some new fruits and veggies and to save on your favorites, all while supporting our organization and a great small business!
If you're not quite sure what to do with all of that delicious produce, perhaps you'd like to share one of your signature dishes as part of our food team. The food team keeps us fueled through trainings, phonebanking sessions, and lobby preparations. If you sign up
You can also keep us going all year round by becoming a monthly sustaining member of Citizen Action. A few dollars donated each month really add up over the course of a year! One-time contributions can also be made through our ActBlue Site.