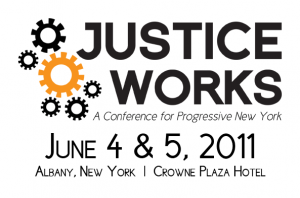 This year's Citizen Action leadership conference is the event that the progressive movement in New York has been waiting for. It's the event our movement needs to grow stronger and move forward. It's the event that you, as a progressive, need to attend, so that you can share your experiences, ideas, and skills with other progressive activists who have a deep passion for justice and who believe that we have the power to make New York a better place for everyone.
Justice Works: A Conference for Progressive New York – is a new event like none other in New York.
For those of you who have been to a Citizen Action annual leadership conference in the past: This event is going to be bigger and better than ever before. We will have at least double the number of attendees, nationally renowned speakers, and, most importantly, we're opening registration and inviting dozens of other organizations to participate. This is no longer an event just for Citizen Action's top volunteers. It's an event designed to strengthen and unite New York's progressive movement.
For those of you who are asking, "what's a Citizen Action annual leadership conference?" : We're bringing together hundreds of New York's progressive population for an intense two-day conference complete will workshops on issues and skills and plenary discussions on big questions facing our communities, our state, and our nation. We'll also have some top notch keynote speakers to help put it all into perspective.
Justice Works will be held at the beautiful (and unionized) Crowne Plaza Hotel in historic downtown Albany, New York, just two blocks from the Capitol. It's easily accessible by plane, train, bus, car, and, well, being just two blocks form the Hudson River, boats too. The hotel will offer free shuttle service to and from the airport and train station. With your registration, you'll also get free covered parking in the hotel garage. There's a lovely swimming pool, and all the guest rooms have flat panel TVs. But, you're not going to want to watch TV…
We'll have workshops on organizing skills, health care, education, green jobs, the economy, the arts as part of progressive change. And there'll be some great entertainment on Saturday evening.
Now that you know why you have to be there, here's some details about registration:
Early registration is from now until April 1st. We strongly encourage you to take advantage of the cheapest rate by registering today!
Scholarships are available. Applications for scholarships are due on March 18th. Get yours in today.
Sponsorship is available. If you're from an organization, and want some good promotion at the progressive meet up of the year, become a sponsor of Justice Works. Details are here.
Once you're registered, be sure to let your friends know about Justice Works. And be sure to "like" the Justice Works Facebook page to stay up to date on the conference agenda, speaker announcement, and other details.