Dear Activist, 
The event that transpired on Capitol Hill this week has many of us questioning when will Trump's reign of terror end? Come January 20, he will no longer be president, but many of the fires he started are still burning. What we witnessed was upsetting, because just a few months earlier Black Lives Matter protesters were viciously attacked and arrested for marching to demand justice for the senseless murders of Ahmaud Arbery, George Floyd, Breonna Taylor and many others. Meanwhile, those who are supposed to protect us stood idly by and even incited the violence. While we can celebrate winning a Democratic supermajority in the state Senate, the historic run-off election victories in Georgia, and the certification of Biden's victory  by Congress, we're reminded of work that is before us to make this country truly equitable and just.
In response to the insurrection at the Capitol, we joined the fight to impeach Trump, expel every member of Congress who voted against the certification of the election results and launch a full investigation into the attack. Add your name here to join us: cit.ac/defenddemocracy.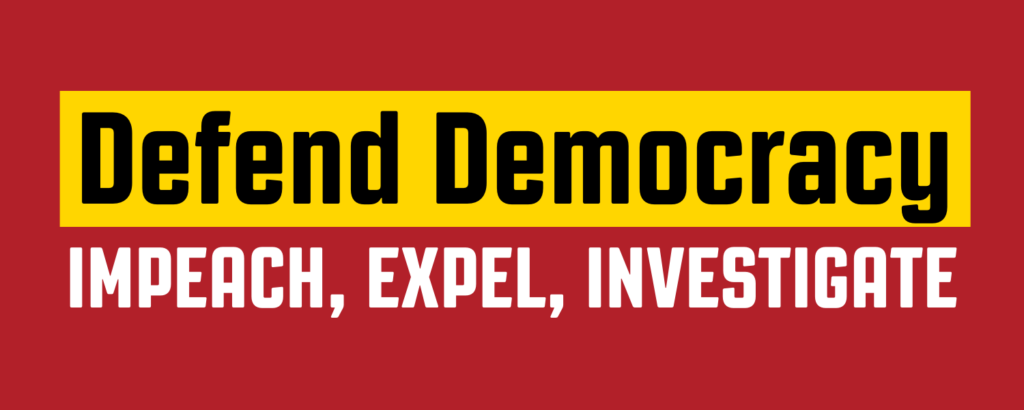 Leader Spotlight 
This week's leader spotlight goes to Rasheeda Harris, a leader with the Alliance for Quality Education for two years now. Rasheeda said she started reposting Tweets from AQE and spreading the word about the organization. Now, she is much more involved. She joined AQE's EdWarrior Program now helps organize events, mobilize people to attend rallies, press events and budget hearings. Last year, Rasheeda co-facilitated a virtual Racial Justice workshop with AQE Freedom Summer School program. She said: "The disproportionality of funding public schools in our state is what drives my activism. When I witness public schools in poorer communities with dilapidated buildings, overcrowded classes, understaffed schools and no technology, proper books and related material; I am enraged." 
"It's so important to ensure the children in the highest need communities, especially the Black and poorer BIPOC students receive all the programs and services they deserve. I'm most passionate about fighting for racial and economic equity in education for our public school system."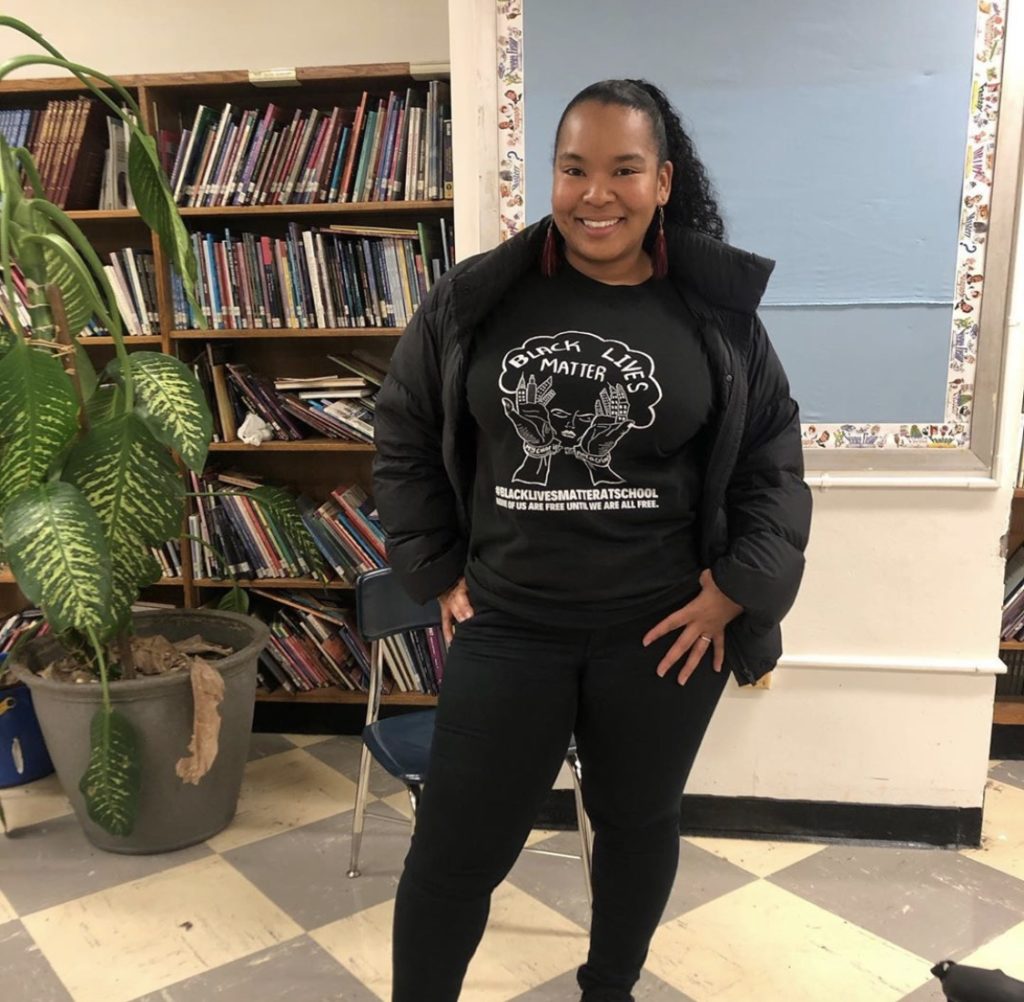 Rasheeda said she has been reading Ella Baker and that the following piece of advice is "so powerful now more than ever":
"The major job was getting people to understand that they had something within their power that they could use, and it could only be used if they understood what was happening and how group action could counter violence."  ~Ella Baker
Around the State 
Statewide Invest in Our New York Campaign

This week, we joined dozens of elected officials, grassroots leaders and supporters for the launch of a progressive, revenue-raising campaign: Invest in Our New York. The campaign aims to raise more than $50 billion in new state revenue by taxing the ultra rich and investing in education, housing, health care and more. The coalition held in-person and virtual rallies statewide, including in New York City outside the Governor's Office, on Long Island and in Albany.  Visit, http://investinourny.org to learn more!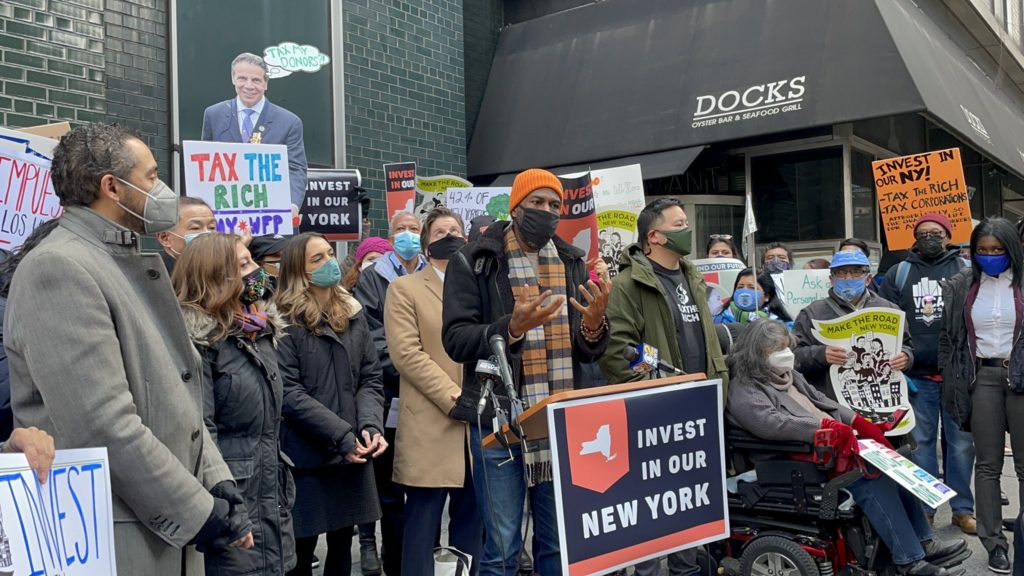 Photo of NYC launch event by Make the Road New York
"We cannot go back to 'normal' after the pandemic is over. Normal does not work for all New Yorkers." – NYC Public Advocate Jumaane Williams at the launch of #InvestInOurNewYork
We must pass the six #TaxTheRich bills so we can start chipping away at the deep income inequality in our state, which has only gotten worse during the pandemic. The package includes measures to reinstate a tax on Wall Street transactions, as well as tax inheritances and higher incomes. Below are photos from the virtual rallies in Albany and Rochester with AQE. Click here to watch the live stream of the Albany conference, and here for Rochester's.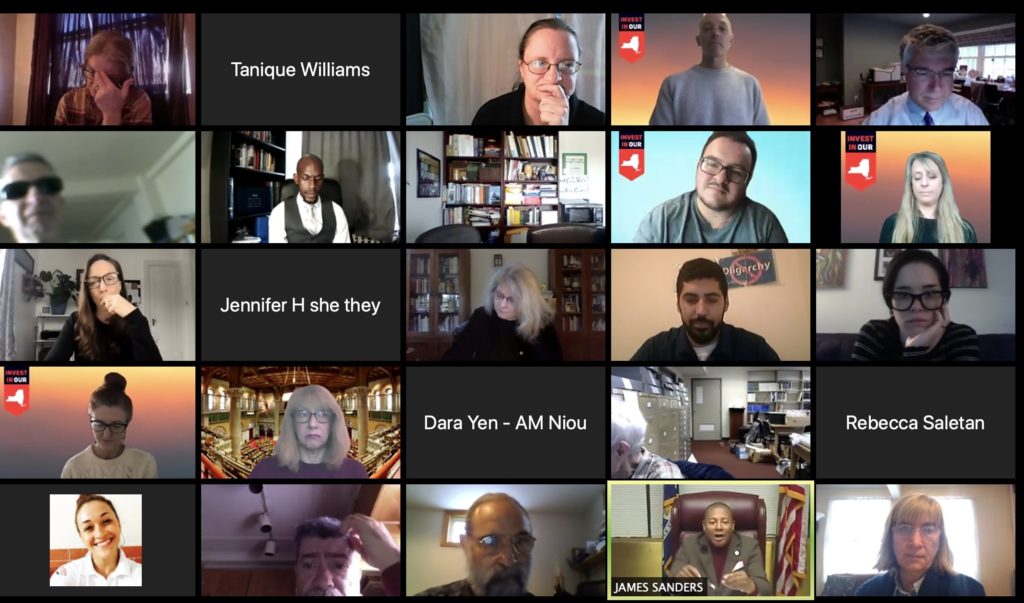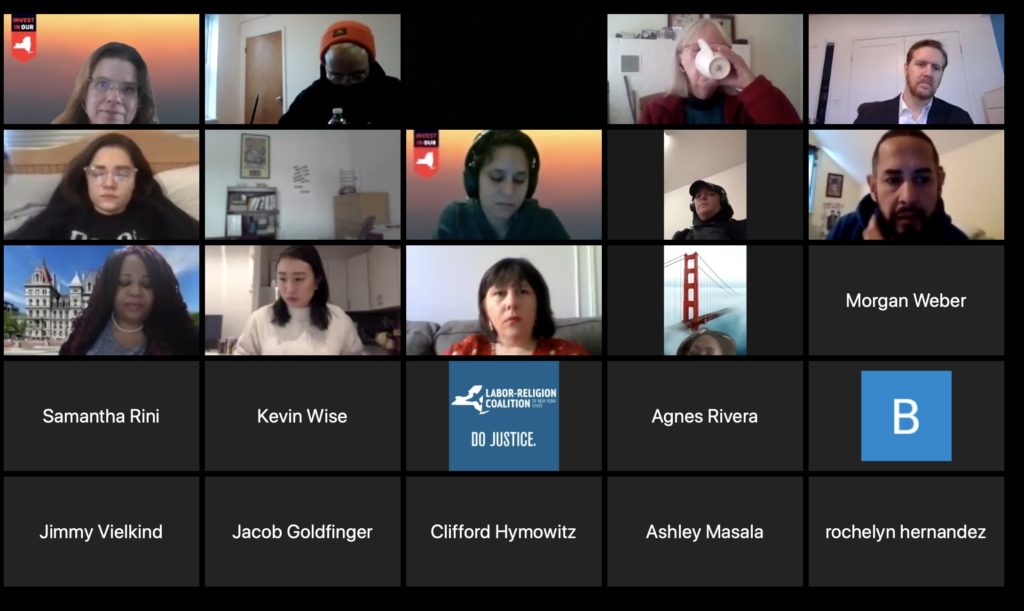 We won a new eviction moratorium 
After pressure from housing rights activists and advocates statewide, state legislators convened a special session over the holiday break to address the eviction and foreclosure crisis. The measure helps keep people in their homes by preventing new eviction filings and suspending active ones at least until May 1. You can access the hardship declaration form by following this link to our coalition partner, Housing Justice for all New York's website: http://bit.ly/declarehardship.

"It's more important to keep families in their homes than to protect the profits of corporate developers…We're keeping up the pressure on legislators and Governor Cuomo in 2021 to end all unjust evictions by passing Good Cause Eviction protections and to tax the ultra-rich to get our economy working for everyday people, not just billionaires." – Stanley Fritz, our political director Click here to read our full statement.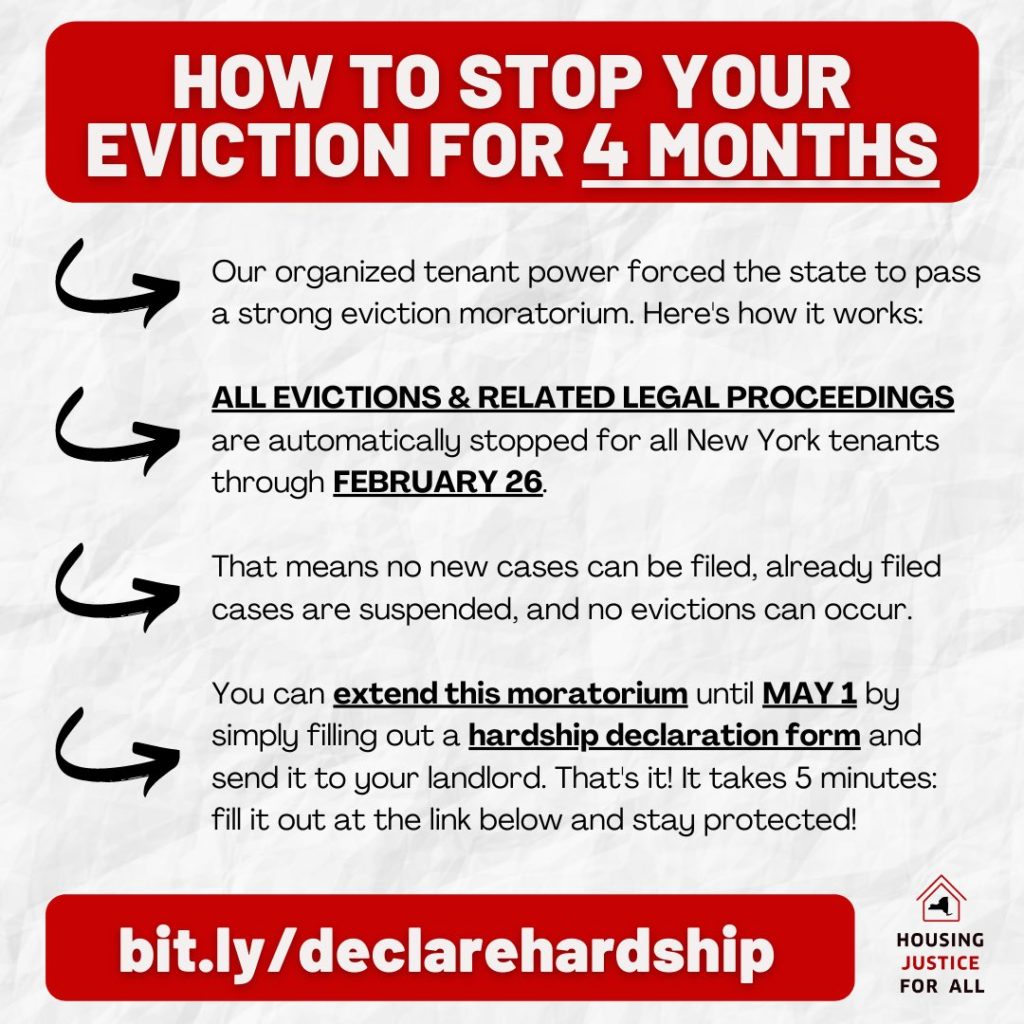 Paid Sicks Days 
New York workers can now use their job protected leave as part of NY's new and permanent paid sick and safe days law that went into effect January 1. Click here to learn more about your rights to job protected leave in NY: https://citizenactionny.org/paidsickleave/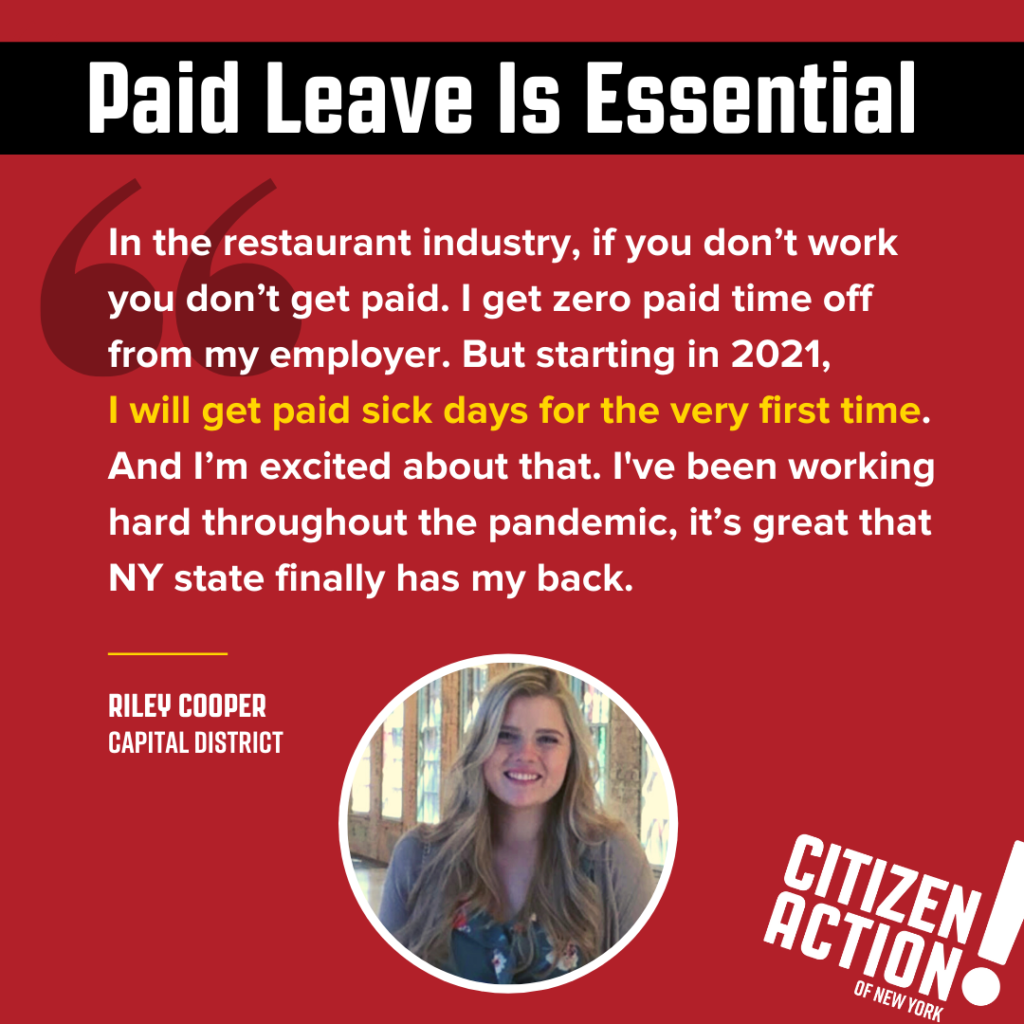 Join the Team at Citizen Action

We're hiring! Citizen Action is hiring community organizers in Buffalo, New York City and the Southern Tier. Our power comes from the grassroots: people coming together to push the edge of the possible. Join us in the fight for justice! Find our more on our website: https://citizenactionny.org/jobs/
Upcoming Events 
Monday, January 11 at 11:30 a.m. – Transforming the World View Workshop 
This workshop discusses narrative building and dissects the dominant narrative that reinforces individualism, free markets and an anti-government worldview, all while using racism and sexism to maintain a hierarchy. We move into discussing what a transformative narrative is before we practice building our narrative. Register Here: https://cit.ac/ttw1 
Thursday, January 14 at 12 p.m. – The People's Campaign for Parole Justice   
Join the statewide, grassroots movement for Parole Justice in New York! It's time to end discriminatory and racist parole policies, reunite families, end elder abuse and end mass incarceration by passing Elder Parole, Fair and Timely Parole, and create a fair and effective parole board. Click here to register. 
Saturday, January 16 at 1-3 p.m. – 2021 Virtual Citizen Action of the Hudson Valley Chapter meeting!

Click here to register for the Hudson Valley chapter meeting! The meeting will focus on the chapter's 2020 electoral wins, organizational outlook for 2021, and the needs of the community heading into this next legislative session. More details on the flyer below.
Join the Movement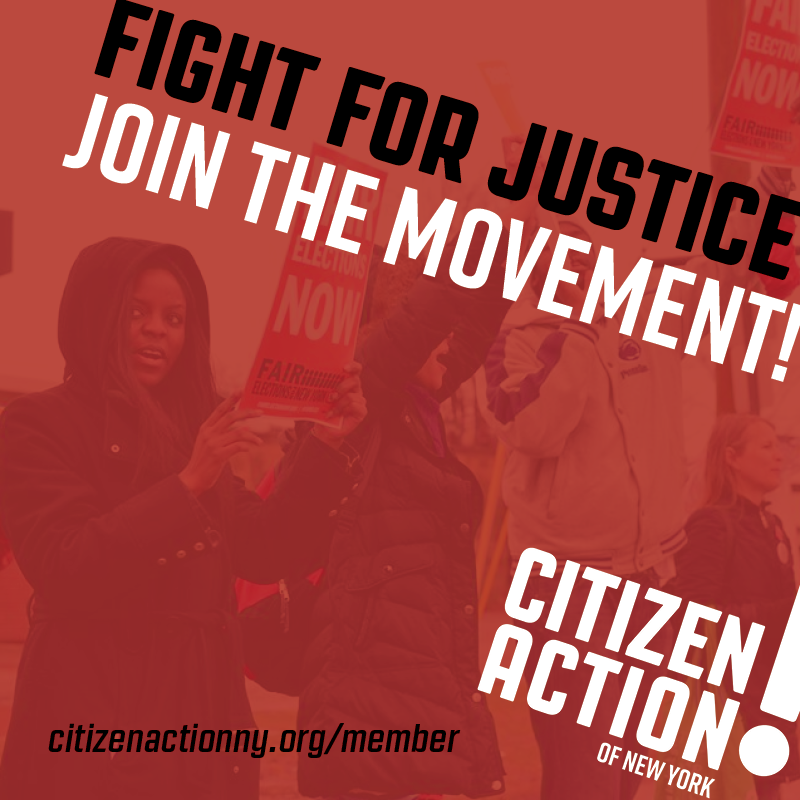 Citizen Action of New York is building power in communities across the state. Our members are the reason we're able to do effective grassroots organizing and achieve justice for our communities. Our members give what they can when they can, and each contribution is directly invested in local leadership development. Click here to support.
There are many ways to get involved right now. Click here to contact a Citizen Action chapter in your area and ask how you can get involved locally. 
Stay Connected

Tweet us! For live updates, follow our statewide Twitter page. And if you're looking for cool articles, memes and a little conversation, like us on Facebook here.

Closing message
: 
"The most common way people give up their power is by thinking they don't have any." – Alice Walker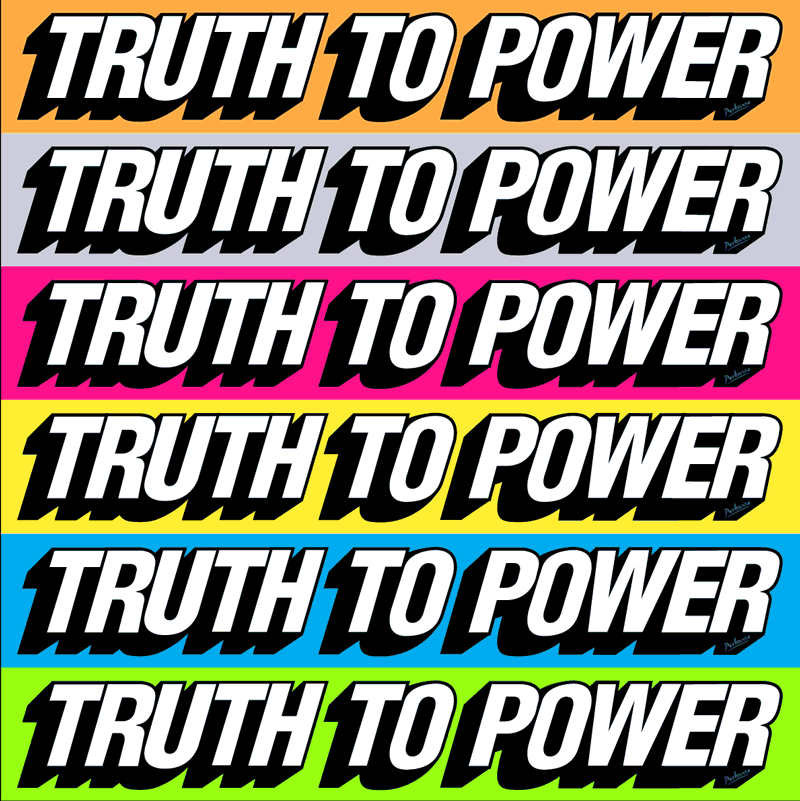 In solidarity, 
Tanique