Dear Activist,
The first week of spring has been action-packed! Spring happens to be one of my favorite seasons. Just as the flowers start to bloom, I feel myself blooming with all sorts of creative energy. We've had some warmer days, more sunshine and hope that a budget that works for all of us is possible in New York. The past few weeks have been challenging, no doubt. The mass shootings, continued racial violence and voter suppression are exhausting, but I feel inspired by what can be achieved through collective action.
This Saturday, March 27 at 3 p.m. we're hosting a member meeting with our new Senate Majority Leader Chuck Schumer to discuss the American Rescue Plan and why we need the Senate to pass the S1, the For the People Act. You can register at this link here. Many of us are outraged by the arrest of Georgia Rep. Park Cannon as she demanded accountability from Gov. Brian Kemp, who was preparing to sign a bill to restrict voting access, including a ridiculous measure to make it illegal to provide food and water to voters. Voter suppression is on the rise, and we need S1 now more than ever.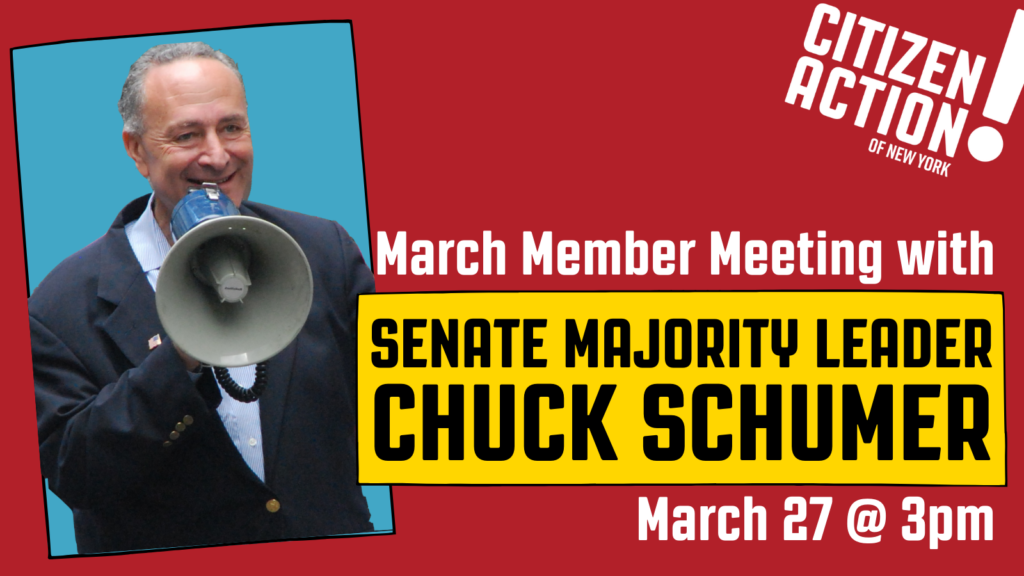 Around the state 
Progressive Leaders Call Out Cuomo in Manhattan 
As the investigation into Governor Cuomo's misconduct continues, on Friday morning, March 26, our Political Director Stanley Fritz joined movement leaders for a press conference outside of the Governor's Manhattan office to oppose his budget proposal. In attendance were Working Families Party NY State Director Sochie Nnaemeka, Alliance For Quality Education Executive Director Jasmine Gripper, New York City Public Advocate Jumaane Williams, VOCAL-NY Organizing Director Jawanza Williams, and many other community leaders and activists. Click here to watch news coverage of the press conference, including clips of Jumaane and Stanley's speeches.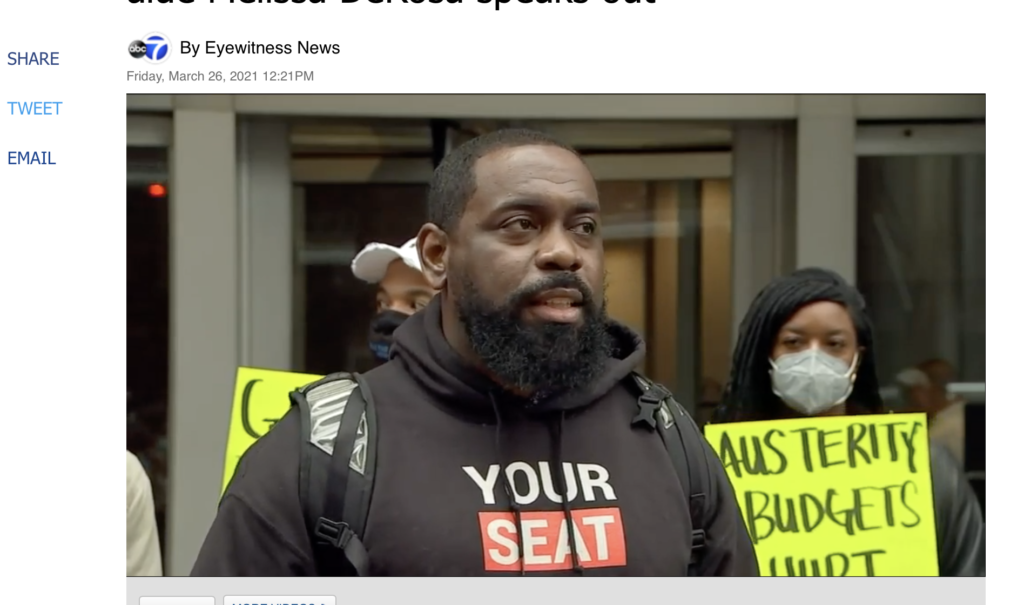 Police Reform In NY 
As the deadline for localities to submit their plan for police reform to the state nears, activists are speaking out about those proposals. In Buffalo, Citizen Action leaders held an emergency press conference calling out the flawed recommendation process by the Buffalo Commission on Police Reform. The public comment period for residents to weigh in on the recommendations closed today. Activists and advocates detailed the ways the commission's recommendations fall short, and how immediate public safety solutions presented by directly impacted folks have been ignored, including calls to shrink the department budget and reinvest that money in the community. Click here to watch the press conference, and here to read quotes in our press release.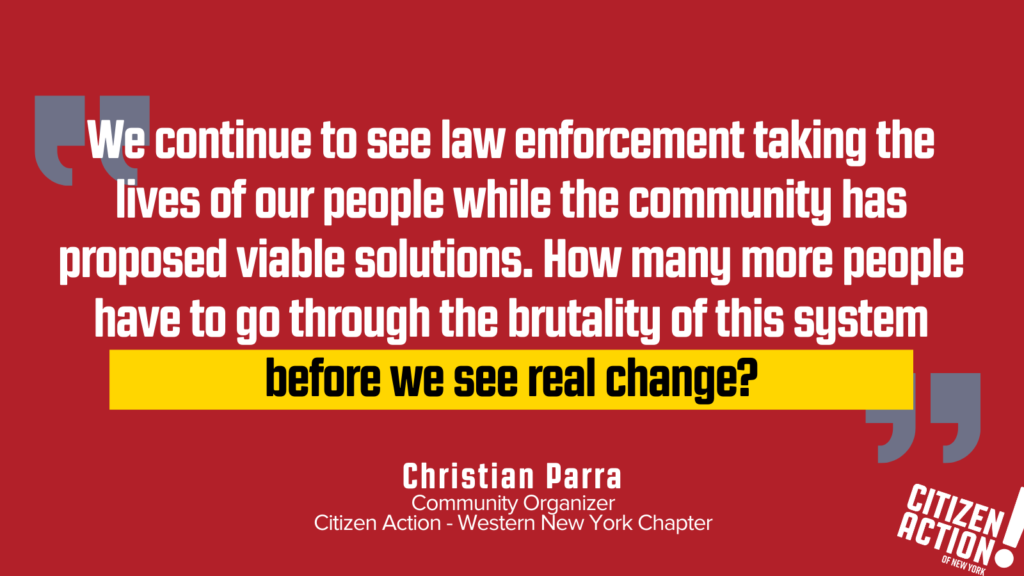 No Half Measures Rally 
Hundreds of activists gathered for a massive Invest in Our New York rally near Washington Park in Albany on Tuesday, March 23. As state budget negotiations come to a close, Senate Majority Leader Andrea Stewart-Cousins and Assembly Speaker Carl Heastie must stand firm to make sure progressive revenue raisers aren't watered down by the Governor's attempt to prioritize the wealthy over everyday New Yorkers.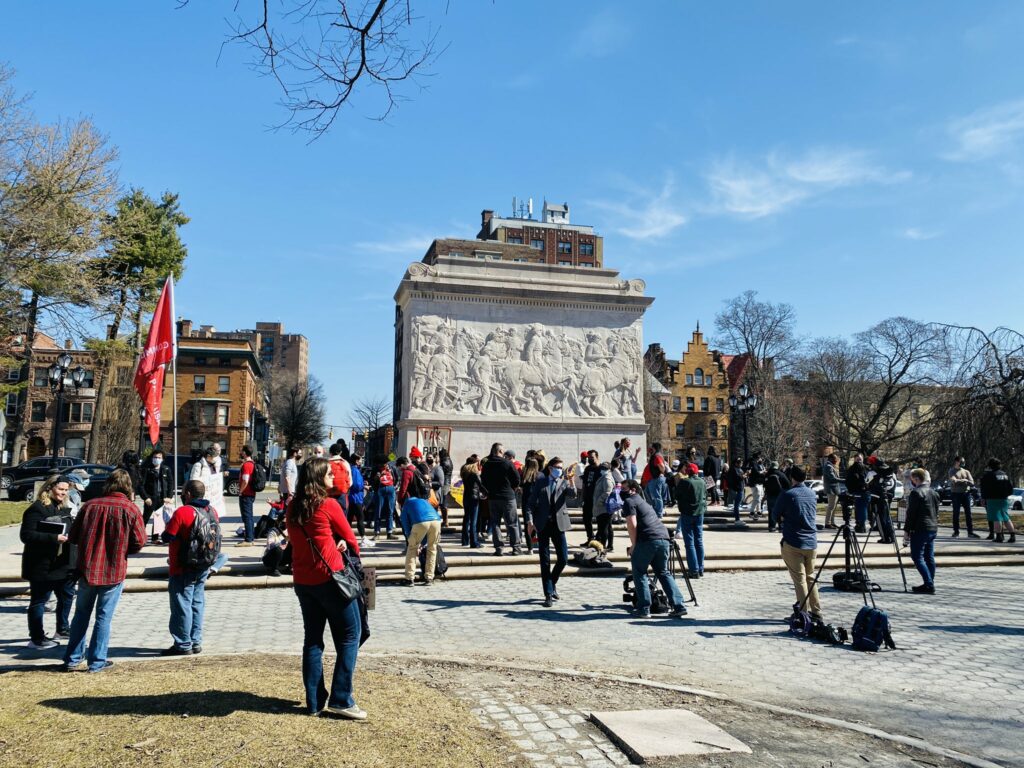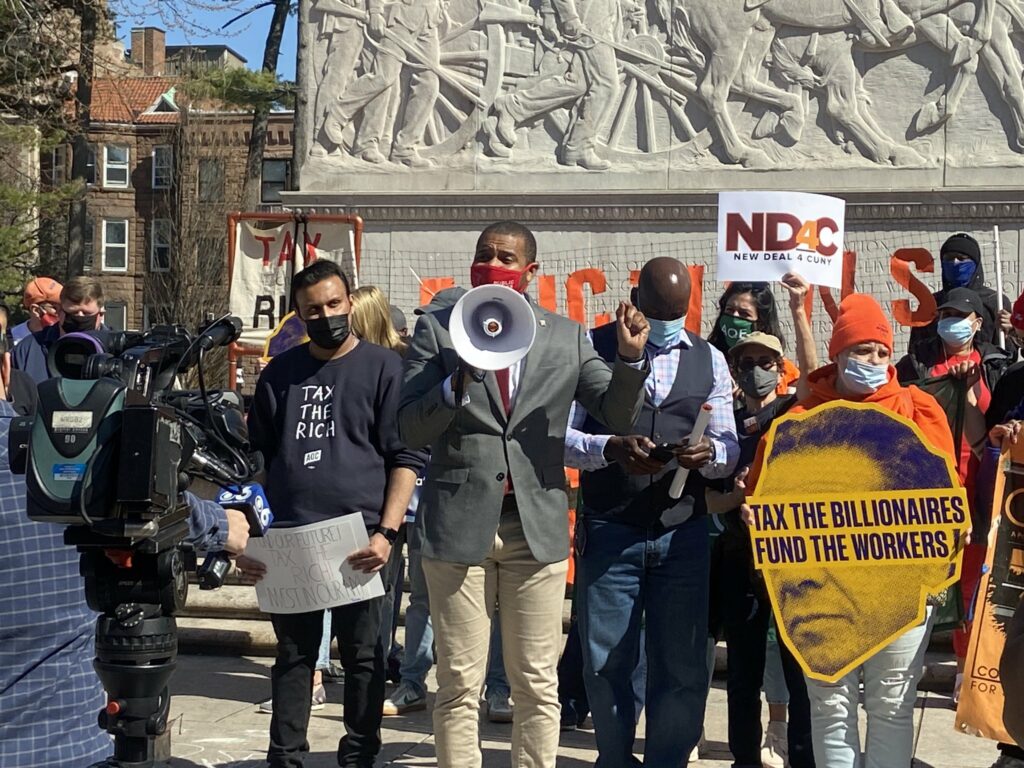 Closer to a Green Transition – CCIA Introduced 
Thanks to the tireless work of climate and environmental justice activists statewide, the Climate and Community Investment Act has been introduced in the New York State Senate! There will be a hearing on the CCIAA on April 13. Click here for more information.  For more information about the CCIA, visit nyrews.org.
Still Fighting for Equal Pay
Pay inequality is still a widespread issue impacting women everywhere, especially women of color. Women continue to earn cents on the dollar to what men earn for similar work. In honor of Equal Pay Day in New York State, Michelle Ming, Citizen Action statewide campaigns manager, spoke about the larger conversation surrounding pay equity–employer attitudes, discrimination based on gender and race, safe workplace standards, and so much more.
"Achieving equal pay is about so much more than the number on your paycheck, it's about a fundamental culture shift in the ways we talk and think about equity and equality"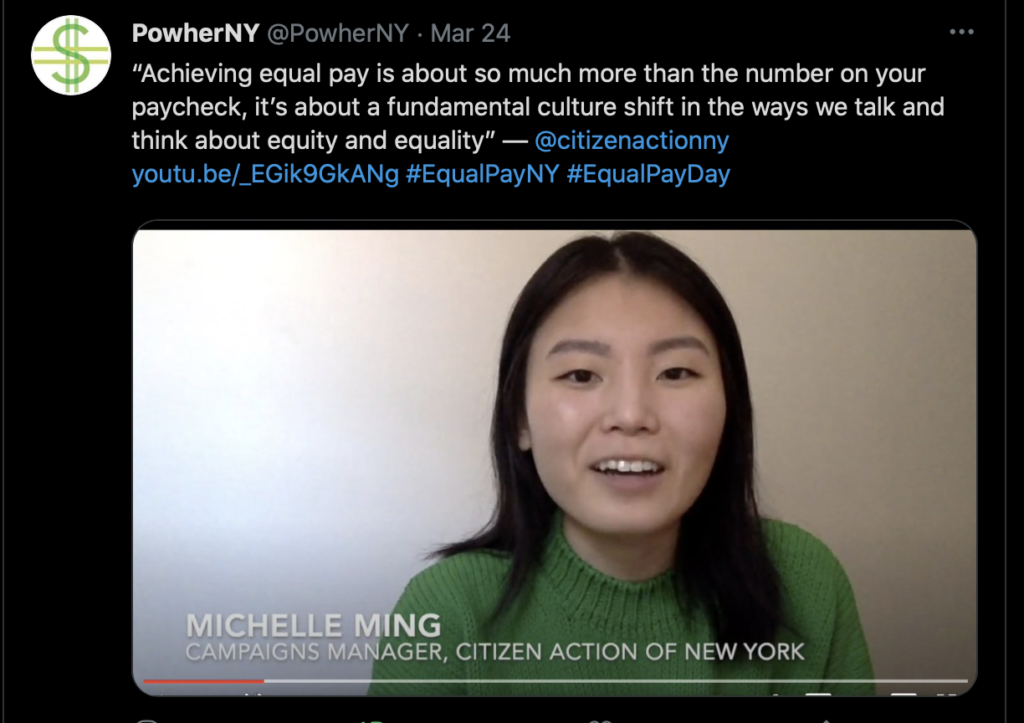 Click here to watch the video on YouTube
Albany Common Council Considers Good Cause Eviction 
This week, our housing justice campaigns manager Rebecca Garrard, joined Albany Mayor Kathy Sheehan for a press conference announcing a package of housing bills to protect tenants, including a Good Cause eviction bill that would prevent unjust evictions. If passed by the Albany Common Council, it would be the first Good Cause law in the state. Tenants and housing rights advocates have been pushing for similar legislation at the state level well before Covid-19 hit New York. The state Good Cause legislation is sponsored by state Senator Julia Salazar and Assembly member Pam Hunter. Click here to read the article.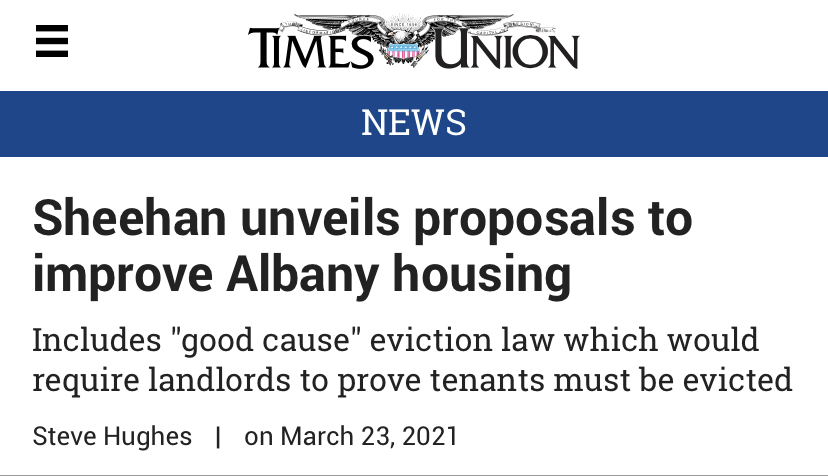 Hardship Declaration Form is Available to Tenants 
New York's Hardship Declaration Form is available to tenants who are at risk for eviction. Tenants can submit the form to avoid facing eviction or unnecessary court proceedings until at least May 1. Click here to access the Hardship Declaration Form.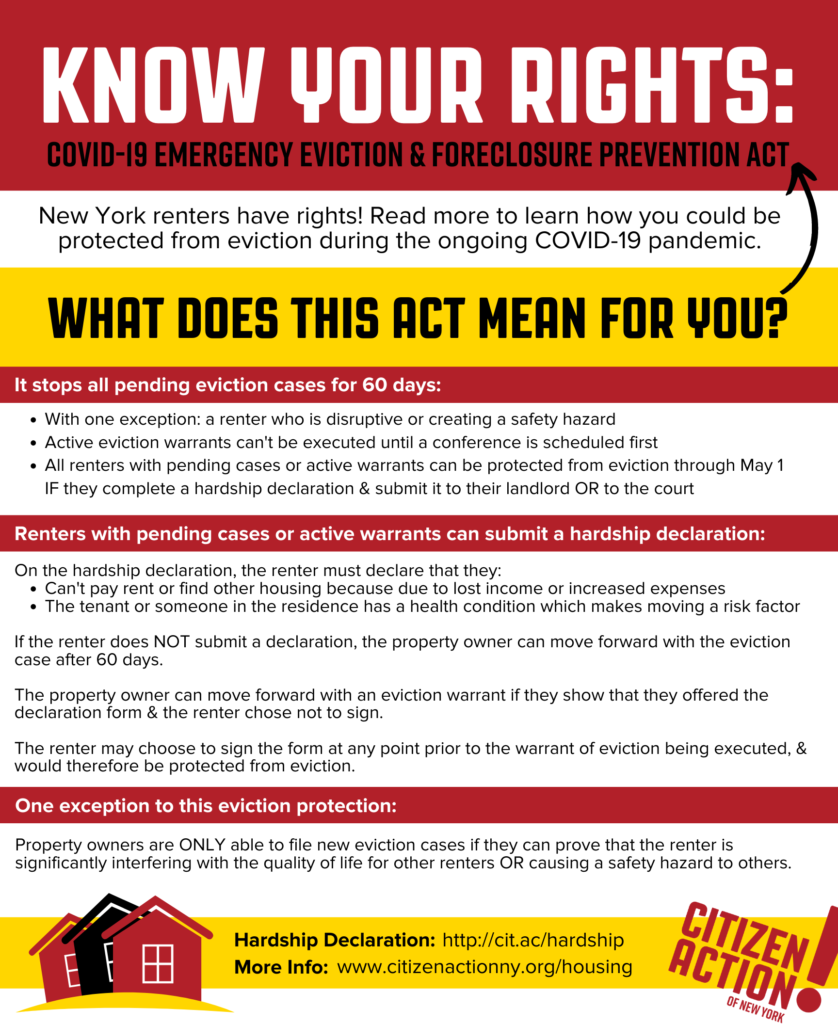 "This eviction moratorium was won through relentless tenant organizing, but its protections are only as strong as its implementation. Tenants must be made aware of their rights in order to assert them, and landlords and judges must be held accountable in ensuring this happens." – Rebecca Garrard, a tenant advocate and Campaigns Manager for Housing Justice. 
Federal Action Team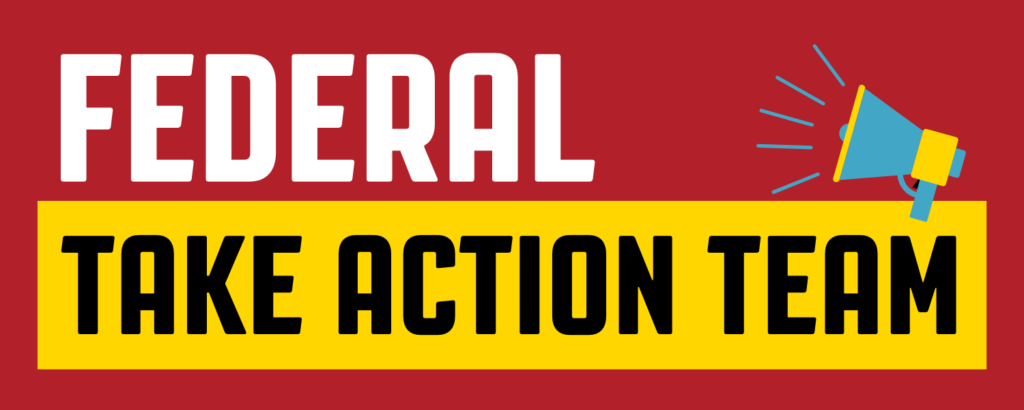 Our collective work to elect a new President and a Democratic majority in both the House and Senate has kicked open the door to change, and we're ready to run (and/or dance) through it!
We're part of a national network of people gearing up to stand strong for what we need from our federal government. New Yorkers are in a key position to move the national agenda because Senator Chuck Schumer has replaced Mitch McConnell as the Senate Majority Leader.
A bold relief package is a necessary first step toward an equitable and transformative recovery, and we won't stop there – we're building a Federal Take Action Team that we will activate when there are opportunities for real change on the federal level. Join us: cit.ac/federalaction
We can't wait to build even more power with you!
Upcoming Events
Invest In Our New York Telethon
Monday, March 29 at 12- 8 p.m.

Register here: The 2021 New York State budget is due on April 1, and the legislature needs to hear from all of us that it's time to invest in our communities. We're calling our elected officials on Monday, March 29 to tell them No Half Measures – Invest In OUR New York!
If you believe that ALL New Yorkers should have access to quality education, safe housing, affordable healthcare, and other basic necessities, please join us to make calls. We elected them, and it is our right and our responsibility to make sure they know what our priorities and our values are. Together, we can move forward and create a just and fair recovery for ALL New Yorkers.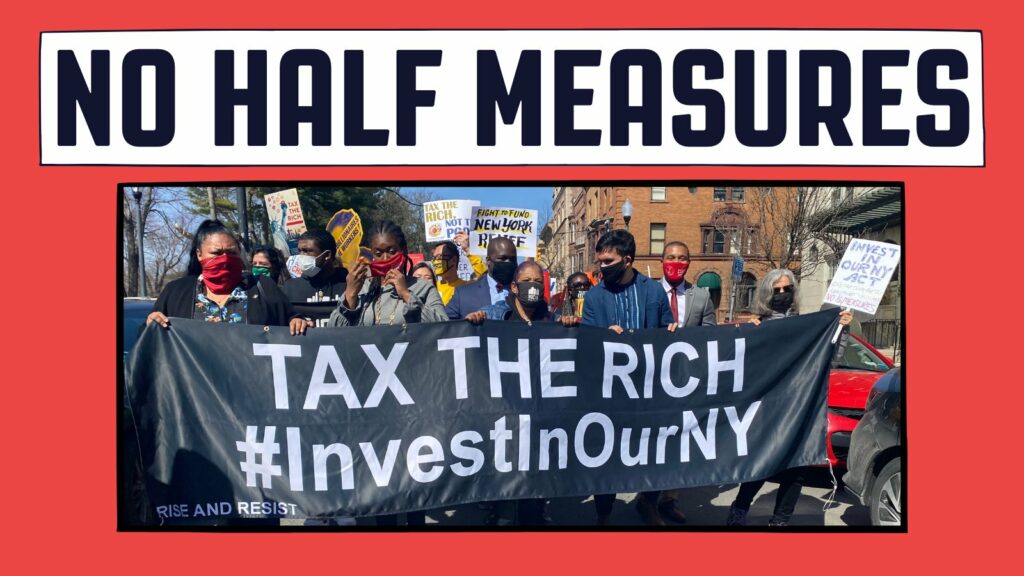 HALT Solitary Confinement Action
Monday, March 29 at 11 a.m. 
OVERNIGHT ACTION: Thousands of New Yorkers are locked in solitary confinement for weeks, months, years–even decades. It's torture. Join our 24hr action starting Monday at 11 am at Gov. Cuomo's office to demand he sign the #HALTsolitary bill into law. Click here to RSVP: http://bit.ly/HALT24hrAction
Thursday, April 1 at 6:30 p.m. – 8 p.m.
Transforming the World View

This is our core workshop that focuses on messaging and connects our worldview to the way we make meaning out of our experiences. In this workshop, we'll break down the four main ideas of the dominant worldview, learn how to avoid reinforcing those ideas in our own advocacy and practice how to share our vision for a just society. Click here to register. 
Join the Movement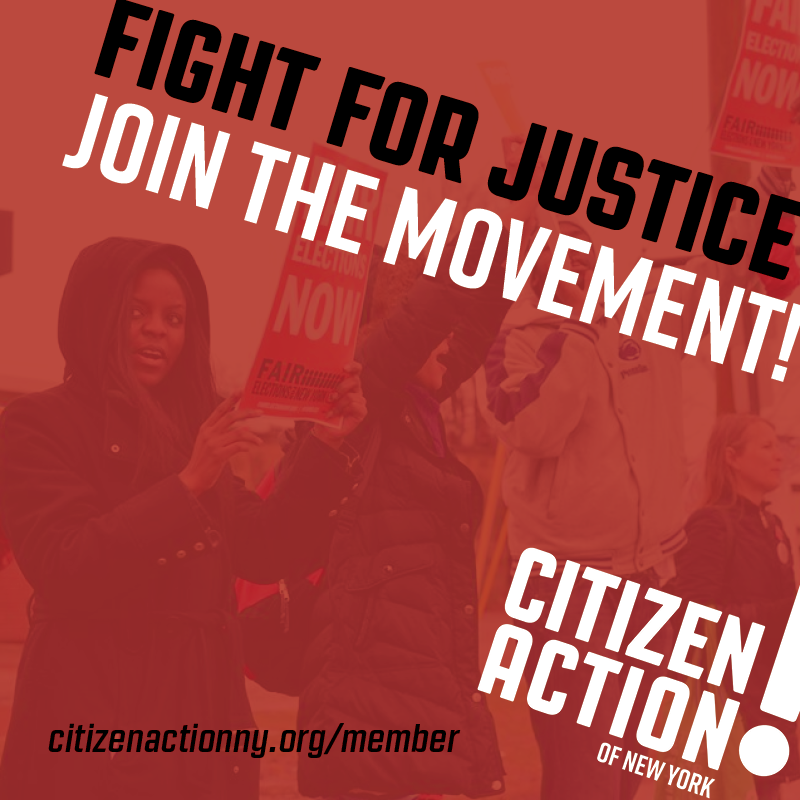 Citizen Action of New York is building power in communities across the state. Our members are the reason we're able to do effective grassroots organizing and achieve justice for our communities. Our members give what they can when they can, and each contribution is directly invested in local leadership development. Click here to support.
There are many ways to get involved right now. Click here to contact a Citizen Action chapter in your area and ask how you can get involved locally. 
Stay Connected

Tweet us! For live updates, follow our statewide Twitter page. And if you're looking for cool articles, memes and a little conversation, like us on Facebook here.
Closing message:

"If you want to go fast, go alone. If you want to go far, go together."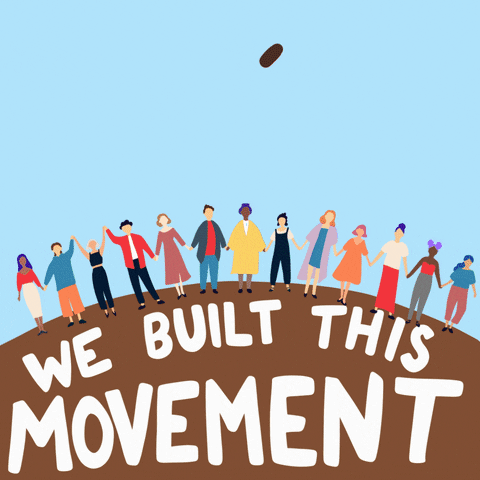 In solidarity, 
Tanique